Blockchain technology has come a long way over the years. In most industries, it's considered the next big thing in several industries. Of course, its full potential is yet to be uncovered in the future, but it's pretty apparent that blockchain technology has completely changed how we do business.
VeChain is a company that is part of blockchain technology and continuously trying to change the luxury industry. Want to know more about its future and price prediction for this upcoming year? 
Let's dive deep into this article to learn more about it! 
What is VeChain? 

VeChain is a blockchain platform that allows businesses to build decentralized applications (dApps), improving the supply chain management process. In addition, VeChain's blockchain solutions aim to address counterfeiting challenges, data integrity and supply chain management. 
VeChain is an excellent solution for offering customers enough transparency and tracking assets and products on the blockchain. 
However, many don't actually know the initial reason why VeChain was created. The platform was initially created to identify fraud in the supply chain industry. The VeChain blockchain platform allows businesses to determine whether the product is genuine. 
This way, businesses can better manage risk and track the authenticity of a product and its nature. Nevertheless, there are two different tokens on its network: The VeChain Token (VET) and the VeChainThor Energy (VTHO). 
The former token was used as energy to power transactions with smart contracts and the latter is used for transmitting money across the entire VeChain network
Initially, the VEN token launched on the Ethereum blockchain but would later change its symbol and parted ways as part of the "rebranding process". 
What are the best platforms to use to buy VeChain? 
VeChain is ranked in the top 50 cryptocurrencies in the market. Even though its price value isn't as high, it still has a large market cap compared to other cryptocurrencies and is an excellent long-term investment. 
However, what are the top platforms we recommend you use to buy VeChain? Here are some of our recommendations: 
Binance:

This is one of the most popular cryptocurrency platforms in the world. The platform has roughly

30 million users

and is secure to invest in without too much risk of your data getting breached. Binance holds

more than 600 cryptocurrencies

and since it's a user-friendly platform, you can instantly purchase VeChain. 
MoonPay:

Is known as one of the most user-friendly platforms for buying and selling cryptocurrencies. MoonPay allows you to easily buy VeChain and transfer it to your

crypto wallet

when you need to do so. 
Crypto.com:

Like Binance, Crypto.com is a powerful platform you can purchase VeChain from. The platform has around

250 cryptocurrencies

. Additionally, more than

20 fiat currencies can be used

via bank transfer or a card. Furthermore, Crypto.com is a secure platform, so you won't have to worry about purchasing VeChain from it. 
Coinbase:

After Binance and Crypto.com, another popular name is Coinbase. With Coinbase, you both have the pro and free version, which is easy for beginners who haven't ever used the platform before. Comparatively, Coinbase has fewer cryptocurrencies for investing in but is still an excellent and secure area to invest in VeChain. 
Gemini:

Another excellent alternative since it was one of the first major cryptocurrencies. It's the largest based on asset size and supports plenty of cryptocurrencies, including VeChain. Once you sign up for the platform, you can earn

$10

for the first

$100

you trade in. How good is that? 
VeChain's biggest competitors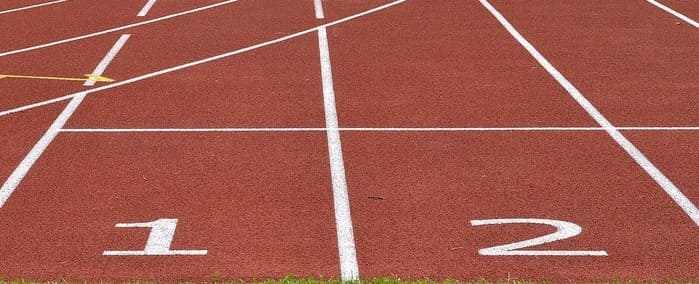 When taking a deep look into who VeChain's competitors are, the top competitors are FoodLogiQ, Moeco, and Provenance. Furthermore, here's a quick overview of VeChain's top competitors: 
FoodLogiQ:

This is a SaaS provider of food safety, traceability, and supply chain transparency solutions. FoodLoqiQ's primary concern is to change the food industry and solve the complex global food supply chain issues that most modern food companies have. In addition, they wish to make the food chain as safe as possible and are considered VeChain's top competitor. 
Moeco concentrates

on providing actionable data insights to supply chain operations through location and shipment conditions. Moeco's solutions allow cost reductions by automating insights and reducing manual tracking efforts, allowing operators to focus on more inspirational tasks. Comparatively, right after FoodLogiQ, Moeco is VeChain's second most intense competitor. 
Provenance:

This is a leading public open-source blockchain used for financial services. It's leveraged by over 50 financial institutions and operates at billions of dollars today with digital financial assets transacted throughout the marketplace, lending and payments. 
Everledger:

Is considered to be one of the world's most trusted transparency platforms, which is built with a connected system where people buy, sell and promote their valuable assets with verified data. 
VeChain's current market value and future predictions 
VeChain's market value currently stands at $0.019 due to the crash. However, this market crash didn't impact the cryptocurrency too much. At the market's peak last year, its value stood around $0.108, which isn't a big difference. 
VeChain's crypto market ranking as of now is ranked at 34th place. Its market cap value is around $1.4 billion and it has a total supply rate limit of nearly 87 billion. However, it's near its maximum supply rate of approximately 86 billion. 
Considering that it's the last month of the year, we are about to enter a new year and experts predict that the VeChain price will be around $0.026 to $0.033 during the year. However, in 2024, experts claim that the price might be even higher, up to about $0.046. Furthermore, the return on investment potential return is from 80% to 142%. 
Overall, we think that VeChain is an excellent long-term investment, but as for the short-term, prices aren't fluctuating too much, so there won't be too many high returns. 
Considering this, the real question is whether VeChain can ever reach $1. Many experts don't know what might happen, but within the next few years, VeChain might just be able to reach $1. Of course, nothing is entirely predictable in the crypto market, but it isn't impossible either. Nevertheless, before you do anything, always do enough research to see how the market is handling it and what you may get out of it. 
Is VeChain an excellent future investment?


VeChain was created to have businesses in mind. Its price strongly depends on how much businesses are using the platform and the frequency it's being used. Companies will use VeChain to create blockchain-based solutions, such as supply chain management, traceability, etc. 
From the beginning, VeChain has offered tools and services for businesses to use to get started with blockchain technology. Moreover, VeChain is becoming a leading player in this part. The platform is backed up by the Chinese government and has lots of potential to become an excellent investment. 
Before you invest in VeChain, there are a few things you should take into consideration. First, the average price of VeChain tokens is associated with the platform's success. For example, if adoption is slow, so will the price of VeChain. Additionally, VeChain is quite a new platform and might take a year or two to ultimately reach its new potential. 
As an investor, you should always be vigilant of the market and take this into consideration, but now is not the wrong time to invest in because VeChain is going towards its full potential, so this is a long-term win for you. 
VeChains tokenomics 
Token minting has been rebranded VeChain and the figures have been converted from the previous VEN to the current VET. In the beginning, VeChain minted 100 billion VET and was distributed in the following ways: 
The VeChain Foundation minted

22 billion VET 

Project team members minted

5 billion VET 

Enterprise investors minted

23 billion VET 

Private investors minted up to

9 billion VET 

Nearly

28 billion VET

were sold during the crowd sale 

The VeChain Foundation burned around

13 billion VET

as part of the token sale refund process 
Is VeChain the right option for you in 2023? 
We dove deep and got the chance to understand a lot about VeChain and why it's a good investment to consider in 2023. Even though its price value is small, it still has an excellent market cap and that shows you how good it's for investing in the long term. 
However, as we said before, the market continuously changes and the most important thing to know is that you need to always do research. No matter how good the market is doing, research is the key to a great investment. Never go all-in without reading about what's coming.
---
Press releases or guest posts published by Crypto Economy have sent by companies or their representatives. Crypto Economy is not part of any of these agencies, projects or platforms. At Crypto Economy we do not give investment advice and encourage our readers to do their own research.