Blockchain technology allows more and more developments and possibilities covering almost all areas. One of the most promising market niches in this regard is that of online games. DMarket is presented as a new ecosystem where players, developers and entrepreneurs can evaluate and market virtual items efficiently and securely.
HOW DMARKET WORKS
The game ecosystems are not connected to each other in any way. There is no safe and easy way to trade between them. DMarket, a global market based on blockchain and smart contracts allows the sale, exchange or evaluation with a single click of each virtual element among all games on any platform. Smart contracts are the bridge in blockchain to connect all the ecosystems of the game without the need of any third party. They will register property changes and automatically transfer payments. The DMarket token is the only currency used in this market.
Every minute spent in a game leaves players with virtual goods. These could be a new armor, an elegant car or simply a pile of crystals. Unfortunately, there is no easy way to exchange these virtual assets among the billions of players around the world. The game universes are not connected to each other, which means that there is no safe and easy way to trade between them, and there is no reliable way to approve these exchanges. It has not been technologically possible to build a bridge between the dozens of game engines, the developers of independent and global games, and the worlds of mobile devices and consoles.
The central problem is technology. You need to synchronize hundreds of thousands of databases with each other during each operation.
To solve this problem, DMarket uses a decentralized database in blockchain. Using its API, each game developer can easily connect the game to DMarket. All operations are fast, secure and immediately synchronized.
DMarket allows the sale or exchange with a single click of each virtual item among all games on any platform. This will turn each virtual object into a real asset for billions of players in the world.
Any type of collaboration between players and game developers on the platform will be regulated by market demand. Therefore, players have their own interest in collecting rare items, and game developers are interested in creating and maintaining unique, relevant and marketable game content.
Using the API, each game developer can easily connect the game to DMarket. That will increase the lifetime value, income and time spent on your games. Players will finally enter the global economy with virtual articles.
DMarket coin is the currency used in the DMarket platform. Every purchase, sale, exchange or any other transaction on the platform will require the use of DMarket coins.
It will be used throughout the DMarket platform and will not be limited to the platform in the future. DMarket coins will be used:
As a currency to buy or sell items within the game
Deliver sales commission to owners of digital property rights
Buy premium accounts for wholesale and individual sellers
Buy BigData analysis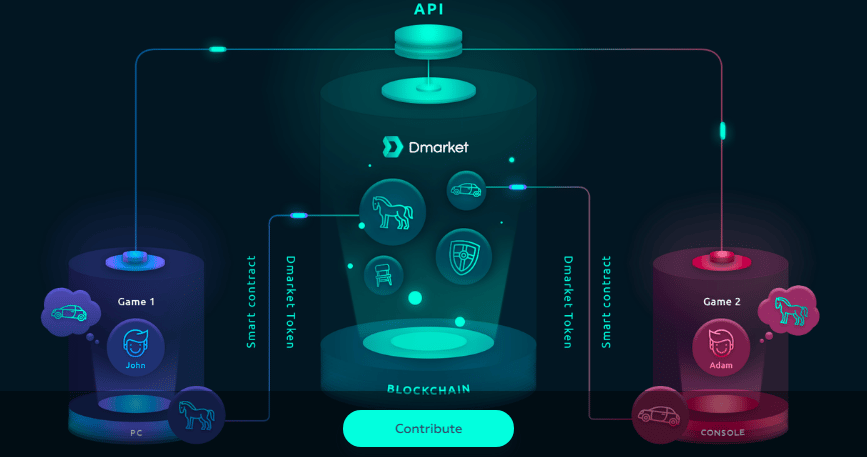 DMarket Coin will become a full-fledged virtual currency. This token will go through two stages of sale. The first sales phase was carried out from August 17 to 21, 2017. During this period, users were able to buy chips with more favorable purchase terms. The second phase of sale will begin on November 14, 2017 and will continue until November 28, 2017.
Accepted currency: ETH, BTC, LTC
Token change rate: 1 ETH = 750 DMarket tokens
See more of this project in your White paper.