Yesterday, a new disagreement between recognized personalities of Bitcoin Cash (BCH) went public, when Roger Ver revealed a very aggressive and threatening email from Craig Wright.
In a video uploaded to the popular video streaming platform YouTube, the owner of the cryptographic wallet service Bitcoin.com, Roger Ver, revealed a screenshot of an email that Wright sent him in which a much deteriorated relationship between both of them is evidenced.
"Bitcoin will die before ABC shits on it. I will see BCH trade at 0 for a few years. Will you? Side with ABC, you hate Bitcoin. You're my enemy, you have no idea what that means. You will. I am Satoshi", reads the email.
In this regard, Ver said that Wright – whose firm, nChain, led the development and implementation of Bitcoin SV software – had "fooled" him.
"It's never easy to admit that someone fooled you. But maybe I've been fooled", Ver said, while assuring he doesn't think that's the kind of thing a 40-year-old mature man should say.
A battle of several months
The controversy between Ver and Wright is nothing new: they have been on this situation for months, and has been characterized by both personal and professional differences, insults and even accusations of child pornography promotion that have only intensified, as the hard fork gets closer.
If true, the supposedly content of the mail sent by Wright should not be anything surprising at all, especially if one takes into account that several days ago, Ver publicly expressed his support for the BCH development group Bitcoin ABC and not to Wright's SV.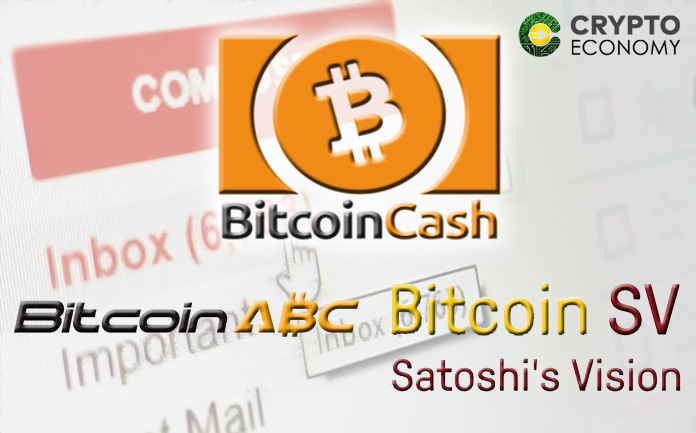 In that sense, Ver has openly talked about how he has become skeptical about Wright's technical expertise over time.
"Some things Craig says, I think are spot on, but other things, he has no clue what he's talking about… It seems strange to have Craig refuse to engage in any sort of technical debate there, and my suspicion at this point is that he can't. And I've seen a bunch of things happen that make me skeptical, very, very, deeply skeptical," Ver stated.
Bitcoin's Hard Forks
The first Hard Fork experienced by the Satoshi coin, originated on August 1st, 2017. At that time, the split of the original Bitcoin Blockchain into two different and coexisting blockchains was the event that gave birth to Bitcoin Cash (BCH).
Later, another fork would take place. The currency ranked 4th in the top 100 cryptocurrencies by market cap, experienced its second hard fork on May 15 of this year.
At that time, it re-enabled several operating codes, increased the maximum block size from 8 MB to 32 MB, and increased the data operator size from 40 to 223 bytes, among other things.
This resulted in Bitcoin ABC, a full node implementation of the Bitcoin Cash protocol, created to offer solid and stable software, and help lead the development of the Bitcoin Cash protocol with an open and collaborative process.
The next bifurcation, scheduled for next Thursday, will contemplate the division of BCH into two rival chains: Bitcoin Cash ABC, favored by Ver, and Bitcoin Cash SV, supported by Wright and nChain.