The price of the leading decentralized exchange (DEX) Uniswap's native token, UNI, jumped more than 3% in the last 24 hours despite a downturn in the broader cryptocurrency market. The rally kicked off following the launch of a new blockchain protocol "UniswapX" for trading across automated market makers (AMMs) and other liquidity sources.
Bitcoin (BTC), Ethereum (ETH) along with other major crypto tokens were back in red on Tuesday as the good news following Ripple's partial victory against the SEC in a court decision settled down. The global cryptocurrency market cap was trading slightly lower, dropping to the $1.2 trillion mark, as it declined almost 1.20% in the last 24 hours.
However, the total trading volumes surged about 41 percent to $35.23 billion. Market analysts anticipated that digital tokens may continue to experience dips below this threshold until the United States Securities and Exchange Commission (SEC) decides whether to approve one of the multiple spot bitcoin ETF applications.
UNI Experiences Significant Growth
Despite the downtrend, Uniswap (UNI) experienced a rally over the day. According to CoinMarketCap, UNI is up 3.40% in the last 24 hours to trade at $6.21. Meanwhile, the digital currency soared more than a staggering 17% over the past seven days, posting significant gains in the 30-day timeframe, with a staggering 28% profit. In terms of user activity, Uniswap has had an average of 69.640 daily active users over the past 30 days, representing an increase of 2.7%.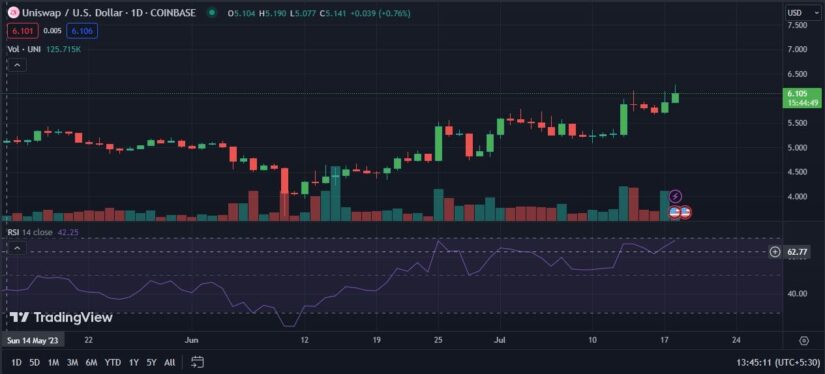 These numbers indicate a rising trend in Uniswap's growth trajectory that has contributed to the recent price rally. However, the primary reason behind the rally seems to be the launch of the UniswapX protocol. UniswapX is a permissionless and open-source protocol for trading across automated market makers (AMMs) and other liquidity sources.
Uniswap Launches UniswapX
As per the official announcement, the new protocol has been designed to address the growing complexity of on-chain routing and the fragmentation of liquidity pools resulting from the increasing number of customized pool designs. 
1/ New beta drop! 👀

Meet UniswapX⚡— a new permissionless, open source (GPL), auction-based protocol for trading across AMMs & other liquidity sources.

TL;DR: Over time, it'll give users more liquidity, better prices, MEV protection, & gas-free swapping!

Opt-in to the beta👇 pic.twitter.com/30s4dxdeoW

— Uniswap Labs 🦄 (@Uniswap) July 17, 2023
UniswapX aims to improve self-custody swapping and grow on-chain trading by offering better prices through the aggregation of liquidity sources, gas-free swapping, protection against maximal extractable value (MEV), and no cost for failed transactions.
Uniswap is launching the new protocol in "opt-in beta" on the Uniswap Labs interface for the main Ethereum network, with plans to expand to other chains and the Uniswap wallet in the near future.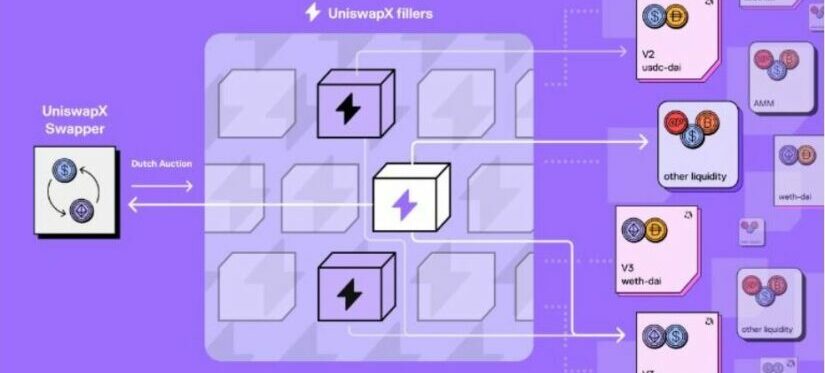 Furthermore, the leading DEX explained that gas-free swapping will be the key feature of UniswapX, allowing Swappers to sign a unique off-chain order, which is then submitted on-chain by fillers who pay gas on the swappers' behalf. This would eliminate the need for swappers to pay gas or hold a chain's native network token to trade.
Maximal Extractable Value (MEV) protection is also provided by UniswapX, which returns MEV that would be left on the table to be captured by an arbitrage transaction to swappers through improved prices. Not only this, but UniswapX also has plans to launch a cross-chain version later this year that combines swapping and bridging into one seamless action. Uniswap wrote,
"With cross-chain UniswapX, swappers will be able to swap between chains in seconds. Swappers can also choose which assets they receive on the destination chain, instead of a bridge-specific token."