The prices of Bitcoin (BTC) are firm, and it is trading at 2023 highs, looking at the performance in the daily chart. Specifically, buyers are pumped with the July 13 bar wide-ranging with decent trading volumes. As per the candlestick arrangement clear in the daily chart, the uptrend remains, and prices are in a bullish breakout formation.
This is a relief for optimistic buyers considering the shake-off in the better part of the first half of July 2023 when prices tanked, falling close to the $29.8k and $30k support zone.
The welcomed revival will likely be the foundation of another leg up that may lift the coin above $32.5k toward $35k or better in the sessions ahead.
The Landmark Ruling
The surge in demand on July 13 is primarily due to fundamental factors.
In the United States, Judge Analisa Torres ruled that despite the Securities and Exchange Commission (SEC) assertion that Ripple raised over $1 billion illegally by selling XRP, a crypto asset the regulator claimed is an unregistered security, the coin, the court, has ruled, is not, after all, a security.
This indirectly means XRP is a commodity just like Bitcoin, whose holders are free to trade and all capital gains therein taxed. Analysts say this is a massive win for cryptocurrencies, and Bitcoin has already been clarified as a commodity.
Notably, the ruling may set a foundation for the eventual approval of a spot Bitcoin exchange-traded fund (ETF) in the coming months.
Bitcoin (BTC) Price Analysis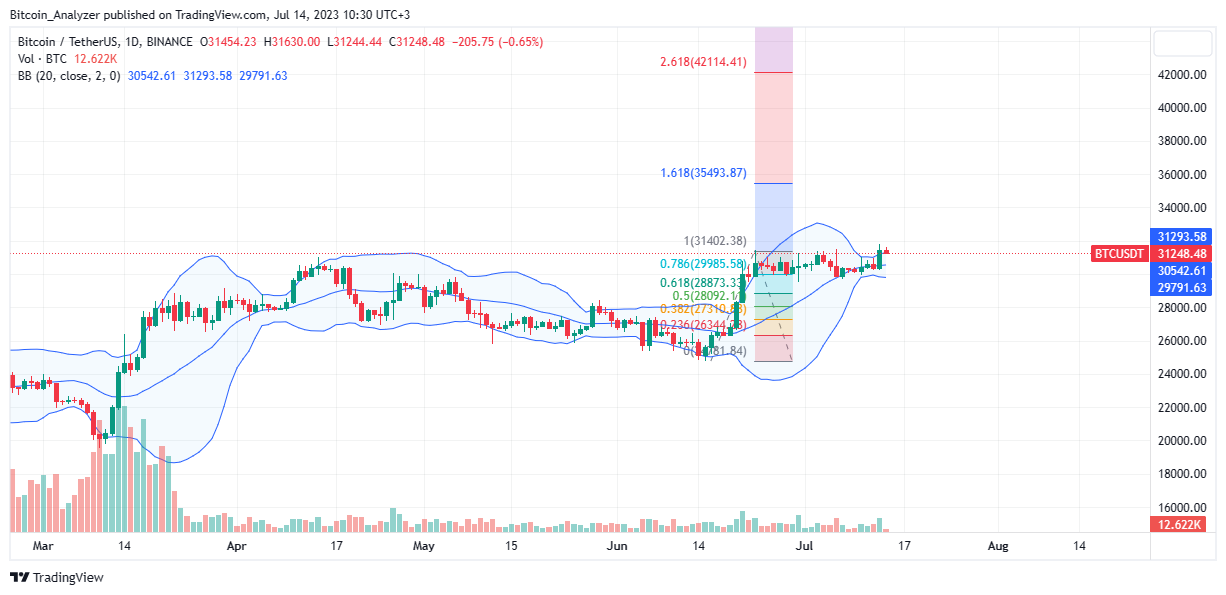 From the daily chart, BTC is up 3% in the last trading day, firm and with rising trading volumes. Notably, the upsurge on July 13 also saw the losses of July 6 reversed, a net positive for optimistic traders expecting more upsides in the days ahead.
Since the coin is trading at a near all-time high, looking at the formation in the daily chart, traders can look for loading opportunities provided prices are above the $30k support level. This support level coincides with the July 14 lows.
Extending possible reaction points per the Fibonacci extension from mid-June to mid-July, swing high and low; the next target is around $35k and $42k. These are the 1.618 and 2.618 extension levels.
Going forward, traders can search for entries to buy with any unexpected dump below July 6 lows and $29.8k canceling this outlook.
Technical charts courtesy of Trading View.
Disclaimer: The opinions expressed do not constitute investment advice. If you wish to make a purchase or investment we recommend that you always conduct your research.
---
If you found this article interesting, here you can find more Bitcoin News.