The metaverse is one of the greatest trends in the crypto market and Decentraland is one of the projects with numerous opportunities in this sector.
Given that the cryptocurrency market is unlikely to experience any major shocks in the near future, the Decentraland (MANA) token is poised to maintain its solid position as a primary draw for many investors and traders. The path ahead is full of petals, according to the favorable MANA projection and future market capitalization, assuming that investor confidence continues to rise, culminating in a strong push to the Decentraland price.
What is Decentraland?
Decentraland is a three-dimensional (3D) virtual reality platform at the vanguard of the expanding metaverse movement, which has seen meta-related coins grow by up to 37,000% in 2021.
The project was founded in 2015 by Ari Meilich and Esteban Ordino and launched in 2017. Its native ERC-20 token, MANA, allows users to buy LAND plots, monetize LAND parcels and avatars, and pay for in-world goods and services.
Decentraland originated as a proof of concept for giving ownership of digital real estate to users on a blockchain, despite the company's claims that it is the first-ever virtual world owned by its users. This digital real estate was first implemented as a pixel on an infinite 2D grid, with metadata identifying the owner in each pixel. It has since grown into a three-dimensional virtual environment separated into districts.
What is MANA?
The MANA token is Decentraland's in-game currency as well as the platform's cryptocurrency. MANA is an ERC-20 token that allows users to buy, sell, and exchange LAND in the virtual world, as well as pay for goods and services. Through the Decentraland Marketplace, the token may be used to buy estates, avatars, wearables, and unique names. This metaverse provides a full marketplace where all on-chain assets may be traded and managed.
In terms of gameplay, each user must build an avatar before entering the virtual world. Users can customize their avatars by changing their body type, shoes, accessories, and much more. In the virtual world, there are numerous activities available, such as engaging with other users, visiting casino areas, listening to music, attending parties with other players, or simply traveling. Decentraland was created by the use of sceneries that are placed one on top of the other. A scene is an experience in and of itself, with the players being able to walk from one scene to the next. 
What is a Metaverse?
The metaverse is a virtual world that integrates social networking, online gaming, augmented reality (AR), virtual reality (VR), and cryptocurrency to allow people to connect digitally. To improve the user experience, augmented reality overlays visual components, sound, and other sensory input onto real-world situations. 1 Imaginary reality, on the other hand, is wholly virtual and enriches fictional realities.
As the metaverse expands, it will develop online places that allow for more multidimensional user interactions than current technology allows. Users in the metaverse will be able to immerse themselves in a space where the digital and physical worlds collide, rather than just viewing digital content.

Decentraland (MANA) Price Prediction and Forecast 2022, 2023, 2024, 2025
According to technical analysis, the price of Decentraland has had a historic journey compared to other digital assets, and this could be the primary reason for its popularity. From 2022 to 2025, various price forecasts for this token have been made. Some believe the upward trend will continue.
Crypto Prince's analytical video discusses the possibility of a rapid upswing for Decentraland from 2022 to 2024. It even forecasts a price of $300 for this token. The price might rise to $15 in 2022, $25 in 2023, and $35 in 2024, according to the video.
Decentraland (MANA) Price Prediction 2022
PricePrediction.net predicts that the MANA price will rise and Decentraland's estimated minimum pricing value by the end of the year should be $3.13, based on a cross-average price level of $3.22. Furthermore, MANA has the potential to achieve a maximum price of $3.61. Longforecast, on the other hand, anticipates a price of $1.66 by the end of the year.
Decentraland (MANA) Price Prediction 2023
CoinPriceForecast estimates that The Decentraland price will rise to $4.98 in the first half of 2023, then drop $0.20 in the second half to complete the year at $4.78, a gain of 109 percent over the token's early 2022 price. However, Tradingbeasts estimates that the price will be between $2.07 and $3.44 in that year.
Decentraland (MANA) Price Prediction 2024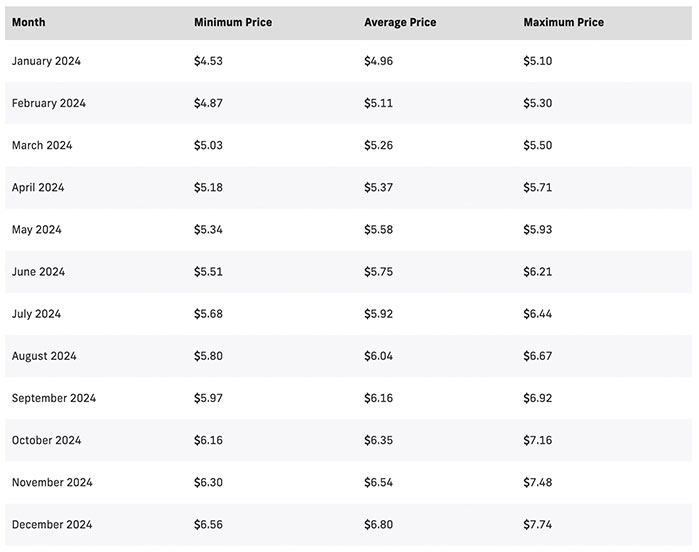 The MANA price in 2024 won't be looking good, according to DigitalCoinPrice. According to their calculations, the lowest price for this coin is $2.77, and the highest price is $4.86. However, according to PricePrediction.net, the MANA price is predicted to cross an average price level of $6.80 in 2024, while Decentraland's expected minimum price value by the end of the current year should be $6.56. Furthermore, MANA has the potential to achieve a maximum price of $7.74.
Decentraland (MANA) Price Prediction 2025
MANA is expected to decline in 2025, according to Longforecast. Their pricing research predicts a starting price of $4.14 and an ending price of $1.97 for this year, which is significantly lower than other projections. Walletinvestor, on the other hand, is highly optimistic about the price. According to their calculations, MANA will reach a maximum price of $14.61 in December 2025.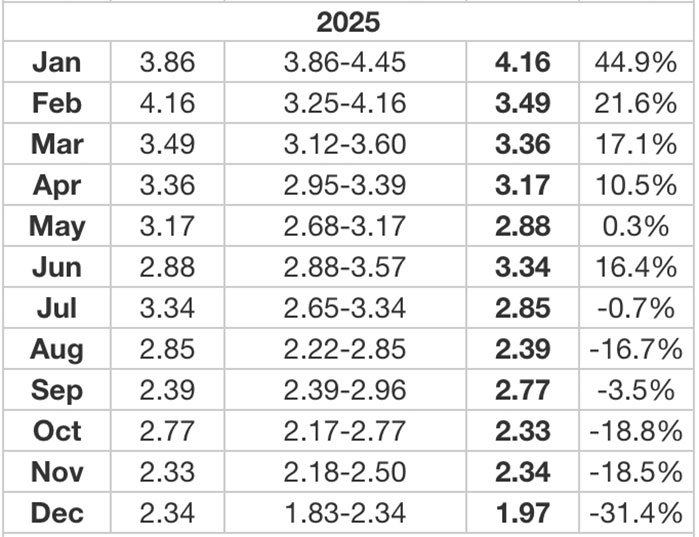 Conclusion
According to Cryptonomics' video, the price of MANA might reach $3.68 in 2022 and $6.73 in 2025. The details of the projects are discussed in this video, as well as the grounds for a prospective upswing in Decentraland's native coin.
In 2022, MANA has a bright future ahead of it. We may see MANA hit new heights as a result of continuous advancements inside the MANA ecosystem as well as in the larger crypto market.
Furthermore, the long-term MANA price forecast for 2022 is optimistic. Furthermore, MANA has a good chance of topping $3.1 this year and reaching $5.2. That will only happen if it overcomes a few psychological obstacles.
In the medium term, MANA coin's future predictions estimate that the price will reach a high of $6 in 2023 and that the average price will trade above $4 in a year. MANA coin forecasts short-term growth from present levels, rising $3.9 in the first half of 2022 and $10 in the first half of 2025, respectively, increasing the Decentraland price by 23% and 215 percent.
While things are going up for MANA price in the near future, according to the above coin price prediction, investors should expect good profits. MANA has the potential to rise to new heights in the future, making it a worthwhile addition to your portfolio for a solid return.
---
The Price Predictions published in this article are based on estimates made by industry professionals, they are not an investment recommendation and it should be understood that these predictions may not occur as described.
The content of this article should only be taken as a guide and you should always carry out your own analysis before making any investment.