Dash has finally landed on consumer-facing Coinbase.com exchange. This follows an announcement on the same published by the leading US-based cryptocurrency exchange on Thursday. According to the announcement, Dash will be available to all retail clients of Coinbase and this includes users of the retail version of Coinbase dubbed Coinbase.com and its mobile applications for Android and Apple iOS. The move to add the coin comes barely weeks after Coinbase announced the possible addition of 8 news assets to its trading interfaces and among the list of the assets was Dash, a payment focused public blockchain loosely based on the flagship cryptocurrency bitcoin and offering privacy features.
Just this past week, Coinbase listed Dash on its professional platform Coinbase Pro with hints on the possible listing of the coin on the consumer-facing platform. At the pro interface, Dash is available for trading against two base currencies: US Dollar and Bitcoin. (DASH/USD | DASH/BTC). However, with the inclusion of Dash for Coinbase.com users, now more people can actually buy Dash directly using their account balances, sell the asset, exchange it with other users, send and receive the asset in their accounts and through the Coinbase wallet, store the asset.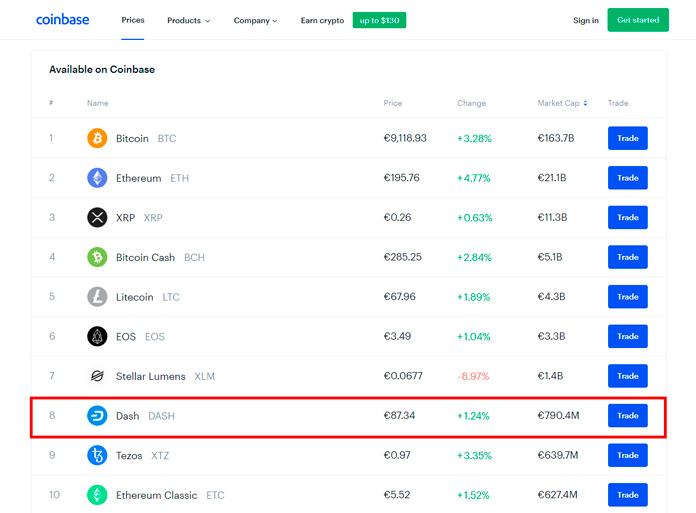 Dash will be available for trading in all Coinbase supported jurisdictions with the exception of the state of New York and the United Kingdom. This is, of course, due to the stringent laws imposed in these two jurisdictions. There is a possibility of expansion of jurisdictions at the exchange's discretion. To access the Dash capability especially on the mobile applications, users will need to update their applications to the latest versions.
Dash is a highly secure digital currency that supports fast payments and highly convenient features including privacy and near-instant confirmation times. Its addition to Coinbase, however, will not support some of these features such as the InstantSend. As Coinbase noted in its blog post, "Coinbase will not support these features, at this time." So this means that users only get access to the very basic features of the blockchain without all the bells and whistles that most dash fans have come to expect.
Nonetheless, the inclusion of Dash to Coinbase opens up the doorway to more eyeballs. Coinbase is one of the oldest cryptocurrencies exchanges in the business. As Ryan Taylor CEO of Dash Core Group commented yesterday on the addition of the coin to Coinbase "Dash's listing on Coinbase represents a significant expansion in access for users, as tens of millions of people have accounts with the exchange."