Among the innovations that bring us developments in technology blockchain fits everything. The people of Larva Labs, a mobile application development studio that has created some of the most popular iOS and Android applications, launched its latest project called CryptoPunks, which is a tokenized ecosystem based on Ethereum in which digital artists can distribute works of art in a more transparent, safe and efficient manner.
The CryptoPunks platform is in its early development phase and has begun with the distribution of 10,000 unique CryptoPunks in the Ethereum blockchain. Each CryptoPunk represents a unique character, each with its own characteristics, different themes and, more important, a cryptographic symbol or signature.
Each CryptoPunk has its only cryptographic evidence provided by the Ethereum blockchain and its tokens. Each CryptoPunk can only be owned by a single user, and the ownership of each token is authenticated by using the Ethereum blockchain. Because the Ethereum network is immutable and unalterable, the CryptoPunks property can not be altered, providing CryptoPunks users and buyers with a permanently verified cryptographic property.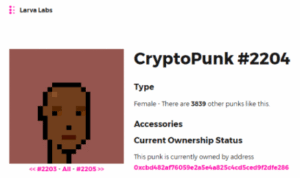 Since the CryptoPunk project is still at an early stage of development and testing, developers decided to distribute 10,000 free algorithmically generated characters to the community. CrytoPunks can be claimed by anyone who owns an Ethereum wallet with enough gas to acquire a CryptoPunk; It should not cost more than 11 cents to get a punk.
Initially, all CryptoPunks were released to the public for free, and as demand surged, a growing number of CryptoPunk owners began auctioning their punks for a premium price.
In the official whitepaper of the project, the Larva Labs team explains that Ethereum was the blockchain choice for the team because of its flexibility and tokenized ecosystem built on its intelligent contract protocol. Because Ethereum allows code execution in a transparent accounting workbook, anyone can see if the code was executed correctly. Ethereum allows everyone to run the code, display the result obtained and agree that the code was executed correctly and fairly.
We invite you to follow the day by day about the cryptocurrencies, blockchain and bitcoin world at Crypto-economy.