Cryptocurrency payments company Crypto.com is preparing to expand into Canada following a regulatory green light as announced on Thursday.
According to the announcement, the company is now offering Canadian citizens the opportunity to reserve their MCO Visa Cards through its mobile application in preparation for official launch in the North American country. This expansion means that Canadians will now have access to one of the leading payment services in the world including globally accepted Visa cards.
The announcement comes days after Crypto.com announced an expansion into the EU region as well as three more countries adjacent to the EU block making it 31 countries. These include Iceland, the UK, Switzerland, and Norway. Expansion into Canada adds to the already worldwide support in Singapore and the US. The company first launched services in Singapore in October 2018 and then expanded to the US in July 2019.
"Reservations for the MCO Visa Card are made using the Crypto.com App which includes a three-minute customer onboarding process including ID verification," Crypto.com announced on Thursday.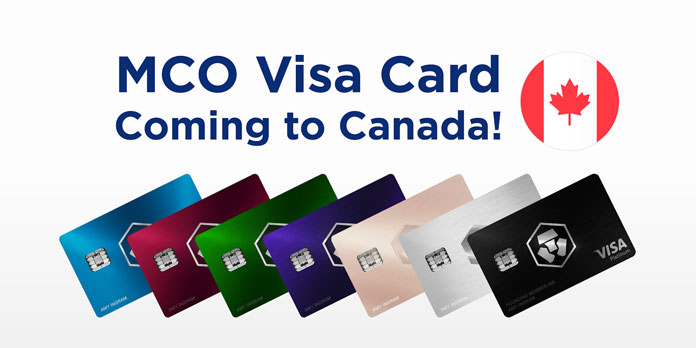 Using Crypto.com's service, customers can load up their cards with cryptocurrencies and use them on any Visa supported merchant PoS or ATM to pay for goods and services. Supported currencies are Bitcoin [BTC], Ethereum [ETH], Litecoin [LTC], and Ripple's XRP. Crypto.com's native token MCO is also an option on the app.
The use of MCO Cards increases convenience saving customers the need to convert their crypto holdings to fiat before spending them. However, their assets held on the app are always denominated in fiat.
The announcement about expansion into Canada comes a day following Crypto.com's launch of a custodial crypto wallet application. On Wednesday, the company revealed the standalone mobile application available to both Android and iOS mobile platforms allowing users to connect directly to the Crypto.com payments app and giving the users direct access to their crypto assets held on the wallet. According to the company, the wallet provides four key features valued by its customers: full control of their assets, security, flexibility, and convenience.
"Crypto.com is focused on developing highly secure, user-friendly products that help people benefit from the power of crypto. We are driven to continue building and investing in a range of decentralized finance (DeFi) products that will allow users to take control of their money, data, and identity — we believe that it's your basic human right," Crypto.com's chief executive commented of the launch of the wallet application on Wednesday.
"Our non-custodial Wallet is the first step, but everyone should expect this app to evolve rapidly into a category-leading product in terms of UX, features, and incentives."