The crypto market plunged on Thursday as concers of a stubbornly high inflation fanned fears of higher-for-longer interest rates. The sharp drop mirrored the broader financial market as U.S. equity futures dipped after Wall Street closed flat to lower on Wednesday.
Overdue Correction
The plunge comes after U.S. Securities and Exchange Commission (SEC) Chair Gary Gensler's testimony before Congress, recently, who said much of the business model of the cryptocurrency sector has been built around non-compliance with securities regulations.
On the other hand, increasing regulatory scrutiny continued with the SEC reopening a proposal from last year that would target decentralized finance (DeFi) exchanges for stricter regulations.
Atlanta Federal Reserve President Raphael Bostic said that he anticipated another 25 basis point interest rate increase. Joel Kruger, market strategist at LMAX Group explained,
"We believe the pullback we're seeing is more a function of an overdue correction following some impressive moves and possible profit taking on broader risk-off flow in global markets than anything crypto specific."
Inflation Fears Grip Crypto
Following a bullish momentum, the cryptocurrency sector took a nosedive, yet again, as a state of fear gripped the financial market. Several industry experts ascribed the declines to a repricing based on recent concerns about inflation and higher interest rates ahead.
It seems the bulk of the downturn came after UK consumer-price data on Wednesday showed inflation remained above 10% in March, adding to recent signs that central banks will have to keep lifting borrowing costs.
Bitcoin Takes A Hit
In response to the growing fear, Bitcoin (BTC) toppled back below the closely watched $30,000 level amid a wider retreat in cryptocurrencies. According to CoinMarketCap, the flagship token dropped more than 4% in the last 24 hours to trade at $28, 975. Meanwhile, BTC spiralled downwards 3.75% over the past seven days. Bitcoin has traded on either side of the $30K benchmark after reaching the level last week for the first time since June.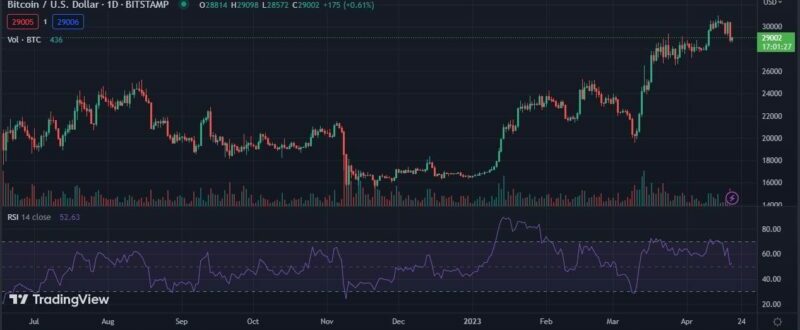 In tandem with the largest digital asset, Ethereum (ETH) shed 5.61% in the last 24 hours to haver at $1,961. Ether traded below the $2,000 mark for the first time since April 13, when the Ethereum blockchain completed its Shapella upgrade.
The recent pullback in ETH prices comes as investors moved attention away from Ethereum's latest technical upgrade, towards the potential scenarioa that the Fed could push the economy into a recession with another set of rate hikes. Clara Medalie, head of research at crypto data provider Kaiko said,
"Overall, volatility can be expected both towards the upside and downside due to a prolonged bout of thin liquidity in crypto markets, which has hit Bitcoin and Ether particularly hard."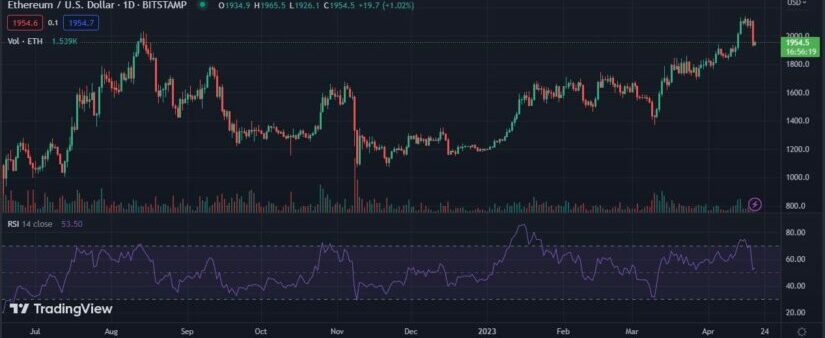 Altcoins Trade With Steep Declines
The sudden sell-off triggered liquidations of nearly $175 million worth of long positions across crypto markets. Amid the downturn, the global crypto market cap fell almost 5% in the past 24 hours to 1.21 trillion.
In tandem with the broader market, othe major altcoins suffered steeper declines. XRP, Solana (SOL, Polkadot (DOT) and Polygon (MATIC) shrank in the range between 5.24% and 6.14%. Cardano (ADA) slipped more than 3% in the last 24 hours to trade at $0.42.
At the same time, Litecoin (LTC) cascaded more than 10% over the past 24 hours to hover around $91.21. Popular memecoins including Dogecoin (DOGE) and Shiba Inu (SHIB) also tumbled 2.04% and 4.75%, respectively.