The cryptocurrency market has been consolidating within a tight rangebound. Last week's bloodbath resulted in the invalidation of bullish cues. Since its peak in November, Bitcoin was down by nearly 30%. All in all, December has been disappointing for market players, many of who are now fleeing to stablecoins.
The Fear & Greed index has been oscillating between "Fear" or "Extreme Fear" for nearly one month straight. According to the latest Arcane report, the last time the market sentiment echoed such a fearful sentiment was at the starting of the summer.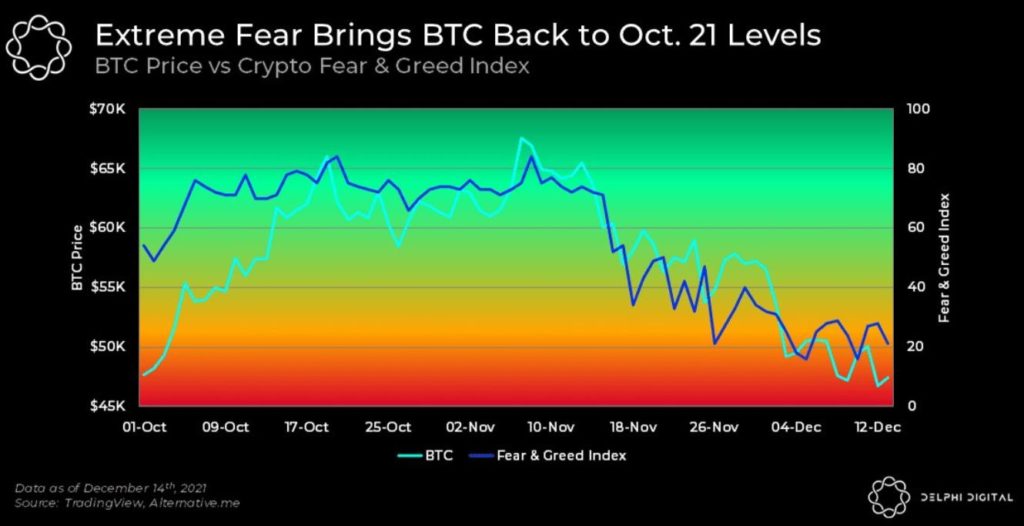 During that time, market sentiment was fearful for two months. However, the market is mimicking a similar trend once again after Bitcoin [BTC] fell from its ATH and sustained several pushbacks. As fear engulfed the market, it dragged the king coin back to October levels.
Stablecoins shoot up
As markets turned rocky, investors have turned towards stablecoins. The latest chart analysis by Delphi Digital noted that the daily stablecoin transfer volume has surged to approximately $57 billion on December 15th. This trend was only earlier seen in May this year after Ethereum [ETH] went on a downtrend from over $4,200 to a low of $1,870 in less than two weeks.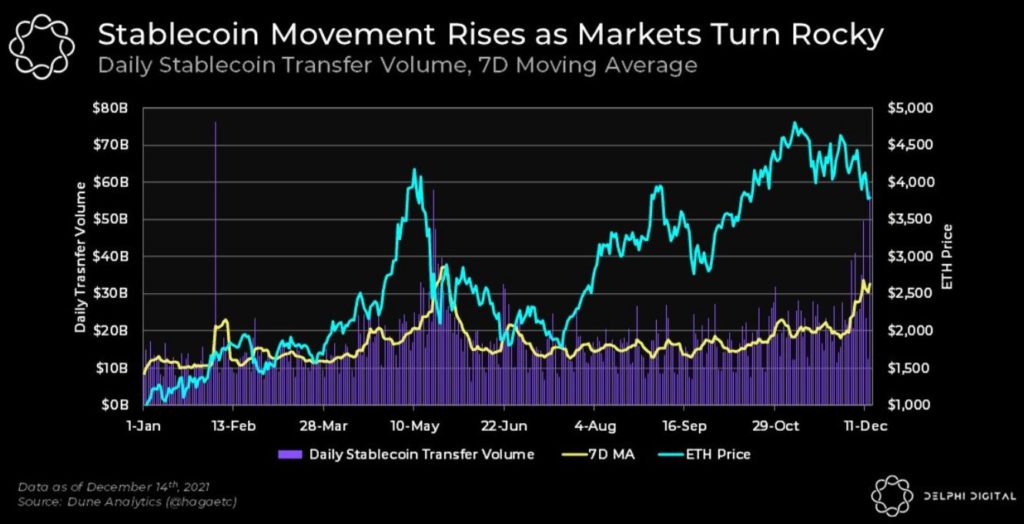 To put things into perspective, the stablecoin transfer volume tends to trend within $10-20 billion daily, typically.
Apart from a few outliers, December has been a disappointing month. For one, the macro uncertainty continued. Large-cap crypto assets traded sideways. The analytic platform noted,
"The markets have become extremely fearful as of recent, largely driven by the latest sell-off and heightened macro uncertainty. All eyes will be on the Fed as Powell hosts the final press conference of the year tomorrow following the FOMC's two-day meeting."
What to expect?
The Federal Open Market Committee will start the much-anticipated discussions on Wednesday. While there is a risk of Bitcoin and the broader market taking a plunge if the interest rate projections of the Fed demonstrate a higher than the expected peak. However, many players believe that the chances of a damaging sell-off on the announcement are relatively low unless the central bank hints at an aggressive approach.
Also, historically the wider crypto market tends to bounce off after the first two weeks of choppy price action, a trend that has been in shape for more than four years. Prominent crypto trader Pentoshi also stated,
"Markets are forward-looking. Crypto is even more so bc it's not under anyone's control. It's the only free-market left in the world."