Freeway, a crypto investment platform, has suspended some of its services citing "unprecedented volatility" in the foreign exchange and cryptocurrency markets. The move caused a sharp drop in the value of its Freeway token (FWT).
The cryptocurrency market has been racked with uncertainties this year. Slumping prices together with macro economic factors have continued to worry crypto companies. Crypto lending giants such as Celsius Network, Voyager Digital and 3AC toppled over the spiraling downtrend of the crypto prices, setting off a domino effect in the market. Several established crypto companies also announced mass lay-offs to navigate through the financial crisis. Freeway has become the latest company to halt services amid the ongoing market rout.
Exceptional Volatility in the Crypto Market

According to a Twitter post, Freeway announced that there has recently been "exceptional volatility in the foreign exchange and cryptocurrency markets" halting buys and deposits. In a series of Twitter threads, the company stated that until its new tactics are implemented, it will not be purchasing "Supercharger simulators".
We will notify you when we are ready to recommence partial Supercharger simulation purchases (buy-backs) and then again as we can recommence full Supercharger simulation purchases as well as on platform Freeway Token (FWT) Deposits and Buys.

— Freeway (@FreewayFi) October 23, 2022
As per the company, the "Superchargers" product can offer up to 43% annual yield rewards. Users can deposit fiat currencies and crypto, which are placed in regulated brokerage accounts that are leveraged for returns. These products can then be sold and the funds returned back. Freeway wrote,
"For a temporary time we will not be buying Supercharger simulations until our new strategies are implemented."
Although the company has not yet revealed its new strategies, Freeway is planning to diversify its asset base and manage exposure to future market fluctuations and volatility. It seems the crypto platform is focused on ensuring the long term sustainability and profitability of the Freeway Ecosystem allowing "highest level" of Supercharger simulation rewards. Freeway added,
"We will notify you when we are ready to recommence partial Supercharger simulation purchases (buy-backs) and then again as we can recommence full Supercharger simulation purchases as well as on platform Freeway Token (FWT) Deposits and Buys."
FWT Declines Significantly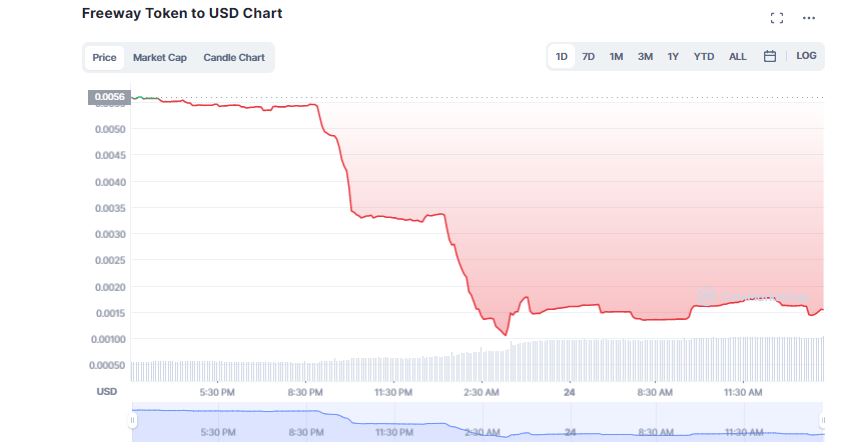 This news has triggered a significant decline in the value of its in-house token, Freeway (FWT). According to CoinMarketCap, FWT, witnessed a dramatic decline of more than 70% in the last 24 hours. The cryptocurrency is currently trading at $0.0015. It also propelled a barrage of messages on Twitter with many users condemning the move. One of the users wrote,
"I can't liquidate my supercharger and get my funds because FREEWAY is 'temporarily' not buying back the superchargers they sold me."