Digitex Futures, Seychelles-based centralized crypto derivatives trading exchange, is integrating Chainlink's Price Reference Data as a price anchor for more secure and transparent price determination.
Digitex Futures made the announcement in blog post published on Monday, May 25th. According to the announcement, Digitex is the first centralized cryptocurrency futures exchange to use decentralized oracles to improve platform security.
Digitex Futures said:
"Incorporating Chainlink price reference contracts brings heightened transparency and reliability to a critical component of our platform. It provides traders with strong protection against price manipulation, ensuring that traders don't become overexposed to slippage should our internal price feeds deviate too far from the global market price, as reported from Chainlink's highly reliable and tamperproof price reference contracts."
The exchange said that it would use Chainlink's Price Reference Contract an price anchor and monitor their own internal price feeds ever deviate from it by more than a defined percentage.
The exchange plans to start using Chainlink's Price Reference Contracts to support Digitex's initial BTC/USD perpetual contracts, before incorporating additional feeds alongside other crypto assets in the future.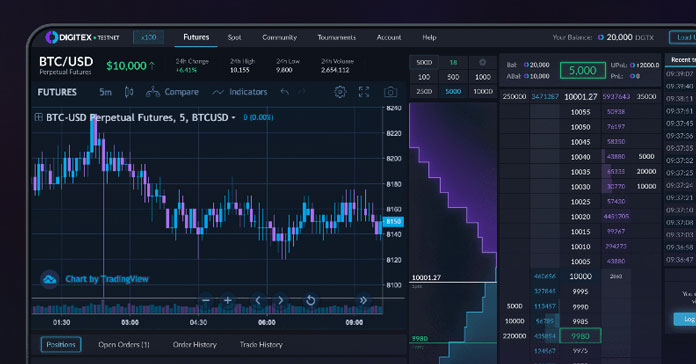 According to Digitex, Chainlink's Price Reference model enable it to have three important features on its platform. These features include accurate prices, manipulation resistance, and liveness guarantees. The decentralized design of these price oracles stops any malicious actor from compromising the quality of the price data or the reliability of the price update.
Digitex Futures further said:
"Additionally, the use of high-quality market data and secure node operators enforces high standards on each individual component of the network. Chainlink's infrastructure is already relied upon for the security of millions of dollars by many leading DeFi applications."
Digitex Futures, founded in 2017, is a commission-free futures exchange with its own native cryptocurrency DGTX. The exchange covers the cost of running the exchange by creating a small number of new tokens each year instead of charging transaction fees on trades. According to Digitex, the DGTX offers a revolutionary new model of revenue generation, meaning that Digitex users pay no commissions.
Adam Todd, Founder and CEO of Digitex, commented:
"Chainlink provides Digitex with highly reliable and transparent price feeds that protect our users against the negative outcomes of abnormal market conditions or internal complications. Using Chainlink price data enables us to deliver stronger security and performance guarantees to our users, furthering our vision to revolutionize futures trading."
---
If you found this article interesting, here you can find more Chainlink News