New Zealand-based cryptocurrency exchange Cryptopia has been hacked. Following this hack, the exchange has taken offline its website trading platform and support pages citing "unscheduled maintenance" operations.
In a tweet written earlier today announcing the security breach, the exchange said that,
"We apologize for the delay in keeping you updated and appreciate your patience. Yesterday 14th January 2019, the Cryptopia Exchange suffered a security breach which resulted in significant losses. Once identified by staff, the exchange was put into maintenance while we assessed damages."
As cited in the tweet, the announcement does not state the extent of the losses and as of yet, has not provided any further updates on the effects of the hack.
The exchange has been inaccessible for the past 24 hours while giving its users laconic twitter updates. Yesterday 14th, January the exchange wrote a tweet explaining why the trading platform was inaccessible saying that the team was performing unscheduled maintenance.
The Twitter bot Whale Alert had reported on January 13th two massive token transfers from Cryptopia's wallets to unknown wallet addresses. One of the transactions was the transfer of 19,391 ether (ETH) coins worth approximately $2.44 million and the other was the transfer of 48,029,306 Centrality (CENNZ) tokens worth approximately $1.18 million. Both these transfers were reported about 5 minutes apart starting with the Ether transfer.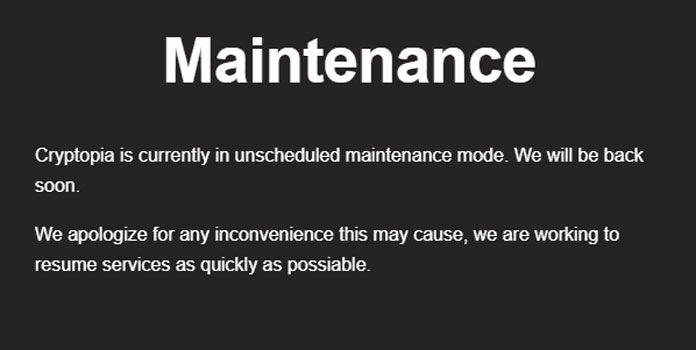 In today's tweet, Cryptopia added that it had reached out to relevant government agencies, including the New Zealand police and the High-Tech Crimes Unit who have reportedly opened an investigation into the matter and are treating the incident as a 'major crime' incidence. The parties are also providing the cryptocurrency exchange with advice.
It is of worth to point out that the alleged security breach has not negatively affected the general markets. Over the past 24 hours, Bitcoin has gained close to 3.5%. Some Twitter users have taken the opportunity to bash Cryptopia on its waning crypto influence considering that the cryptocurrency exchange had seen better days especially at the beginning of 2018 during the altcoin bull run. One user WhalePanda said that,
"Looks like @Cryptopia_NZ got "hacked". Cryptopia used to be very popular at one point but has since then become mostly irrelevant."
This is the first cryptocurrency hack in 2019.