COTI is a decentralized payment processing blockchain platform that allows businesses and governments to create their own currency. It has a lot of room for price growth in the next years.
Is COTI a good coin?
COTI is making remarkable strides toward forming connections with other cryptocurrency industry leaders. There's no way of knowing how the platform will work in the future, and it's still subject to market fluctuations in cryptocurrency values. Each investor's tolerance for risk is different, so they should consider their entire financial portfolio before choosing this coin.
What does the News say about the future of COTI?
Following a rough December for crypto in general, some investors in February 2022 are anticipating either a tremendous surge or an equally swift decrease in market activity this year. Major blows to bitcoin, the long-term repercussions of the epidemic, and global regulation brought in by lawmakers have all had a negative impact on the crypto markets.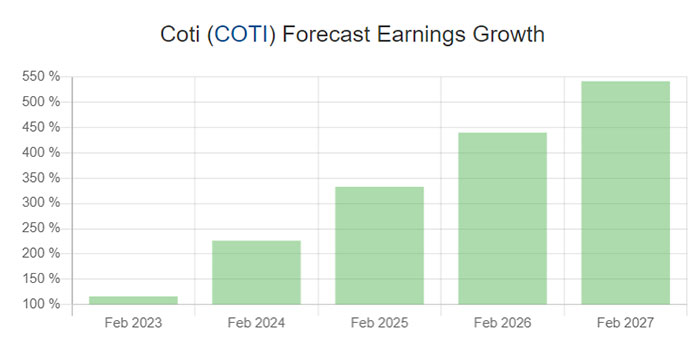 According to the website walletinvestor.com:
"According to present data, COTI and potentially its market environment has been in a bullish cycle in the last 12 months (if exists). Our AI cryptocurrency analyst implies that there will be a positive trend in the future, and the COTI might be good for investing for making money."
COTI Price Analysis
COTI is currently ranked 186th on CoinMarketCap. However, the blockchain's most recent upgrades, innovations, and adjustments may assist the cryptocurrency's price rise.
This blockchain is showing significant bullish signals in the coming years. It may be able to break its recent ATH level soon if the bullish trend begins in early 2022.
COTI Price Prediction and Forecast 2022, 2023, 2024, 2025 according to the experts
Cryptocurrencies are expected to perform poorly in 2022, but the COTI currency appears to be in good shape. If the crypto market focuses on this coin, the price could climb faster.
In Coindataflow, you can find a good analysis of the price of this coin.

COTI Price Prediction 2022
In the long run, the COTI cryptocurrency has a lot of promise. The coin can reach a maximum price of $0.57 before the end of 2022. Its average price is expected to be around $0.45, depending on the market. If the market falls, its minimum price for 2022 could be as low as $0.39. The value will rise because the calculated price for the year 2022 is optimistic.
COTI Price Prediction 2023
The COTI token's minimum and maximum prices are projected to be $0.77 and $0.95, respectively. The average trade price will fluctuate by about $0.79 in 2023. Although the value may rise, the increase will not be significant.
COTI Price Prediction 2024
The minimum trading price for 2024, according to the price estimate, is expected to be $1.08. During the same time period, the average trading price of COTI could be $1.11, with a maximum price of $1.33. The volume plays a significant influence in the price of the coin and has a significant impact on it.
COTI Price Prediction 2025
As mentioned above, COTI has a lot of long-term potentials. Its worth could rise in the next five years with greater investment and acceptance. If all goes well, the coin's average price level by 2025 might be around $1.64. Its highest price in 2025 might be $1.84 if the market turns bullish. In comparison, the lowest price might be as low as $1.29. However, if there is a bull movement in 2025, the coin may break all of its prior records and reach new highs.
Conclusion
The COTI wallet system appears to have a bright future ahead of it, as evidenced by the technical analysis and price projection, and hence the token is a good investment. The price of this coin is projected to converge with the forecast values in the short term. This cryptocurrency has yet to be subjected to a thorough fundamental study. Furthermore, basic research and investment are dependent on a company's short-term and historical success, which isn't always readily available for all cryptos.
---
The Price Predictions published in this article are based on estimates made by industry professionals, they are not an investment recommendation and it should be understood that these predictions may not occur as described.
The content of this article should only be taken as a guide and you should always carry out your own analysis before making any investment.