An exciting report from CoinShares indicates that institutional investors are getting struck as the SEC looks into every aspect of the crypto industry within the United States.
Is fear Spreading?
CoinShares, the institutional crypto fund manager, reported that digital asset investment products saw a capital outflow of $32 million, the most significant withdrawal of the year, in its report published on Feb. 20.
The report said millions of dollars were outflows from digital asset investment products last week, the most significant since late December 2022. By Friday, sentiment in the market had improved, and the net outflows had dropped much lower than they were mid-way through last week.
An outflow of nearly US$25m was seen by Bitcoin as a result of the negative sentiment, while short-Bitcoin investing products saw an inflow of US$3.7m as a result of the feeling.
An inflow of US$9.6 million was seen in the blockchain equities sector last week, and this is the sixth consecutive week when inflows have been seen.
At the halfway point of last week, there were 62 million dollars in outflows, but sentiment improved by Friday with 30 million dollars in inflows. Bitcoin price appreciation over the past week has led to an increase of almost 10% in total assets under management (AuM), the highest level since August 2022, while the negative sentiment amongst ETP investors was not reflected in the broader market.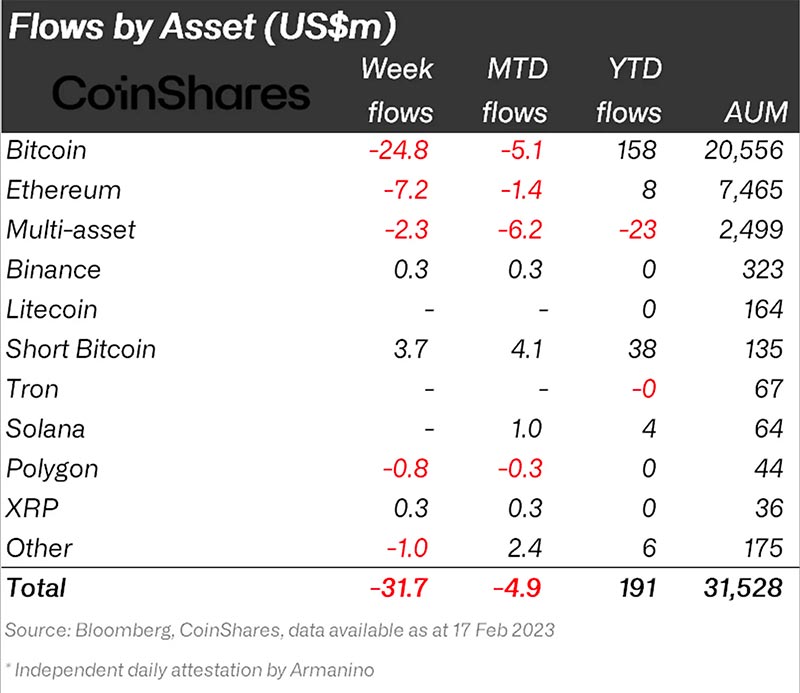 Consequently, this is primarily because investors in ETPs are less optimistic about the upcoming regulatory pressures in the US than investors in broader markets.
Ethereum, Cosmos, Polygon, and Avalanche saw a drop of US$7.2m, US$1.6m, US$0.8m, and US$0.5m, respectively during the last 24 hours. The number of inflows into Aave, Fantom, XRP, Binance, and Decentraland varied from US$0.36 million to US$0.26 million.
There has been an inflow of US$9.6 million into blockchain equities in the last week and six consecutive weeks of inflows, highlighting a more constructive sentiment among investors in the sector.
The negative sentiment among institutional investors isn't something new. When regulators push harder for limits on the crypto industry, it worries those investors who precisely should follow the regulations. On the other hand, retail investors will be less concerned.
After all, the regulation should follow innovation, and this era will surely end for the industry. What's for sure is that the crypto market should wait and bear these situations as the bull market and more adoption may start anytime.