One of the leading cryptocurrency data aggregators, CoinGecko, has introduced a new index, "Top Alleged Securities Coins," that tracks crypto tokens viewed as potential securities by the United States Securities and Exchange Commission (SEC).
According to the official CoinGecko website, the "Top Alleged Securities Coins" page was constructed by compiling a selection of the most notable tokens that had been deemed securities by the SEC in past lawsuits. The CoinGecko page sorts digital assets by market capitalization, with Binance Coin (BNB) leading the list, followed by Cardano (ADA), Solana (SOL), TRON (TRX) and Polygon (MATIC).
CoinGecko Aims to Provide Info on Alleged Securities' Coins
It seems the decision to consolidate these select tokens into an index underlines the growing intersection of the cryptocurrency market and regulatory frameworks. It comes at a time when the debate over the classification of crypto tokens as securities is heating up.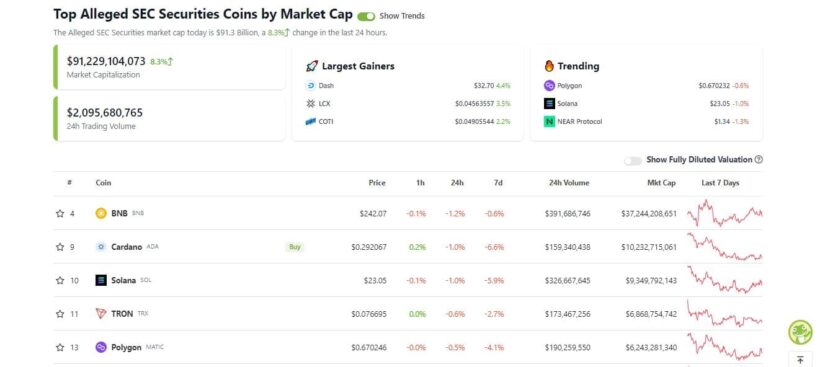 As per reports, the index was launched in the first week of August and was constructed by compiling a selection of the most notable tokens that had been deemed securities by the SEC in past lawsuits. The novel CoinGecko index constitutes a whopping $84.9 billion of the cumulative market, listing 24 cryptocurrencies and representing 7.5% of the $1.21 trillion total crypto market capitalization.
The new list of digital assets on CoinGecko comes hot on the heels of the SEC's recent lawsuits against crypto exchanges Coinbase and Binance bringing the total number of tokens viewed as securities by the regulator to 68.
Which Digital Tokens are Viewed as Securities?
In its recent case against Binance, the SEC introduced 10 cryptocurrencies into the securities classification such as BNB, SOL, MATIC, ADA, SAND and MANA among others. Meanwhile, In its Coinbase suit the SEC named 13 cryptocurrencies which doubled down on the newly classified SOL, ADA, MATIC, SAND and AXS and added six more including Chiliz (CHZ), Flow (FLOW), Internet Computer (ICP), NEAR, Voyager Token (VGX) and NEXO.
Today we charged Coinbase, Inc. with operating its crypto asset trading platform as an unregistered national securities exchange, broker, and clearing agency and for failing to register the offer and sale of its crypto asset staking-as-a-service program.https://t.co/XPG2gDkxtV pic.twitter.com/hCdVMw8B2v

— U.S. Securities and Exchange Commission (@SECGov) June 6, 2023
Recently, Coinbase CEO Brian Armstrong, claimed the SEC told the exchange to stop trading in all cryptocurrencies except Bitcoin (BTC) before suing the crypto platform in June. If Coinbase followed through, the recommendation would have halted the trading of over 200 crypto assets. Armstrong said,
"We said, well how are you coming to that conclusion, because that's not our interpretation of the law, And they said, we're not going to explain it to you, you need to delist every asset other than bitcoin."
SEC Chair asks for Fresh Funding to Tighten Crypto
NEWS : SEC Chair Gensler Seeks Fresh $109 Million Funding To Regulate Crypto 'Wild West': Gary Gensler, the controversial US Securities and Exchange Commission Chair, recently sounded the alarm… #CryptoNews #btcusd #cryptoregulation #ethusd #GaryGensler https://t.co/Qpmh4pCHCT pic.twitter.com/69s83U9I5Z

— SYSOP.ai (@sysopai) July 20, 2023
Furthermore, in recent testimony before the U.S. Senate Appropriations Committee's Subcommittee on Financial Services and General Government, Gensler also requested additional funds for the SEC that would increase its overall budget to $1.4 billion, citing the urgent need for "new tools, expertise, and resources" to address the non-compliance issues prevailing in crypto markets.