Cryptocurrency exchange giant, Coinbase, is diving deeper into the world of Web 3 with its new product. The crypto exchange platform just rolled out a redesigned version of its application allowing users to access Ethereum-based dapps directly from the Coinbase app.
Recently, Coinbase Global Inc., teamed up with investment banking behemoth, Goldman Sachs Group, to roll out the bank's first Bitcoin backed loan. Last month, the company dropped a beta version of its much anticipated non-fungible token (NFT) marketplace for testers to explore. Earlier this year, Coinbase, announced the launch of a Web 3-focused payments services called, Coinbase Pay.
Coinbase Blimps Out On Web 3 Features
On May 17, Coinbase announced that the company has rolled out new features for a small set of the its users to access Ethereum-based dapps directly from the Coinbase app. The new Coinbase app will let users buy non-fungible tokens (NFT) on marketplaces like Coinbase NFT and OpenSea, trade on Decentralized Exchanges like Uniswap and Sushiswap, and borrowing, lending, or swapping through DeFi (decentralized finance) platforms like Compound and Curve. Rishi Dean, Director of Product Management at Coinbase remarked,
"Use popular Ethereum dapps with Coinbase's new dapp wallet and browser."
According to the official blog post, the new dApp wallet is powered by Multi-Party Computation (MPC) technology that enable users to have a dedicated on-chain wallet for security. This wallet is is built in such a way that it allows the 'key' to be split between the user and Coinbase. This means that if the user loses access to their device, the key to the dapp wallet is still safe and Coinbase can assist in recovery through a live support.
The blog post also stated that to set up the wallet users have the go to the new "Browser" tab in the navigation bar at the bottom of the Android mobile app screen. Once set up, one can explore and use Ethereum-based dapps directly in the new dapp browser of the Coinbase app.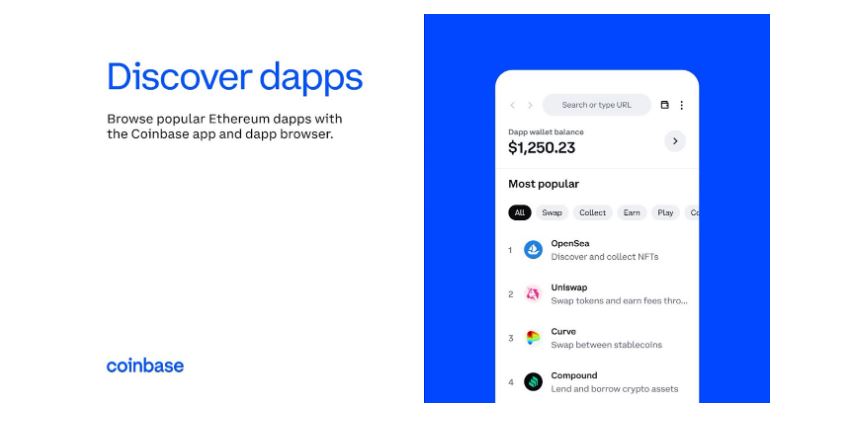 Coinbases's Journey In The Web 3 Space

The new dApp wallet and browser is being launched first in the US on Android first to a small subset of users, and eventually plan to expand to all users and platforms. Dean expressed,
"We want to enable everyone to seamlessly and safely participate in web3, and today's launch is another step on that journey."
Coinbase's stock has taken a beating this year, falling by more than 70 per cent. In the fourth quarter of 2022, the exchange's trading volume fell by 44 per cent compared to the fourth quarter of 2021. It brought in $1.17 billion, significantly less than the $1.5 billion expected by analysts.