Bitcoin's [BTC] invalidation of the ongoing bullish scenario further affirmed the summer lull in the crypto market. First major drawdown of BTC this quarter and China-induced FUD is at it again. This resulted in the cumulative cryptocurrency market to fall below $1.40 trillion on the 8th of July.
The world's largest flagship cryptocurrency, on the hand, was just recovering from its correction, but headed back all the way to $32,820. The recovery was stalled after reports of China blocking cryptocurrency exchange Binance's app. This was revealed by Chinese Journalist Colin Wu in his latest Twitter thread in which he also said that the users of the exchange were resorting to virtual private network [VPN] service following the blockade. His tweet regarding the same read,
"On the evening of July 8, Beijing time, many users found that the Binance APP appear to be blocked in China and must use a VPN to log in. Huobi and OKEx APP are not blocked."
Wu further added that the blocked situation was resolved and added that Binance could have possibly gone through a "technical methods in an emergency." But the damage was done and Bitcoin's rapid recovery above the $33k took a sharp u-turn. 
The news comes after Britain's financial entity barred the leading cryptocurrency from conducting regulated activities in the country. Other countries followed suit. Japan's regulator, for instance, stated that Binance was operating illegally. Additionally, Germany's regulatory authority warned the platform for offering tokens tied to stocks. More recently, Spanish banking giant Banco Santander also stopped payments to the platform.
Hence, the string of crackdowns on the platform by regulators globally have made the latest development believable even without any confirmation from either sources. 
Bitcoin [BTC] Price Revisits Support Region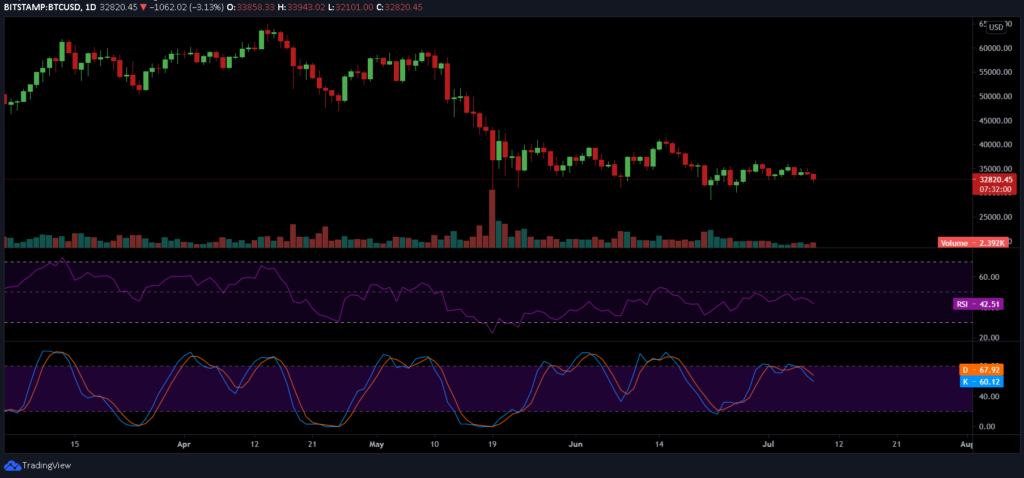 Bitcoin failed to crack crucial resistance this week. As depicted by the above chart, the renewed bearish momentum found significant backing from the low trading volume that impeded its growth these past few weeks. The RSI was rejected at half-line yet again as selling pressure heated up. A similar sentiment of increasing selling pressure was demonstrated by the Stochastic RSI as well. 
The asset lost roughly 8% over the past 24-hours. While chances of a decline under $30k level is still very much on the cards, if materialized, this is likely to trigger a massive wave of liquidation. On the brighter side, this support level for the crypto-asset could potentially stabilize the ongoing sell-off, since it represented bottom of the month-long trading range and buyers could jump in to accumulate.
---
If you found this article interesting, here you can find more Bitcoin news