Leading cryptocurrency lending platform, Celsius Network, has hired restructuring lawyers in an effort to help move forward from its financial debacle amid liquidity crunch.
This comes on the heels after New Jersey-based Celsius halted withdrawals and transfers between user accounts indicating 'extreme market conditions'. Celsius paused all withdrawals, swap, and transfers between accounts amid an apparent liquidity crisis, as the price of Bitcoin (BTC) plunged to pre-pandemic levels.
.@CelsiusNetwork is pausing all withdrawals, Swap, and transfers between accounts. Acting in the interest of our community is our top priority. Our operations continue and we will continue to share information with the community. More here: https://t.co/CvjORUICs2

— Celsius (@CelsiusNetwork) June 13, 2022
Lawyers to Help Through Mounting Financial Adversities

According to reports, Celsius Network LLC has hired lawyers specializing in business restructuring from law firm, Akin Gump Strauss Hauer & Feld LLP, to help navigate on possible solutions for its mounting financial problems. Due to its ongoing liquidity crunch, the company was looking for a possible financing options from investors, but is also exploring other strategic alternatives, including a financial restructuring. However, neither of the companies responded to a request for comment.
The crypto lending giant might have had a repository of $11.8 billion in digital assets under management but failed to navigate to safer grounds amid the broader market downturn. Celsius, which at its peak held over $10 billion in client assets, had been struggling to cover a number of its debts. Following the collapse of the Anchor Protocol on the now-named Terra Classic blockchain, Celsius users have criticised the network over mismangement of funds. 
The Celsius move triggered a slide across cryptocurrencies, with their global crypto market cap dropping below $1 trillion on Monday for the first time since January 2021, sparking worries the rout might spill over into other assets or hit other companies. Bitcoin (BTC) took a heavy know as the token plunged below $21K today.
Consequence of Freezing Transfers and Withdrawals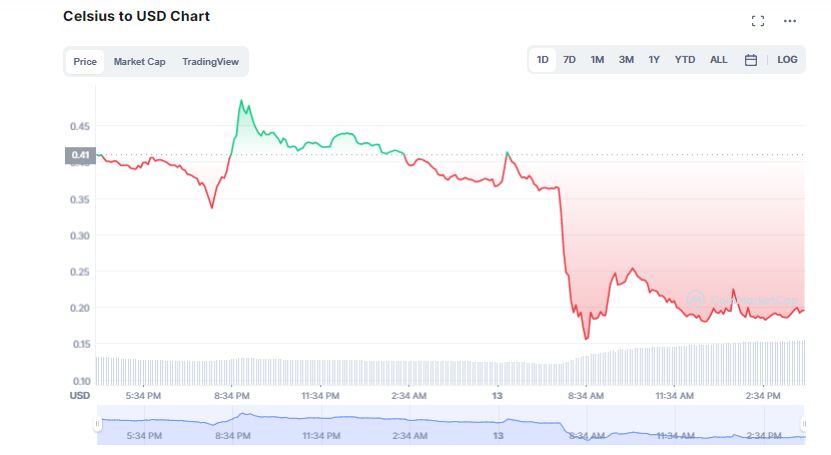 Soon after the dramatic decision to pause transactions over its network, Celsius Network's native token CEL, tanked 70 per cent in one hour from a prior high of $0.49 earlier on Sunday down to $0.19. The digital token fell witnessed a 92 per cent decrease, from April 8th, when CEL was worth $3. The token was worth nearly $7, a year ago.
According to CoinMarketCap, the global crypto market cap is just over $900 billion while Bitcoin's dominance is at 44.69 per cent. Ether (ETH), the second-largest crypto by market cap, was changing hands at roughly $1,110, about flat from Monday when it hit a more than 18-month low. Altcoins, including Solana (SOL) and Cardano (ADA) which had recovered yesterday, fell again by 0.72 and 2.46 per cent respectively, in the last 24 hours. Majority of other tokens are still swimming in a sea of red.