Minswap announced a new scaling protocol named Laminar that is focused on accounting-style smart contracts based on eUTxO. The eUTxO model is a proprietary model in the Cardano blockchain that makes the smart contracts on this network unique.
It combines with Haskell-based protocol for smart contracts that make it more efficient for developers to develop scaling solutions for this network. The new scaling solution from Minswap uses these advantages and will be available for scaling accounting-style smart contracts.
Another Tool for DeFi on Cardano?
DeFi is the first product everyone thinks of in the blockchains that support smart contracts. The industry is maturing, and more products launch every day on numerous blockchain. Cardano is entering this industry very strongly, and we see new tools for that goal emerge on its ecosystem.
Minswap is one of the decentralized exchanges on this blockchain that had its own problems. But it's now focusing on solutions for accounting-style smart contracts to show its abilities.
Laminar is the name of the new scaling solution from Minswao. It uses the eUTxO protocol of Cardano for scaling services. According to Minswap, it has numerous benefits for scaling the smart contracts on Cardano. It can scale up to the limits of transactions without the need for any parameter update.
Using this solution needs no change on the underlying smart contract. In simple terms, developers can deploy Laminar "without worrying about making it concurrent out of the gate."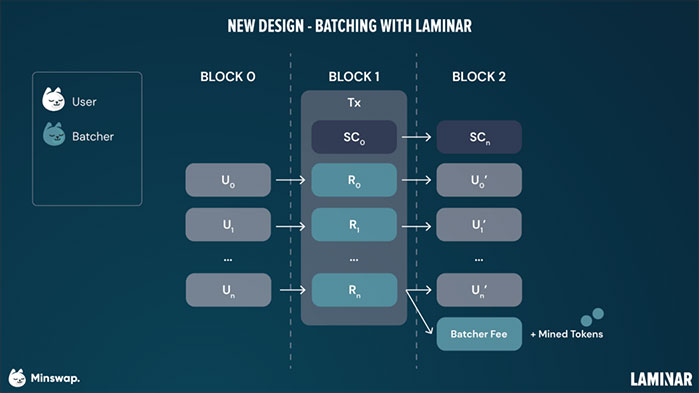 The announcement post from Minswap has a detailed explanation of Laminar and its advantages. It also points at challenges that the Minswap team has had in the development phases. The product didn't launch on testnet, and Minswap describes the reason:
"Laminar is currently the solution we are most satisfied with and is what we will continue to develop and dive deeper into. However, like most other complex protocols, it takes a lot of time to build and audit. The point of Laminar is that it doesn't require changes to the underlying accounting-style smart contract, therefore we can launch the base protocol first to get feedback before moving onto designing a well-rounded incentivized batching layer."
At the end of the announcement, the Minswap team focuses on problems with the current state of the Cardano blockchain. But the problems aren't critical for their design. Minswap team believes the limitations can be managed by governance votings and somehow requires the Cardano community to do so.
---