Cardano (ADA) prices might be lower at spot rates, holding inside a bear flag, but the uptrend remains.
Notably, ADA is up 33% from March 2023 lows and 60% from 2022 lows.
At this pace, the coin could move higher in the days ahead, shaking off the current weakness.
Still, for the uptrend to take shape, there must be a strong rejection of the recent bears.
In the short term, ADA has support at $0.37 while resistance lies at $0.41 as bears press on, forcing the coin 13% from April highs.
Eyes on Voltaire
The cool-off in ADA coincides with exciting developments in Cardano's roadmap.
In the current age of optimization and performance enhancement dubbed Basho, Cardano developers focus on making the network more efficient and performing as designed.
Their eyes are now on the Voltaire stage, where the network is expected to be a self-oiling machine powering decentralized finance (DeFi) protocols and other solutions in a scalable, low-fee environment.
The charge is spearheaded by Charles Hoskinson, the head of Input Output Hong Kong (IOHK), the development wing of the Cardano blockchain. Hoskinson is also one of the co-founders of Ethereum.
However, in a tweet, one of the original co-founders of Ethereum, Fabian Vogelsteller, criticized the Cardano lead. He said he is not "really a founder of Ethereum" and couldn't trace anything that Hoskinson built.
To correct this picture a little bit:@VitalikButerin is the ethereum founder, so he doesn't count. @IOHK_Charles was never really a founder of ethereum. He built literally nothing for ethereum that I am aware of. He was just early on at the right place, at the time, hanging… https://t.co/zHFV4zLANR

— Fabian Vogelsteller (@feindura) April 29, 2023
Despite the controversies, Ethereum and Cardano offer different value propositions contributing to the success of the blockchain as an ecosystem.
Cardano Price Analysis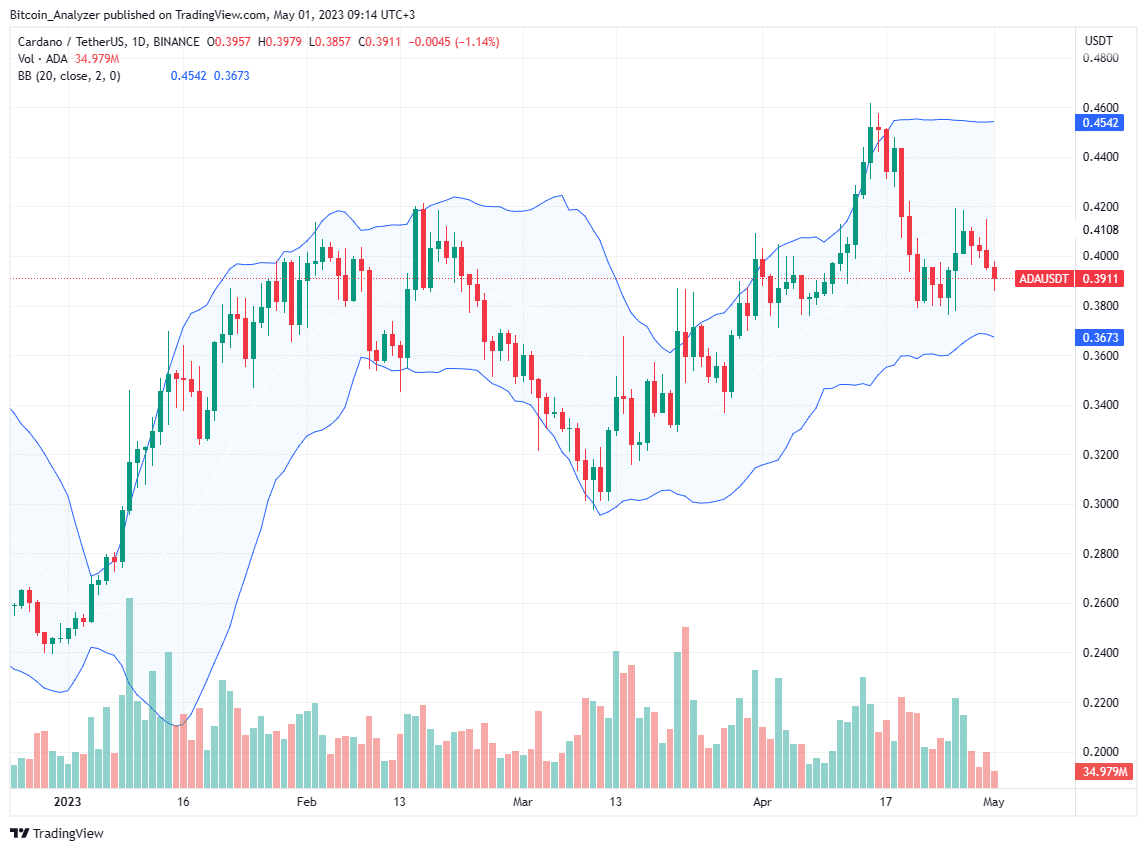 ADA prices remain in a local range, reading from the performance in the daily chart.
Clear support and resistance levels are at $0.37 and $0.41, respectively.
Therefore, for the uptrend to take shape, there must be a conclusive break above the current consolidation, forcing the coin above $0.41.
This will force ADA to synchronize with gains from mid-March. ADA could rally to retest April highs at $0.45, depending on the breakout trade range and volumes.
Conversely, if bears press on and break $0.37, ADA may sink toward $0.30, continuing the current bear range established from April 17 to 21.
Based on this, conservative traders can wait until there is a definitive breakout from the current $0.04 trade range before engaging the market.
Technical charts courtesy of Trading View.
Disclaimer: The opinions expressed do not constitute investment advice. If you wish to make a purchase or investment we recommend that you always conduct your research.
---
If you found this article interesting, here you can find more Cardano News.