In the current market situation, Cardano (ADA) is one of the sluggish coins, but this may change over the weekend.
Bright Future Because of Announcements
It has been noted that ADA has been holding up the best among the top coins in terms of its market cap. At the moment, the price of ADA is $0.34, and it has dropped only about 10% from a week ago, which is exactly in line with the loss of BTC over the same period of time.
There is still an 89% price drop below the highest point of September 2021, but it is still a little above the $0.47 price point of May. Since the market began its last major bull run, ADA has lost a relatively small amount of money, such that the current price of the coin is more than twice the price that it was when it started its last major bull run.
It should be pointed out that this is not the first time ADA has behaved differently from other cryptocurrencies. This may also be one of the reasons why it suffered less during the last crash.
As far as the current stats of ADA are concerned, there may be a number of reasons for this. The co-founder of the project, Charles Hoskinson, is among the most famous yet most reliable faces of the industry, and he is a leading figure in the field. There has been a lot of responsibility shown by IOHK as it has grown the project.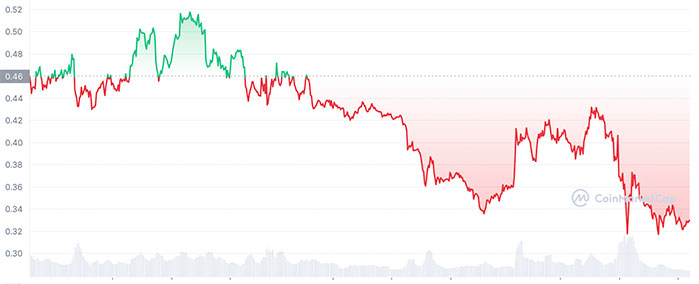 It is true that many are waiting for ADA to show big jumps due to the new features and announcements that are going to be made, however, the coin didn't make investors happy during the last bull run. In the winter we are currently experiencing, ADA has proven to be a reliable holding coin as shown by the chart of the current season.
The IO ScotFest event, which is being held now may bring some great news from IOHK and Cardano, which is sure to make investors and new buyers very happy. One of the positive news pieces that can help the ecosystem grow faster in the near future is the possibility of scaling up the lab at the University of Edinburgh. As a result of this new fund, Charles Hoskinson tweeted the following about it:
Yes we gave university of edinburgh 4.5 million dollars to scale up our lab there. News broke a little early https://t.co/c4QL2LOyxQ

— Charles Hoskinson (@IOHK_Charles) November 17, 2022
Whatever the case might be, the good news always comes from the many projects that are currently on the market. There is no doubt that Cardano has become one of the most famous and reliable cryptocurrencies in recent times, but we cannot be certain that it will jump in the days ahead. There are, however, many signs that indicate that it could happen at any point in the near future.