Cardano (ADA) has been posting price drops at an alarming rate. It is on the verge of recording its seventh red monthly candle in a row as the token plunged to its lowest level since February 2021. Several experts warn ADA holders of a collapse as bearish momentum continues to build up. Will ADA be able to overcome its hurdles to gain momentum?
Cardano's Downturn
According to CoinMarketCap, ADA is down 0.37 per cent in the last 24 hours to currently trade at $0.3526. The cryptocurrency fell more than 2.04 per cent over the last 7 days. Last year between February and September, ADA rose nearly 800% to $3.16. After hitting an all-time high in 2021, Cardano's price continued to decline. It can be noted that till October 2022, ADA has lost most of its gains as it breaks one support area after another.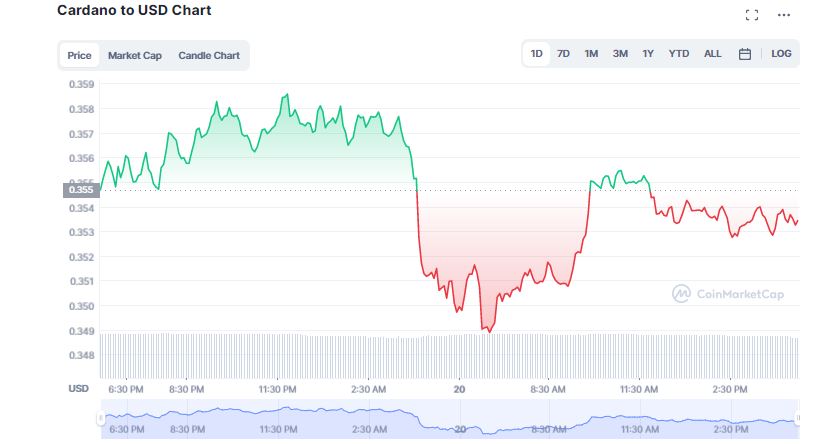 On October 19, a trader who goes by the name Trader_J, tweeted a picture, insinuating that Cadano's entire price action resembles the shape of the "Burj Khalifa".
Ada Khalifa pic.twitter.com/KE2SxTO3bN

— Trader_J (@Trader_Jibon) October 19, 2022
Meanwhile, a popular crypto analyst, Jason Pizzino warned in a YouTube video that ADA is on the verge of collapsing. He highlighted that ADA's price may drop into the lower $0.30 range, or even much less. Pizzino said,
"It's going to be a hard hit in ADA because it's in a far weaker position overall in the macro chart here, and I still think ADA is looking like it's going to be falling into these teens ($0.17) to lower $0.30 areas."
Cardano Price Over the Years
ADA started 2022 at $1.36 but slipped to $0.7528 on 24 February as investors sold off assets at the start of the Russia-Ukraine conflict. The price recovered to the $1.24 level in late March, but was unable to maintain the upward trend, falling back to $0.7424 by the end of April 2022.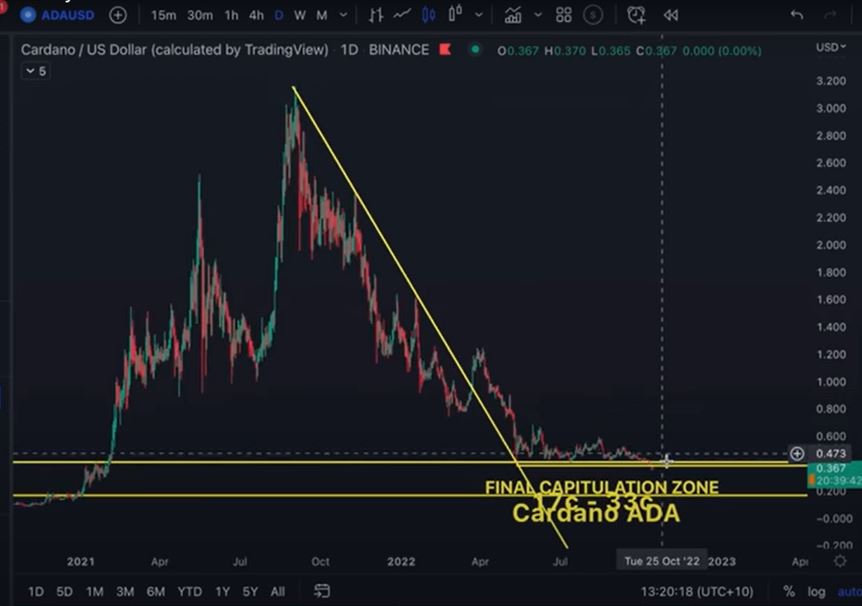 In the following months, Cardano (ADA) traded with intermittent ups and downs recovering at the beginning of September as investors anticipated the implementation of Vasil. Despite the news about Vasil, ADA dropped to $0.4344 around the last week of September. In October, Cardano is worth almost 10 times less than at its ATH.
Thus, ADA has witnessed a massive price correction led by many factors. It began with the crypto market meltdown led by the Federal Reserve's aggressive interest rate hikes to tame surging inflation. Cardano remains in control of the bears and it looks as if there will be more short-term pain for ADA. On the other hand, market analysts are anticipating another major crash ahead in Q4 as the ADA/USD pair broke below a key support level. Another user, Pentoshi wrote ADA price has nosedived to the region "where coins go when they die".
$ADA now losing the lights out level and going to the place where coins go when they die. Prob got a -50% in it from that breakdown level imo

And I'm by no means picking on it. I posted charts for almost several alts like this including $SOL and $ETH in Dec-Jan pic.twitter.com/Of0TNZfXKK

— Pentoshi 🐧 (@Pentosh1) October 19, 2022
Market Experts Beamish on ADA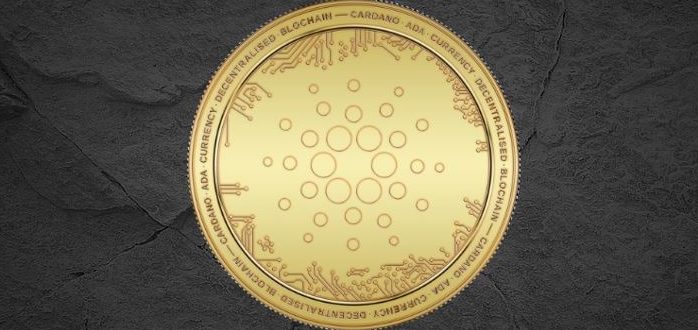 Despite the downturn in price throughout 2022, Cardano price could reach $3.10 within a year and $10.46 after five years. The Cardano ecosystem has continued to build and evolve with a number of upgrades. The Cardano blockchain has improved significantly allowing a better interface to decentralized app (dApp) developers. As per a Messari report, transactions, volume and on-chain activity has continued to increase in 2022.
Amid the ongoing market rout, the number of holders has steadily increased, with wallet holders from small holdings to whales have continued to accumulate ADA. Additionally, Cardano is all ready to become the main competitor to Ethereum in the non-fungible token (NFT) market.
Considering all the factors, it seems, despite the short -term bearish momentum, ADA may note an upswing in the coming years. Experts predict if ADA can reach a price of $12 by the end of 2023. They believe ADA will continue to increase by setting a price target of $18 in the next 4-5 years. Changelly also believes that ADA price will rise, peaking at $15.69, with an average of $13.92. Other analysts anticipate that the coin's maximum price will be $15.69 with a minimum of $13.55.