Cardano has made its first investment in COTI using its cFund, the VC foundation backed by the blockchain research and development company, IOHK.
COTI Network is essentially a DAG-driven new-generation payments startup, and with the latest development, it will be the first blockchain project to obtain cFund's support. The investment into COTI is on an equity-based deal to speed up the integration and strengthen the cooperation between COTI and the Cardano ecosystem.
COTI has reportedly acquired an investment of $500,000 from the cFund.
David Siemer, who happens to be the General Partner of cFund was quoted saying:
"cFund is excited to invest in this new opportunity. Shahaf and the team will bring significant adoption to the Cardano blockchain with COTI's business partnerships and innovative enterprise-grade fintech technology."
For the initiated, the Fund is worth a whopping $20 million and was rolled out in July 2020. It was a part of a joint venture between the blockchain platform IOHK and LA-headquartered 'Wave Financial'. The main objective of this fund is to further advance the development of the Cardano ecosystem.
Cardano and COTI History
This is not the first time COTI and Cardano were engaged in integration. The relationship of the platforms dates back to 2019 when COTI launched the first version of 'ADA Pay back'.
Currently, the Israeli fintech startup is involved in developing an all-new ADA Pay for Shelley Mainnet. According to reports, it is set to materialize in the next few weeks with its first major client.
The CEO of IOHK, Charles Hoskinson also weighed in and stated COTI has been a partner across many projects over the last two years, and that the company intends to utilize its "advanced fintech architecture" to facilitate finance applications on Cardano's native token ADA in the coming days.
Cardano [ADA] Price Lifts Off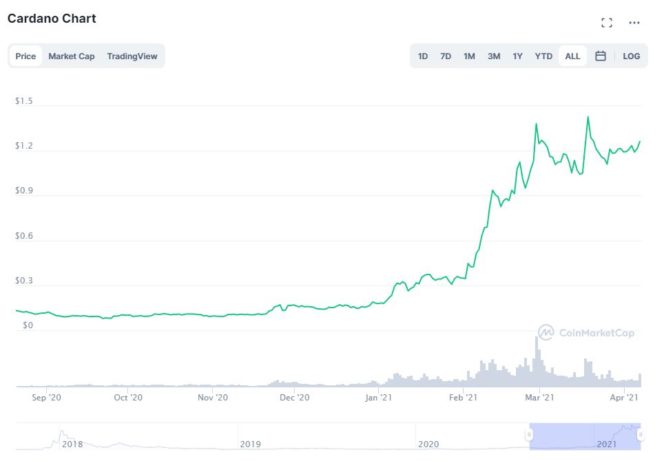 ADA has been one of the best-performing assets in recent times. It has managed to outperform several top tokens ahead of the much-awaited achieving block production decentralization just a week ago.
Several milestones have contributed to the growth of the token over the past couple of months. It was now the sixth-largest cryptocurrency by market cap and was currently priced at $1.25 after raking in YTD profits worth almost 600%.
The latest development comes just days after IOHK announced a partnership with the decentralized finance [DeFi] platform, Orion Protocol. Following this integration with Cardano's infrastructure, Orion went on to become the first liquidity aggregator to the Cardano blockchain.
---
If you found this article interesting, here you can find more Cardano News