The crypto market is going through a tough time, and multiple factors can be described as being responsible for its situation. Be it either the collapse of FTX or the FED pumping up interest rates, many cryptos have lost a great chunk of their value and have failed to recover since. After suffering from a tough week, Cardano (ADA) has managed to pull itself back up in its latest price movement.
On the other hand, some of the key Cardano (ADA) sharks have been accumulating since June this year. Ever since the collapse of FTX back in Early November, these addresses have pumped up the levels of dip buying. It is worth mentioning that the addresses that hold Cardano (ADA) ranging from 10,000 to 100,000 have added almost $83 million worth of coins. Addresses adding coins to their bags is not the only phenomenon, after all. Keeping that in mind, the total number of Cardano wallets has also increased by nearly 200,000. Based on statistics provided by the network, the total number of wallets has jumped to 3.80 million.
On the other hand, the total number of Cardano's Plutus scripts is currently 4,445, and this represents a 394% increase since the previous year. Plutus can be defined as the smart contract platform of the Cardano blockchain. It enables users to write applications that inevitably interact with the blockchain. The total number of minting policies has jumped 69%. Summing it up, transactions witnessed an increase of 139% from 2021 to almost 56.9 million.
Cardano (ADA) on its Way Back Up
The crypto lost almost 10% the previous week but the situation has changed as of now. At the time of writing, Cardano (ADA) is up by approximately 3.39% over the previous 24 hours. Similarly, it is currently trading for approximately $0.259. Apart from that, the token also has a total market cap of almost $8.94 billion.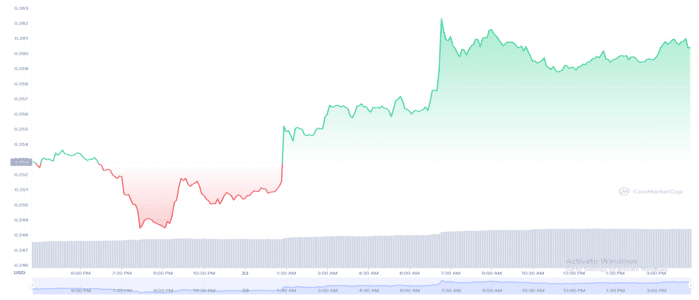 However, if Cardano (ADA) continues to rise over time, it might actually establish itself as a good value for money. Moreover, continuously rising prices would even offer greater confidence for investors to invest in the crypto. It is too early to say if Cardano (ADA) would keep rising over time. The crypto market is extremely volatile and any shifts might cause great bottlenecks. It is widely believed that the price of Cardano (ADA) is expected to stay stagnant by the start of 2023.