A year in review, Bitcoin [BTC] has seen several crashes this year. But as 2022 draws closer, the king coin appeared to be slowly moving towards an all-time high. Trading at $57K, Bitcoin has logged on to yet another monster week for the first time since the 12th of May after invalidating several bearish cues.
It was also observed that the smart sellers' cohort has mostly exhausted their selling pressure which is yet another mega bullish signal for the market.
"It's officially Bitcoin [BTC] season"
This is what a leading cryptocurrency research and investment firm, Delphi Digital, had to say about the ongoing trend. Bitcoin's dominance has been on a steady uptrend and has even managed to catapult the total crypto market cap with it.
Despite minor sell-off during the weekend, the largest crypto-asset has swiftly recuperated and according to the research platform, it "continues exuding strength, relative to most of the digital assets market." This was reflective of the asset's immense strength. It stated,
2/ It's officially Bitcoin season. In the last 24 hours, only 4 crypto assets in the CoinGecko top 100 have managed to outperform Bitcoin's immense strength.

In the last 7 days, only 12 crypto assets outperformed BTC. pic.twitter.com/Mp0FQR08nq

— Delphi Research (@Delphi_Digital) October 11, 2021
"Besides a market sell of $40m worth of BTC on Bitstamp leading to a market-wide pullback yesterday, the weekend was rather uneventful, with a handful of altcoins outperforming BTC. Thankfully, this event only served as a temporary setback. Bitcoin swiftly recovered and continues exuding significant strength, relative to most of the digital assets market."
Bitcoin.. $100K, 135K…$500K?
Additionally, BTC Stock-to-Flow model creator Plan B believes that China FUD may no longer deter Bitcoin's growth structure and even went on to predict that the cryptocurrency may soon reach $100,000 soon. Based on his strategies, PlanB also said that Bitcoin is likely to trade above $135,000 by the end of this year, and will continue to mature and climb beyond $288,000 thereafter.
In a recent conversation with cryptocurrency proponent and investment expert, Anthony Pompliano, PlanB also added,
"I would not be surprised even to see in Q1 or Q2 next year, prices of three hundred, four hundred, five hundred thousand dollars…"
I have a feeling about how this chart will look like EOY pic.twitter.com/gc6N4e3dg4

— PlanB (@100trillionUSD) October 11, 2021
Despite an uber-bullish stance, the pseudonymous Dutch analyst believes that crashes are inevitable and so is Bitcoin's four-year cycle which includes exponential highs, correction, accumulation, and continuation.
Divergences in PlanB's calculations exist but…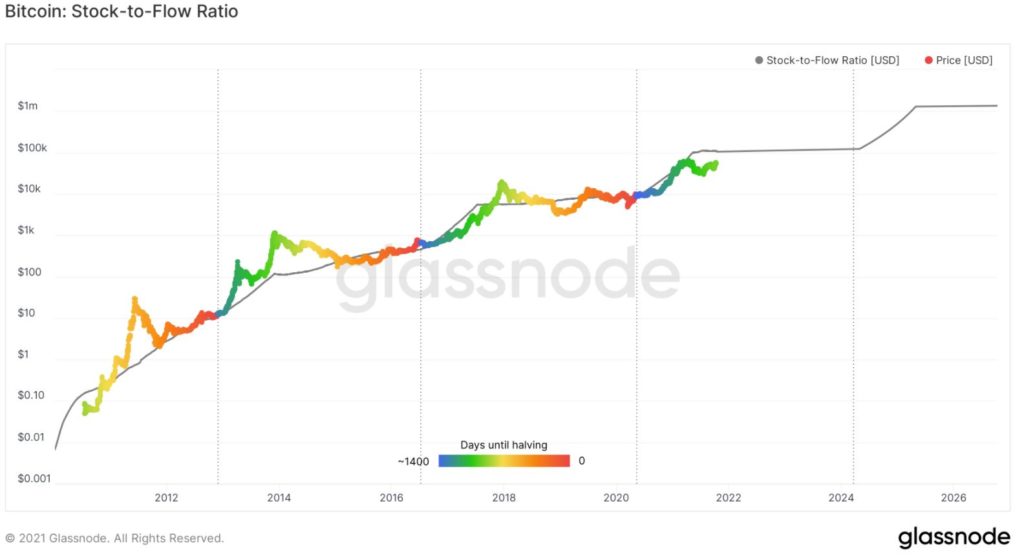 Having said that, it is also important to zoom out and understand according to the S2F model, Bitcoin's price should have been trading near $109K. But it's not. Back in April, when the asset touched its peak of $64K, PlanB's calculations revealed that more highs were waiting and the said level is not likely to be an all-time high in the 2021 bull run. Interestingly, divergences have played out especially from mid-2018 until this year's ATH. However, PlanB's strategies have worked out pretty well.