Bitcoin rises above $56K on Monday, October 11, and is now well-positioned to retest its all-time high (ATH) of above $64,000 as analysts note that bull action is strong.
According to the data provided by CoinMarketCap, the largest crypto asset by market cap crossed $56,000 in the early hours of Monday, October 11, after almost 6 months. Bitcoin was last seen above $56,000 on May 12, 2021. The coin is now changing hands at $56,473 at the time of writing.
The crypto market as a whole has an impressive last week as Bitcoin (BTC), Ethereum (ETH), Cardano, Binance's BNB, Ripple's XRP, Solana (SOL), and SHIB posted heavy gains. BTC/USD pair added more than $8,000 to its price as the pair was at around $47,000 last Monday, October 4. Given the momentum, analysts note that the bulls are already attempting $60,000 and the coin is well-positioned to retest its April 2021 all-time high (ATH) of near $65,000.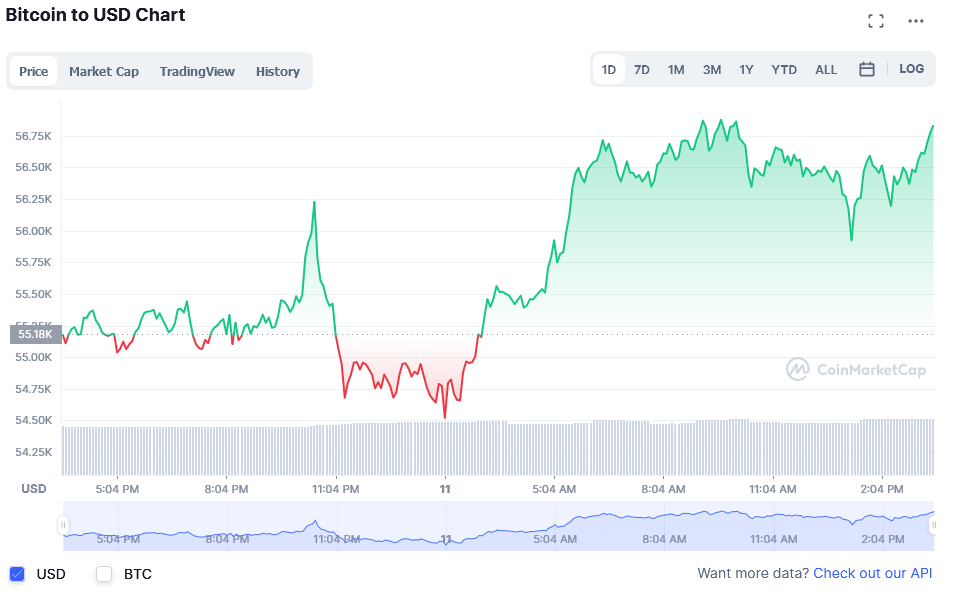 The fourth quarter has historically been good for Bitcoin. In the fourth quarter of 2020, Bitcoin rallied about 170% from about $10,600 to $28,940. The coin has also started the fourth quarter of 2021 with a bang, rising from around $43,000 in October to above $56K, gaining more than 30%, in the first 11 days of October. With these gains, the combined cryptocurrency market cap has soared to over $2.3 trillion. More than $1 trillion is contributed by Bitcoin's market cap.
The White House Regulatory FUD
As the crypto market is now red hot and according to some sources, the Biden administration is weighing an executive order that would bring forward new rules related to Bitcoin and cryptocurrencies.
A Bloomberg report, citing anonymous sources familiar with the matter, reveals that the executive order, still under consideration, is part of an effort to set up a government-wide approach to coordinate agencies' work on digital currencies. The order would put federal agencies in charge to study and offer recommendations on relevant areas of crypto that include "financial regulation, economic innovation, and national security."
According to White House officials, the order could appoint a 'crypto czar' for the crypto industry. Still, no decision has been made to release the executive order. Sources say that even if President Joe Biden doesn't move forward on it, the administration will still make public its overall strategy for cryptocurrencies.
In recent months, pressure has mounted on regulators in the U.S. and around the world to bring forward a regulatory framework for this burgeoning industry that has grown more than $2 trillion. Surely, regulations are coming and the crypto community will expect that this executive order will bring forward a sound regulatory system, not like the recently announced US Infrastructure Bill that requires tax reporting not only from exchanges but also from developers and network validators.