Ethereum [ETH] has emerged as a clear winner among the top altcoins after rallying for two straight weeks during which it had made some significant growth. At $3,089, there is no looking strong resistance that may hinder the upward trajectory. In the last three weeks, it was up by almost 70%.
In fact, the asset's path to $4,300 currently appears to be much easier than Bitcoin [BTC] breaching its all-time high. The uptrend, however, did not mirror when Ethereum was last trading around this level. Earlier in May this year, when it was just above $3k, the figures for active addresses, for one, blasted past 650k.
Contrastingly, this metric was now below 500k as noted by the latest chart by the blockchain analytic firm Glassnode. This trend can be attributed to several players exiting the market after a series of corrections in June.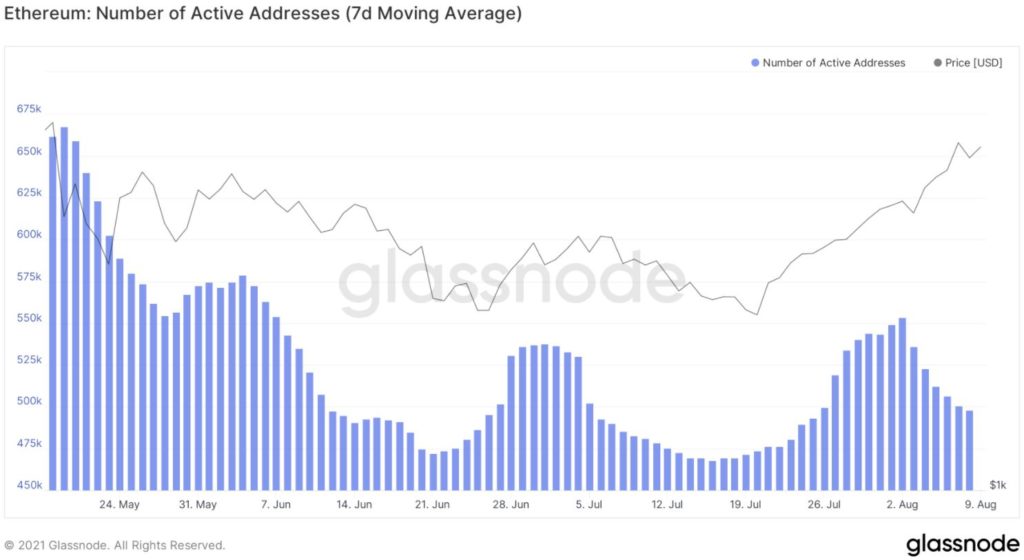 Ethereum [ETH] held on centralized exchange hits a record low
Stats also revealed that the proportion of Ether held on centralized cryptocurrency exchanges fell to 9.4% of the total supply today. The last time, the level was this low was back in 2018. In short, ETH holders are not selling. Low active deposits to exchange wallets have declined shows that the selling pressure is pretty low on the network.
This is a bullish indicator that has two factors at play. One is the outflow is decentralized finance [DeFi] due to Wrapped Ethereum [WETH] which accounts for approximately 6% of total Ether in circulation. Also, in terms of lending, borrowing, and other financial services, the Ethereum network still being the market leader has built a strong use case surrounding the native Ether token among the masses even more.
Another factor that led to the biggest drop in three years was 6.5 million ETH are locked into Ethereum 2.0 deposit contract. In the first week of August, Ethereum updated its software with the much-anticipated London hard fork in the hopes of transitioning to a full-fledged proof-of-stake[PoS] protocol in the coming days.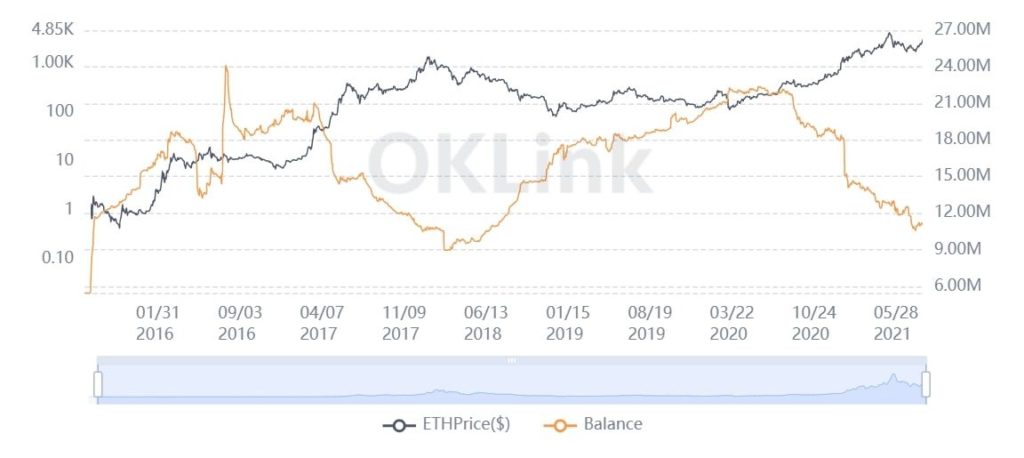 Ether's Rising Dominance
The bullishness in the market depicts a great deal of insight as to where the market is heading. A strong growth is still very much in the cards. With little overhead resistance coupled with DeFi and NFT raging, chances are, Ethereum could soon reclaim its previous glory.
I n addition to that, Ethereum has also become the biggest benefactor of Bitcoin's tumbling market dominance. Since December 2020, the altcoin's dominance rose from below 11% to the current 20%. Thanks to the solid rally, it has outperformed the BTC by a significant margin.
However, senior commodity strategist at Bloomberg Intelligence, Mike McGlone believes that it is only a matter of time that the world's largest crypto-asset will catch up with Ether's performance amid rising institutional adoption and strong accumulations by the whales.
Ethereum in 2021 Is Bitcoin Guidance for $100,000: Flippening? If #Bitcoin were to catch up to #Ethereum's performance this year, the No. 1 crypto's price would approach $100,000. Though we see Bitcoin on that path, there appears little can stop the process of Ethereum flippening pic.twitter.com/7JKFe60JyZ

— Mike McGlone (@mikemcglone11) August 9, 2021
---
If you found this article interesting, here you can find more Ethereum News