Bybit is a cryptocurrency exchange with numerous features and services for traders. It offers futures trading as well as other common trading products like margined trading. Users can buy crypto with fiat money on Bybit using credit cards like Visa and MasterCards. Besides, there is a ByFi center in this exchange that offers cloud mining. Inverse Perpetual, USDT Perpetual, and Inverse Futures are other services that Bybit offers to its users.
Bybit Features
This cryptocurrency exchange offers various services for traders and investors. It focuses on the security and transparency in services. The pricing mechanism with an index price methodology helps users find access to reliable data and prices. Bybit also has a support team that answers traders' questions and feedback 24/7.
Service uptime and availability are very important in cryptocurrency exchanges. Users need access to their funds and the market anywhere, anytime. Bybit has a 99.9% availability track record. Users will have access to the market with reliable liquidity and market depth.
One of the most important benefits of Bybit is integrating Chainlink. The cryptocurrency exchange relies on a decentralized price feed offered by the leading oracle provider, Chainlink.
Services
As mentioned above, Bybit offers various services for perpetual, futures, margined, and other types of trading. Buying cryptocurrency with fiat money is one of the best services in this exchange. You can buy BTC by paying USD via credit cards. Mercuryo and Banxa are the partners of the exchange for the fiat payment. You can pay with Visa, MasterCard, and even Apple Pay to buy crypto with fiat money on these platforms.
The trading platform on Bybit offers Inverse Perpetual. In simple terms, it's a coin margined type of trading. Pairs like BTCUSD, ETHUSD, EOSUSD, and XRPUSD are supported in this platform. The USDT Perpetual service is a USDT marginated trading platform on this exchange that supports many coins paired with USDT. Famous crypto assets like BTC, ETH, BCH, ADA, LINK, and many others are supported for USDT perpetual in this exchange.
Inverse Futures is a novel service from the Bybit cryptocurrency exchange. This service is coin margined and mainly focuses on futures trading of BTC and ETH.
As mentioned above, Bybit also offers cloud mining to investors. The service lets you invest in ETH miners and receive static annualized percentage yield. There are various mining pools available in the ByFi Center with various APY and fees. Cloud mining is a great choice for those who want to enter the mining industry without the need to buy and maintain hardware and systems. You just invest in the mining services and receive your returns based on static returns that the cloud miner offers in various pools.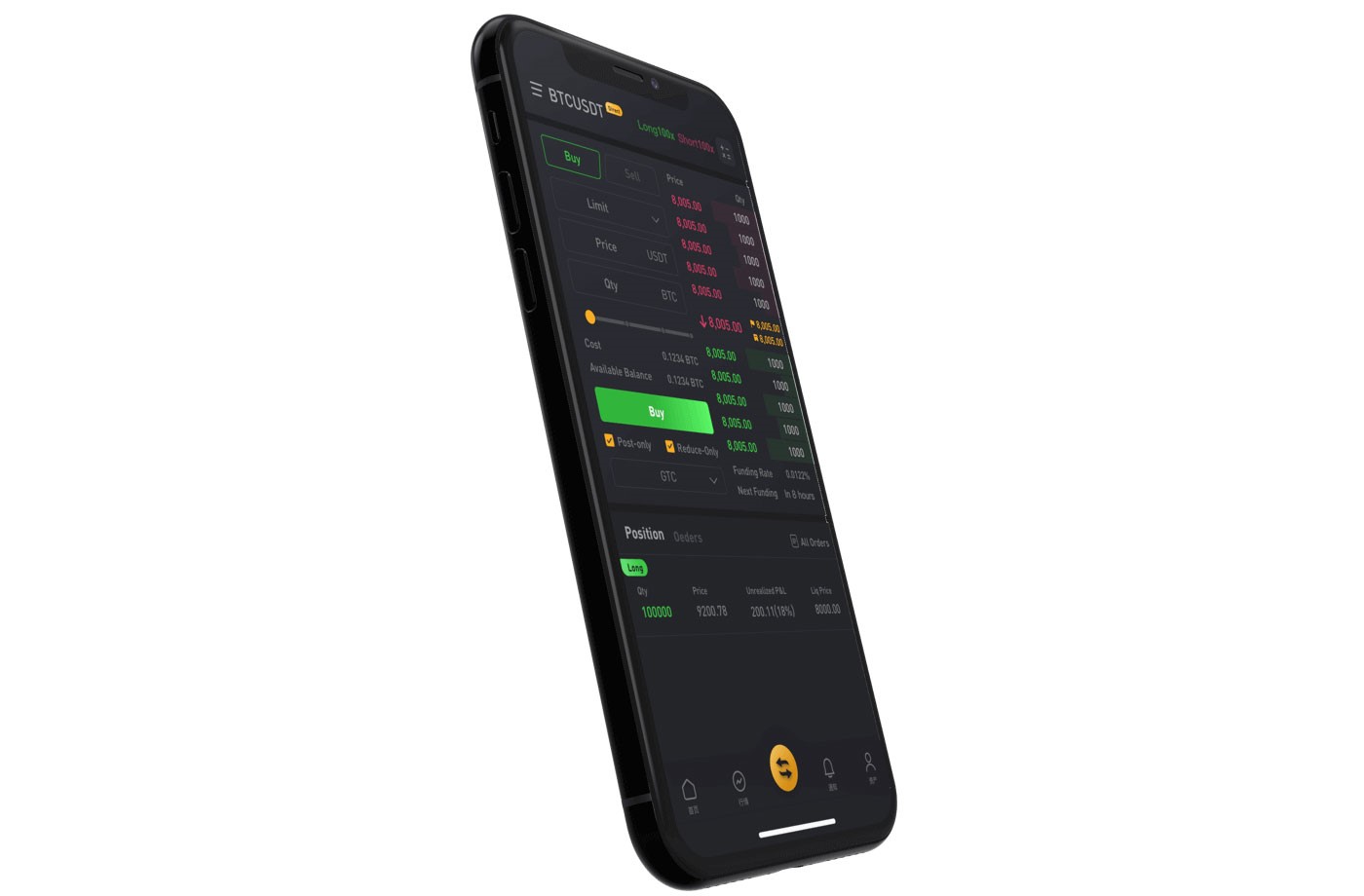 Bybit often runs 7-day trading challenges with rewards to participants. In these challenges, users try to receive the highest individual P&L in a seven-day competition. All of the available contracts on the cryptocurrency exchange are supported in the challenges.
One of the best services in this cryptocurrency exchange is the learning center and user guide that helps traders know the industry and the platform better. The learning center introduced various cryptocurrency concepts from coins to platforms like DeFi. The fundamentals of blockchain technology and also trading is discussed in the learning center.
About Bybit Team
The team behind Bybit launched the cryptocurrency exchange in March 2018. They're a group of cryptocurrency experts with a considerable background in the industry as well as investment banking.
How to Use Bybit Exchange
Bybit offers services on both desktop and app platforms. The application is available for iOS and Android users, and the desktop version is a web-based application.
Register
You can register in this cryptocurrency exchange on mainnet and testnet. For registering on mainnet in desktop, follow the instructions below:
1).Open the official register page (Link)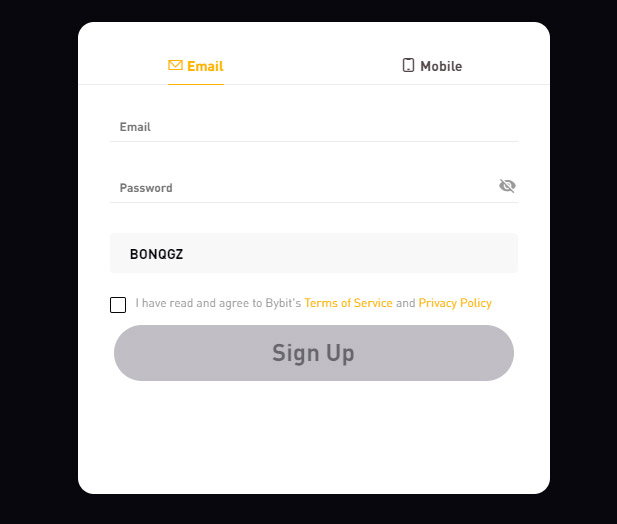 2).You can register with an email address or mobile number:
A) For email registration, enter your email address, password, and referral code if you have
Swipe the verification page and enter the verification code sent to your email.
B) For mobile registration, select your country code, enter your mobile number, password, and referral code if you have.
Swipe the verification page and enter the SMS verification code sent to your mobile number.

The registration is complete, and you can log in to the exchange with your email or phone number. Don't forget to set up a two-verification for your account for more security.
Registering on Bybit using the app isn't any different and just needs an email address or phone number.
Deposit & Withdrawal
You can deposit crypto assets in Bybit exchange to trade or invest. The exchange supports BTC, ETH, XRP, EOS, and USDT deposits. You just need to open the wallet page in this link, then log in to your account and choose the asset you want to deposit. A wallet address will be shown. Copy and paste it into the wallet you want to send the assets from that.
According to the Bybit user guide, there are some notes to remember when depositing:
1) For XRP and EOS deposits into Bybit, it is mandatory to key in your six-digit memo/tag. Failure to do so may lead to the loss of coins.
2) For ETH deposit, Bybit currently only accepts Direct Transfer. All Smart Contracts transfers cannot be processed automatically by the system.
3) For USDT deposit, Bybit currently only accepts Simple Send transfers. Bybit does not accept USDT deposits using other methods.
Trading Platforms
As mentioned above, there are inverse trading, USDT perpetual trading, and inverse futures trading available on Bybit. The trading interface isn't different from other cryptocurrency exchanges. For example, in the USDT perpetual trading, you have many options like leverage, the order price, the contract quantity, and additional functions like post-only and time-in-force strategy. After setting the initials, you can place long or short positions for a USDT trading pair.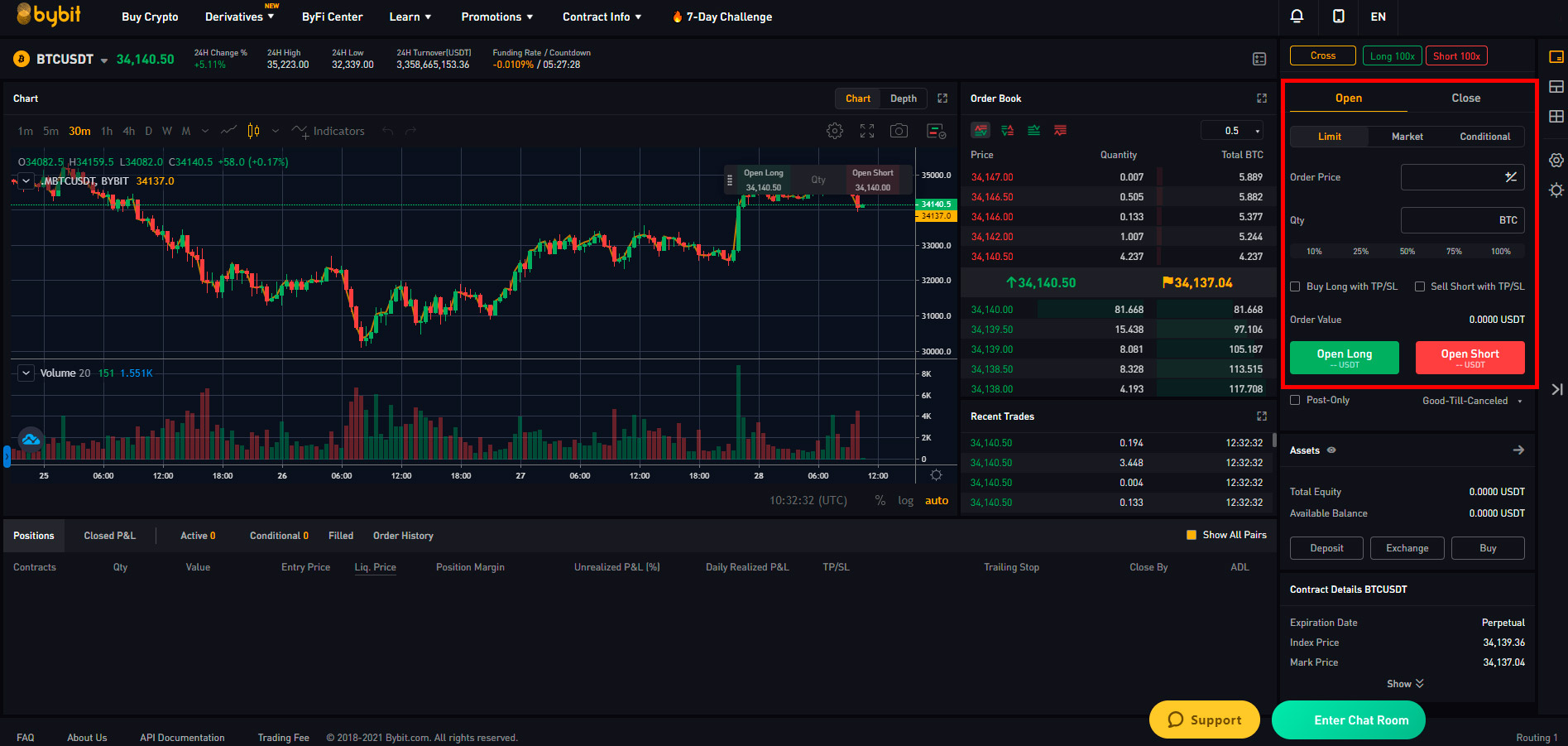 The inverse trading platform is one of the most popular trading services that Bybit offers. After visiting the inverse perpetual contract trading page, you can choose a trading pair. The default one is always BTCUSD. You can change it by clicking on the Trade button on the top menu. The order placement zone offers three options of trading: Limit order, market order, and conditional order. Choosing these options results in new options for trading such as leverage, order price, contract quantity, post only, reduce only, and close on the trigger. All of these options need experienced traders who are familiar with perpetual and inverse trading. Numerous options make it possible to choose between different strategies and find the best option.
Automatic Take profit and stop loss on Bybit is a great option for those traders who want easier trading decisions. They can set TP/SL on fixed prices or set a percentage bar that automatically calculates the price. Choosing the TP/SL can be done using various prices. Last, Index and Mark prices are available for choosing. Don't forget that all of these options are available on both desktop and application.
Trailing Stop is another option that helps Bybit users have an easier trading experience. You can set this option in your TP/SL, so the platform will automatically change the targets before triggering the take profit or stop loss options. The option is available on the inverse trading platform in the position tab below the price chart. You should click on TP/SL column to enable/disable the trailing stop option.
The position tab in the inverse trading platform is where you can check the details of your current positions on the Bybit exchange. Closing functions are available on this tab, too. It lets you change the conditions of a position or cancel it. Besides, you can cancel a position from the price chart. For this option, you should first choose the trading pair from the position tab, then locate the price chart and find your trigger price. After clicking on the price, you can cancel the order by clicking on the X button next to it.
Cloud Mining
As mentioned above, cloud mining is a great option on Bybit for those users who want to enter the mining industry without hardware and infrastructure investment. You should have sufficient funds in your account to buy cloud mining products. Visit the cloud mining page by clicking on the ByFi Center in the upper menu.
If you don't have sufficient funds in your account for buying the products, you can do it by visiting the account page and clicking on the Transfer button. Choose USDT for transferring because Bybit currently only accepts USDT for cloud mining products. Then choose to transfer funds from Derivative Account to ByFi Account. After transferring the funds, you can buy a cloud mining product on the ByFi Center page. The profits of cloud mining will be paid to your Bybit account after the mining contract time ends.
Conclusion
Bybit is a cryptocurrency exchange with various services for trading futures, margined, and even cloud mining. Although it supports a limited list of coins, the exchange is expanding services very fast and can become one of the best ones in trading USDT perpetual and inverse futures. Besides, the ability to buy crypto with fiat money is one of the best features available on this exchange that can attract many mainstream users.