Coinbase, the digital currency exchange platform headquartered in San Francisco, recently released a blog post announcing that businesses can now accept the US dollar-backed stablecoin, USD Coin with Coinbase Commerce.
About Coinbase Commerce
Launched last year, Coinbase Commerce is a service that allows merchants to accept several cryptocurrencies directly into a user controlled wallet. The platform can be added as a payment option on e-commerce platforms or directly integrated into a merchant's checkout flow.
Previously, (before accepting USDC) Coinbase Commerce only allowed payments in crypto coins such as Bitcoin (BTC), Bitcoin Cash (BCH), Ethereum (ETH) or Litecoin (LTC).
What are the Benefits?
Adding USDC to Coinbase Commerce enables businesses to accept online payments the same way they are able to accept cash in-store payments. According to Coinbase, accepting USDC gives merchants many of the benefits of accepting crypto coins at a stable price, with no transaction fees, no charge-backs and a complete control of funds. Also, merchants can accept USDC payments from all over the world.
"Unlike accepting credit card payments, merchants can accept USD Coin without geographical limitations or the need for a traditional bank account. Merchants can accept payment in USDC from customers around the globe in minutes with zero transaction fees," says Justin O'Brien, the blog post's author.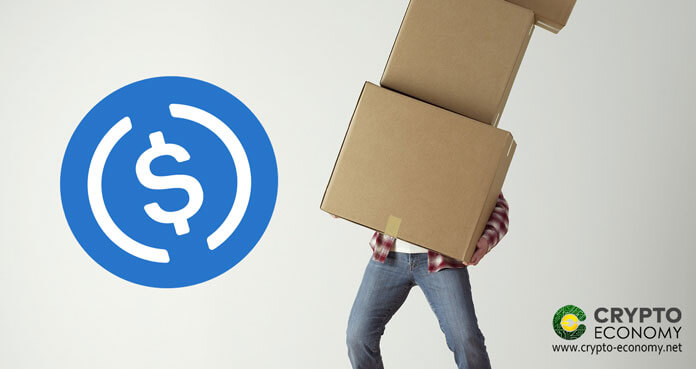 Since USDC is directly integrated into Coinbase and Coinbase Pro, users are able to instantly convert between fiat and USD Coin. Coinbase Commerce currently has plug-ins available to allow the system to work with major e-commerce platforms including; Shopify, WooCommerce, PrestaShop, Zen Cart, Magento 2, OpenCart, osCommerce, WHMCS and Drupal Commerce.
What is USD Coin?
USD Coin or USDC is a stablecoin that is pegged to the US dollar. One can redeem 1 USDC for US $1.00 hence giving it a stable price. The coin is an Ethereum based token and can therefore be stored in an Ethereum-compatible wallet such as the Coinbase Wallet.
Digital wallets such as BitUn, Trust Wallet, Ledge, imToken, cobo, CoolWallet S, Elph, or any other ERC supportive wallet also offer support for USDC. Asides from Coinbase, several other platforms have introduced USDC. Binance, Poloniex, Bit-Z, OKEx, CoinEx, Kucoin and Hotbit are some of such exchanges.