Technically, we remain bullish on Bitcoin [BTC] because of early this week's gains that saw prices of BTC/USD explode above the $7,200 and at one point printing $7,800. Not only did this trigger bulls but it was a clear break out as such we remain positive. Together with supportive fundamentals and changing sentiment, we expect to see a turn around this week as bulls accumulate in lower time frames.
Latest Bitcoin News
The simple fact is that regulators from leading economies now view cryptocurrencies from a more informed angle and this is massively beneficial for Bitcoin and related businesses. It has been shown on several occasions that supportive laws are the way forward for countries to benefit from cryptocurrencies and similar activities.
After all, it's a multi-billion industry and with entry of Wall Street mainstays at Fidelity Investment, plans of Goldman Sachs setting up an OTC trading desk the market could benefit from extra capital that would in- turn stabilize the market in a sphere that is seen as risky because of wild price fluctuations.
So far, according to several Bitcoin indices, it has been seen that the market is stable and are back to fiat level volatility. This is positive and could encourage more investors into the space. As that adoption penetrate, Japan which is known to be crypto friendly with close to mature regulatory framework is working towards formulation of modalities that would simplify tax return filling for crypto traders.
Like in the US and Canada, use of Bitcoin and other cryptocurrencies is subject to Capital Tax gains. But in Japan, it isn't fix rather it fluctuates between 15 percent and 55 percent depending on profit earned. Because of this the government is working continuously towards creating an effective tax collection system that would slowly evolve to be crypto friendly boosting the blockchain ecosystem.
Through the Japanese Tax Commission report indicate that the country is planning to standardize the whole filling process making it easier for crypto traders to accurately report their crypto/fiat profits and file tax accordingly.
Bitcoin Price Analysis
Weekly Chart – BTC/USD price prediction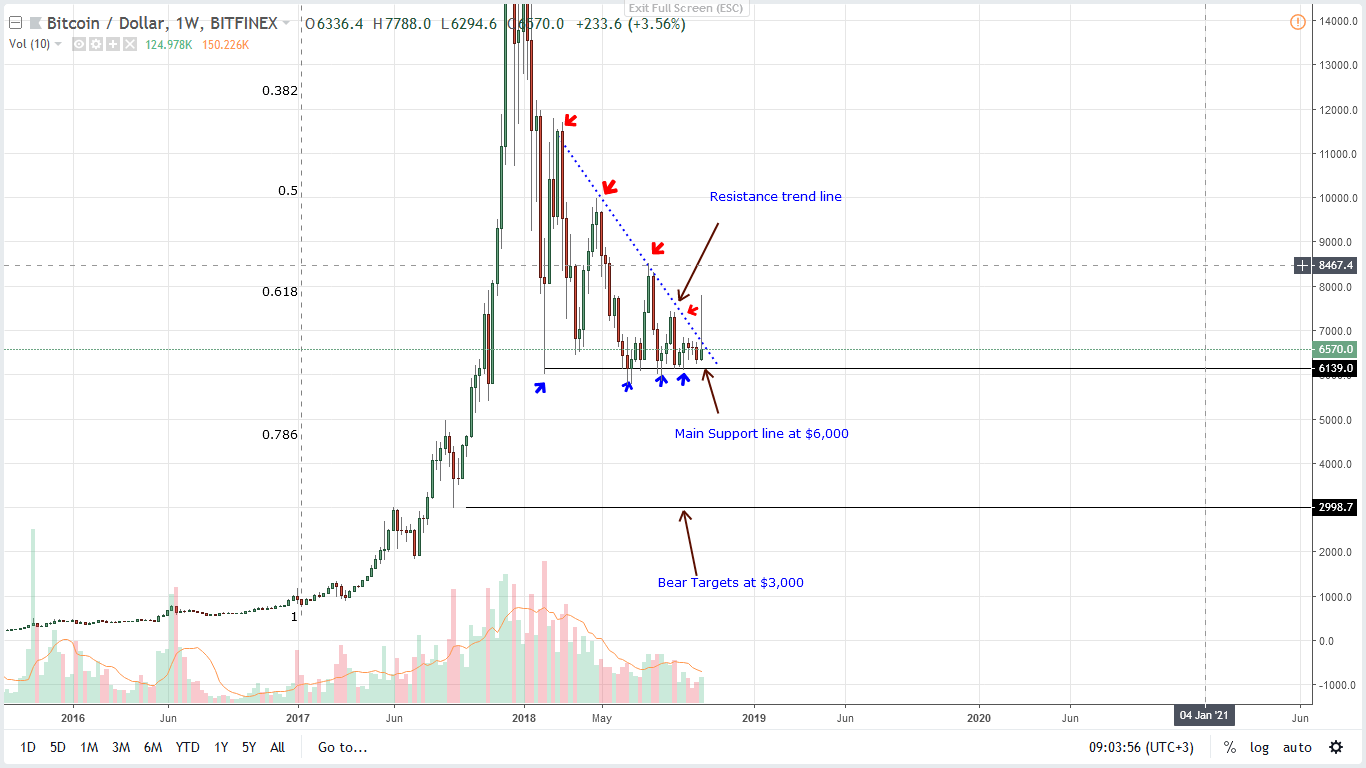 Technically, we are net bullish on BTC and this is all thanks to the superb gains above the main resistance trend line registered on Oct 15. At some point, Bitcoin prices printed above $7,600. This not only triggered bulls at our main resistance zone between $6,800 and $7,200 on the upper hand but the volume behind this hinted of a well-padded bullish move.
Therefore, despite the re-adjustment of price and the formation of an inverted hammer thanks to bear pressure in lower time frames, we expect Bitcoin bulls to trade in the direction of the bear break out ramping up on dips with sure stops at around $6,200 and $6,400, which is the upper limit of our support zone.
Remember, should bears step on gas and our stops are hit then it's likely that bears would follow through on week ending Sep 23 bears and drive prices below the lower limit of our support zone which also double up as 2018 lows at $5,800.
Daily chart – BTC/USD price prediction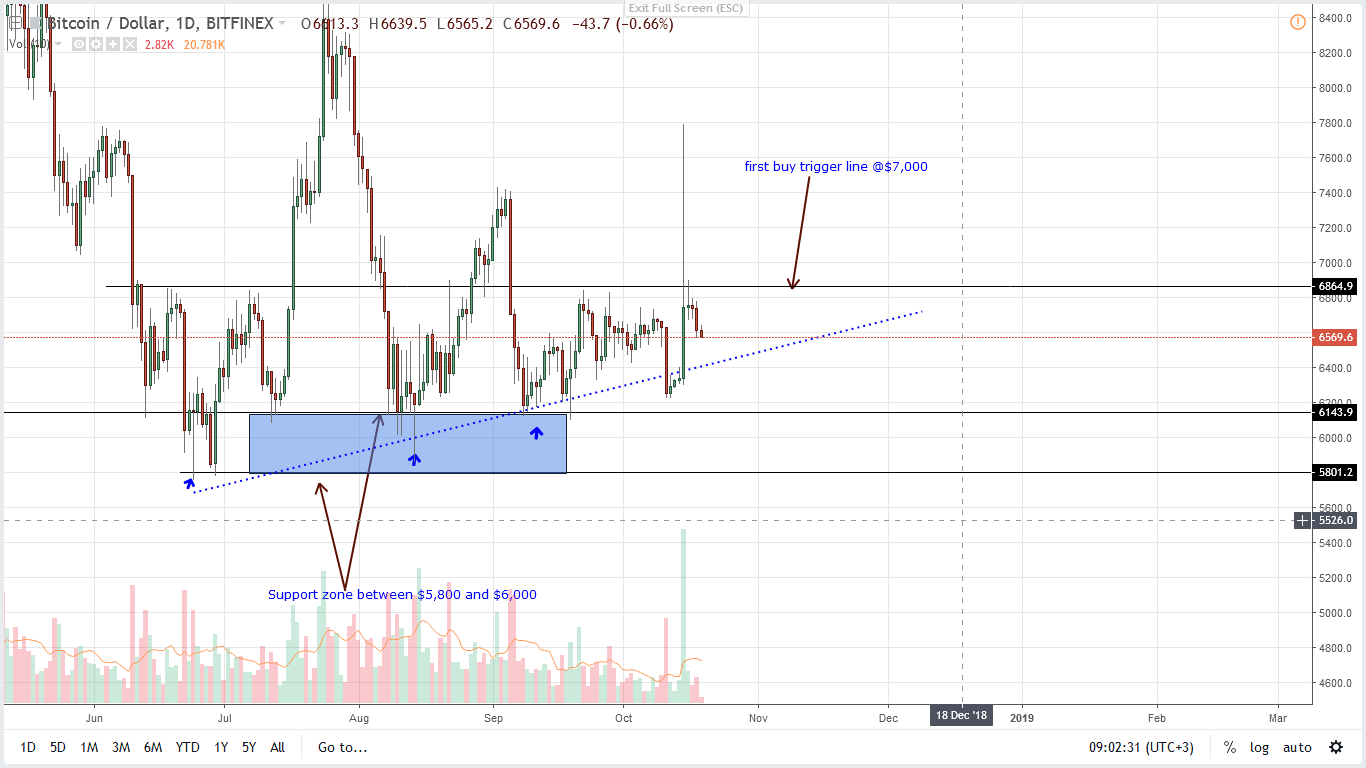 Back to the daily chart and yesterday's loss right from around the $7,000 resistance printing days after Oct 15 trending defining gains is unexpected.
Nevertheless, as mentioned above, this is an opportunity for risk-averse traders to load on BTC at a discount with safe stops anywhere between $6,200 and $6,400.
That makes a reasonable risk-reward ratio now that our first target is at $8,000 and later $8,500. Declines that hit our stops invalidate our bull projection reverting us back to neutral.
Disclaimer: Views and opinions expressed are those of the author and aren't investment advice. Trading of any form involves risk and so do your due diligence before making a trading decision.