One of the most crucial applications of blockchain technology is related to financial services. Security, speed, efficiency and verifiability, among other factors that blockchain brings to international business, make it a powerful tool to drive improvement in financial services platforms. Blue Chip Vision in that context brings us its blockchain software proposal, about which we will talk here.
Blue Chip Vision is a software company specializing in the production and licensing of digital ecosystems, systems and blockchain-based platforms to provide efficient and more secure financial services, transactional and content management business services, as well as new alternative supercharged market capabilities.
These systems are also designed to integrate existing business models with the new mechanisms and qualities of the digital economy, giving customers the highest levels of security.
Blue Chip Vision's mission is to provide help to companies and individuals to obtain more powerful and flexible financial growth through a safe and reliable path, using blockchain and all the benefits are granted without costs or setbacks.
A digital world at your fingertips
Blue Chip Vision has state-of-the-art technologies, offering its clients systems, tokens and platforms designed to support the new emerging digital economy and the hardware that feeds it, among which are:
Rizomic, a system engine that connects physical assets to block chains.
The Blue Chip token, this supports offers to access new search opportunities.
ICOmint, a platform specialized in ICO, which allows companies and individuals to create their own ICOs under legal regulations.
The energy collection device (EHD) is exclusive to BCV and sustainably feeds mining.
Cellflock, a decentralized digital identity management system that allows users to control their personal data.
BASLx, one of the jewels of the Blue Chip Vision company, because it allows cryptocurrencies parked in digital wallets to be invested in the development of the real world.
All these products and services offered by Blue Chip Vision, are coupled to the blockchain-based currency with tangible investments, for example, manufacturing and services, in order to create confidence in the cryptocurrency market and aim for its stabilization and growth.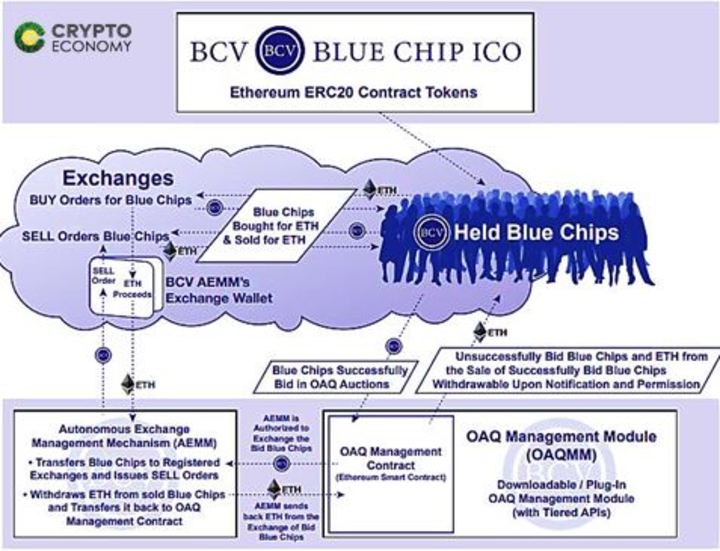 Those who are not yet associated with the new technologies need not worry because Blue Chip Vision's services provide a simple and smooth transition to decentralized platforms, and in turn integrate elements of pre-existing systems, such as governance and legislation. , making this company, a really unique and powerful.
On the other hand, the Blue Chip Token and System of BCV Holdings are offered to the public as a new and excellent way to obtain online spaces to access and acquire any type of opportunity.
Those who offer opportunities, whether items or services for sale, who access, download or obtain the Blue Chip OAQ Module license, will be able to configure and manage their own OAQ, giving Blue Chip bidders the opportunity to dispute the access to the opportunity offered. Regarding the base of the block chain, both the Blue Chip tender process and the OAQ result will be verifiable and safe.
The Blue Chip, based on the Ethereum ERC20 token standard, is BCV Holdings' first token offering. To learn more about this token and its benefits, we recommend checking its official website together with its White Paper.