One of the sectors that will benefit the most in the short term thanks to the benefits of the Blockchain technology is that of maritime transport logistics. It is important to consider that the container transport industry represents around 60 percent of the world's maritime trade today. But it is also a reality to consider that this important industry has been affected for years by various challenges in its day to day, such as overcapacity, threats to safety and growing environmental regulations, among other factors. Given this and based on the Blockchain technology, the people of Blockshipping have devised a platform that seeks to provide a solution to successfully face and overcome these challenges.
Blockshipping is a company based in Copenhagen, Denmark, founded in 2017 by the Danish Peter Ludvigsen, who has 40 years of experience in the area, and is developing a Global Shared Container Platform (GSCP), as its own concept, which will allow, among other benefits to the container transport industry, a potential savings estimated at around 5.700 million dollars per year for a more intelligent handling of intermodal freight containers.
In general terms, the Global Shared Container Platform (GSCP) of Blockshipping is designed to ensure that the key processes in container handling are significantly more efficient, thus positively impacting the container shipping industry. In addition to the significant savings that the implementation of this platform will mean for the carriers as we indicated here, the platform is expected to help reduce global CO2 emissions by at least 4.6 million tons per year, according to Blockshipping estimates , which should be taken in mind to consider.
In Blockshipping criteria, global shipping certainly needs greater efficiency in its documentation and monitoring processes, as well as a fundamental digital transformation to guarantee profitability in the future and comply with environmental regulations that, for the good of all, it is necessary to apply effectively.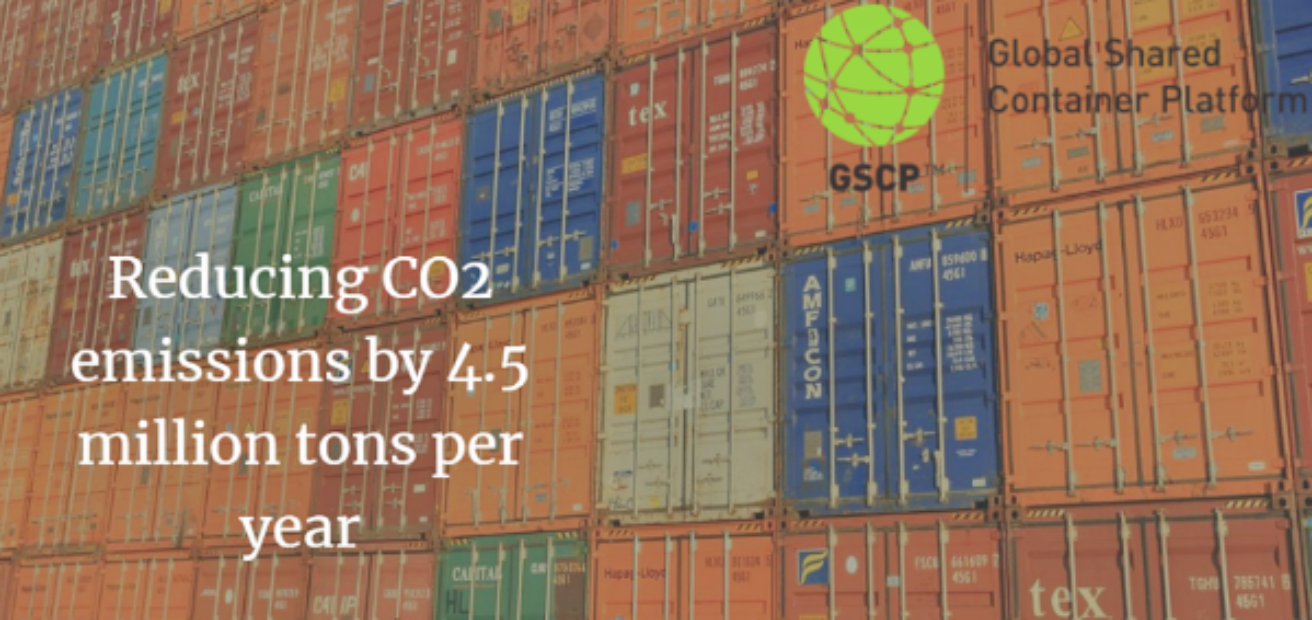 Among other technical details that can be reviewed in the White Paper of the project, the objective of the GSCP platform is to establish a complete register of active and enabled containers via blockchain (as a register of ships as we know them today) where the Complete global inventory of containers along with their real-time locations around the world.
GSCP is a platform designed for all stakeholders in the container transport industry: transporters, ports, terminals, support companies and more. This platform will allow industry players to efficiently manage all types of transactions related to container handling, which looks like a solution that can result in an important new paradigm of processes in that industry.
Regarding the implementation of this platform, GSCP is already financed by private investors and The Danish Maritime Fund. The ICO will in turn be a source of supplementary funding to further accelerate the development and global adoption of the platform. The ICO is offering two categories of tokens that include an income sharing model as well as a Market Maker Fund that allows ICO investors to sell their currencies to the platform.
These tokens are:
The internal utility token, container platform token or CPT, which will be used CPT will be used for the compensation and settlement of transactions between users of the platform.
Token of the external revenue part, the Container Crypto Coin or CCC.
For more technical details of this platform, as well as its ICO, we recommend checking its White Paper, in the same way to be updated about the news of the ICO, we recommend joining them at their Telegram channel.