ZENZO, a blockchain-based gaming platform, have announced a new alliance with Social Send, blockchain project advancing cryptocurrency into social networks, to fuel the mainstream adoption of cryptocurrencies.
ZENZO made the announcement in blog post published on Sunday, June 14th. According to the announcement, the alliance will lower the barrier to entry in crypto space for an average person.
Social Send is a blockchain project that provides tools to help both users and cryptocurrencies to be able to send and receive funds simply via social media platform like Facebook, Twitter, Discord, etc and phone number. The platform's native token SEND has created a simple and universal integration system with end result user experience in mind. The SEND token can be used to buy goods with minimum fees using company's debit card and in games to improve game characters.
Social Send ecosystem currently offers a Social Send crypto exchange and masternode hosting, also called cold hosting, that allows users to simply setup masternodes with only a few steps.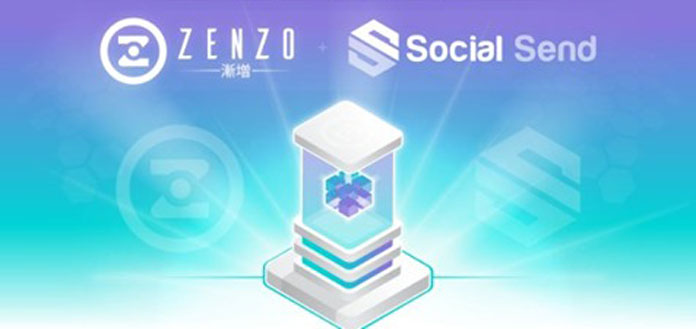 The relationship between ZENZO and Social Send is not new. According to the announcement, ZENZO token ZNZ has already been listed on the Social Send exchange for almost an year. This alliance will allow ZNZ holders to purchase ZNZ on the Social SEND exchange and setup ZNZ masternodes using all in one place. In this way ZENZO user can host a ZNZ masternode on Social Send platform and "use the masternode rewards to pay for the monthly hosting cost."
The blog post by ZENZO reads:
"Social SEND has added ZNZ to their platform and now not only can users host ZNZ masternodes, but can also pay for the hosting fee in ZNZ! This means that you can now use your masternode rewards to pay for the hosting, instead of first having to convert to Bitcoin, Ethereum, or pay in another cryptocurrency. Eliminating unnecessary and costly steps only further improves the user's experience, which is what makes the difference between a good platform and a great platform."
To celebrate the launch, ZENZO has also announced a giveaway of 1,000 $ZNZ to 5 lucky winners who follow ZENZO and Social Send's Twitter handle and shares the announcement.
ZENZO is a dedicated Proof of Stake blockchain designed specifically for gamers and game developers. The project visions to increase adoption and awareness of both blockchain and cryptocurrency in the gaming industry. ZENZO ecosystem consist of 4 elements that includes: ZENZO Core that features gaming blockchains, ZNZ coin, and a wallet; ZENZO Arcade, a digital marketplace; ZENZO Forge, a scalable mesh network; ZENZO Hatchery, a game incubator.
As Crypto Economy reported, in November 2019, ZENZO shut down its custodial wallet amid new EU crypto regulations.
---
If you found this article interesting, here you can find more Blockchain and cryptocurrency news