The leading asset management and finance company, BlackRock, recently filed an S-1 application for an Ethereum exchange-traded fund (ETF), taking another step alongside its pending Bitcoin ETF application.
The S-1 form, submitted to the U.S. Securities and Exchange Commission (SEC), is a regulatory requirement for ETFs and includes crucial information such as investment strategy and associated risks. The primary goal of this filing is to provide transparency to investors interested in the ETF product.
The filing specifically mentions the "iShares Ethereum Trust," a Delaware statutory trust that issues shares representing partial undivided beneficial interests in its net assets.
The trust primarily holds Ether, the native cryptocurrency of the Ethereum network, with a custodian managing these assets on behalf of the trust. The trust aims to generally reflect the performance of the Ethereum price.
The approval of the S-1 application implies acceptance of the ETF, leading to the launch of the specified ETF.

It's noteworthy that BlackRock chose Coinbase as the platform responsible for storing Ethereum for its ETF, a decision mentioned in the application submitted to the authorities.
BlackRock Gives Ethereum a Modest Boost
Following these significant announcements from BlackRock, the price of Ethereum (ETH) experienced an increase of almost 1.7%, reaching $2,051.
Furthermore, its market capitalization also saw a similar growth, approaching $246 billion. While its 24-hour volume decreased by 2.3% and is around $13.5 billion.
Ethereum has been having a positive month with sustained growth approaching 29.3%, reflecting an increase in its value by approximately $500.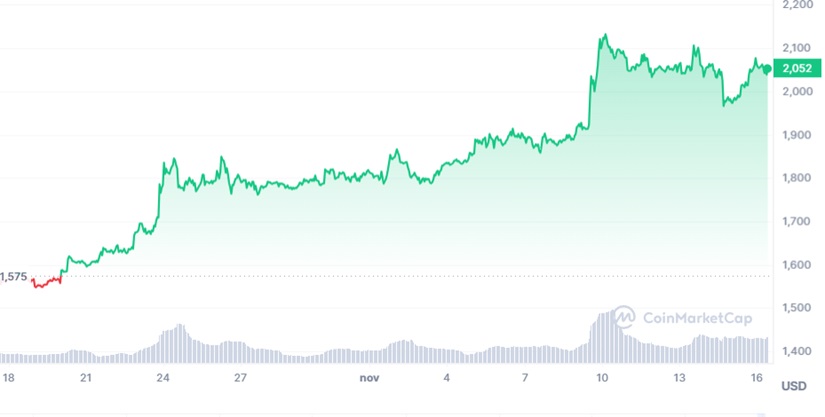 This move by BlackRock firsthand shows its growing interest in expanding the range of cryptocurrency-related investment products, especially ETFs.
The filing suggests recognition of the importance of ETH in the crypto space, alongside the established interest in Bitcoin.
Investors and the community will be closely watching for regulatory developments and the SEC's response to BlackRock's S-1 application, as approval could further legitimize Ethas an investment asset class and, on the other hand, potentially boost its value even more.