In a recent development, Cardano (ADA) has managed to stop low to the $0.26 mark. This sudden decline has inevitably wiped off nearly 15% of the coin's price since last week. It is worth mentioning that Cardano (ADA) has been experiencing a fall since October this year. This can be explained as a result of the token losing its support. Ever since then, Cardano (ADA) is continuously losing its value and isn't showing any signs of stopping soon. Based on the current situation, many experts actually believe that the coin might stoop to nearly $0.20. That would happen if and only if doesn't manage to hold its ground.
Loss of support isn't the main cause, however. The token has also been severely affected as a result of the FTX and Alameda fallout. Similarly, many investors have lost confidence and have shown patterns of staying away. Investors staying away from Cardano (ADA) eventually confirmed a fall in the trading volume of approximately 45%. Apart from that, the coin was even subject to increased sell-offs just the previous week. As a result of these increased sell-offs, Cardano prices took an inevitable nosedive.
On the other hand, a number of projects on the Cardano blockchain haven't shown signs of progress either. The total number of projects on the blockchain is approximately 1151 and hasn't changed since the previous week. Similarly, these projects didn't experience a boost even after the Vasil Hard Fork launch back in September.
What's Next for Cardano (ADA)?
As of now, Cardano (ADA) is trading for $0.2633. Keeping the trading prices in mind, the coin experienced a decline of nearly 1.42% over the previous 24 hours. Similarly, is down by a whopping 16.1% since last week. Currently, Cardano (ADA) has a total market cap of $9.09 billion.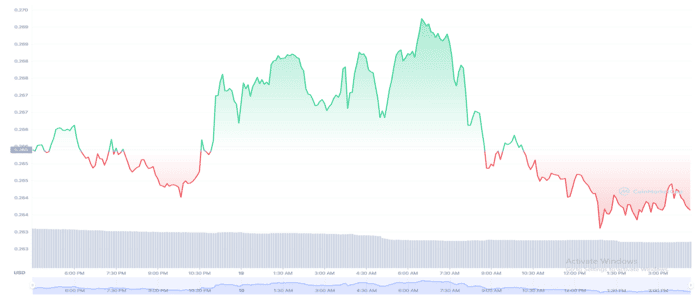 2022 hasn't exactly been a good year for the crypto market. The crypto winter was initially believed to span over a tenure of a few months but turned into an unending nightmare. Cryptocurrencies ended up losing more than half of their values as a result, and have failed to recover since then. The FED continuously pumping up interest rates is no exception either. Every time these interest rates are jacked up, cryptos like Cardano (ADA) are adversely affected. It is still a matter of conjecture when the overall situation would stabilize.