Cryptocurrencies continue to be a trend in the global economy and may never cease to be so. In this sense, exchanges are a fundamental role and this is why we have prepared this Bitstamp review, so that you get to know one of the most popular cryptocurrency exchanges in the world.
What is Bitstamp?
Bitstamp is a platform where you can trade with cryptocurrencies. Since 2011, the year it went on the market, it has become one of the main cryptocurrency exchanges in the world.
Headquartered in Luxembourg with offices in the United Kingdom and the United States, Bitstamp is one of the few cryptocurrency exchange platforms licensed in Europe and fully authorized by the Luxembourg Financial Sector Supervisory Commission (CSSF).
Thanks to this, it is considered one of the most reliable exchanges in the world due to the multiple protections offered to its users.
Bitstamp allows users to exchange various pairs of cryptocurrencies with fiat currencies such as the Euro or Dollar.
Registering in Bitstamp
Registering in Bitstamp is a very simple process that will not take more than a few minutes. In this review we show you how to register on the platform step by step.
Bitstamp Register Step 1
The first thing you should do is go to the official Bitstamp website.
On the homepage there will be a button in the middle that says "Create Account", click on it and you will be redirected to a new page with a registration form, as you will see in the following image.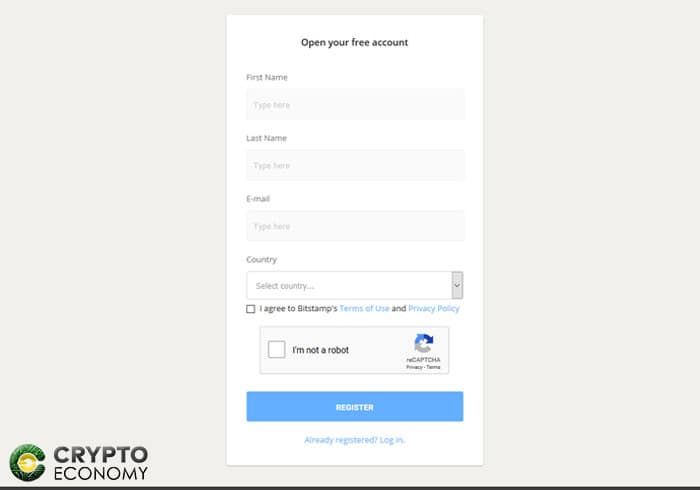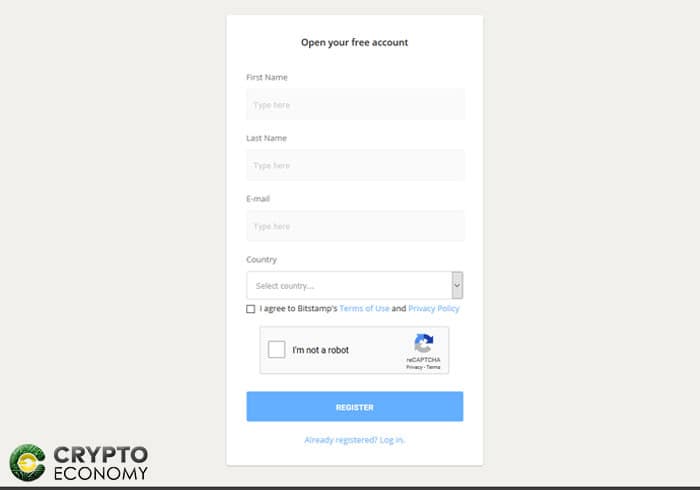 Bitstamp Register Step 2
The next step is to complete the registration form with the information requested such as your first name, last name and email address, in addition to agreeing to the Terms of Use and passing the reCapcha verification.
Once this is done, a message will be sent to your mailbox with your username and password to access the platform.

Bitstamp Register Step 3
Once you log in with the credentials that were sent to you in the email you will have to create a new password to protect your account and everything will be done.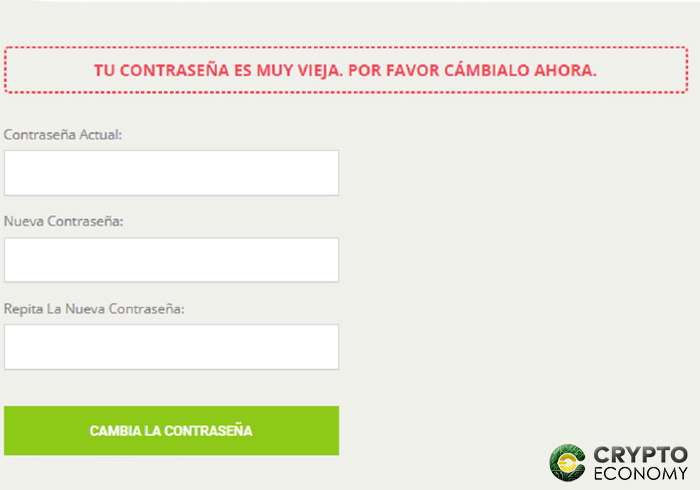 With this you will be officially registered in Bitstamp.
Bitstamp features
Once registered in Bitstamp, it is time for you to know what are the main characteristics of this exchange platform. Its developers have provided a simple and intuitive interface to make it easy to navigate through each of its functions.
Bitstamp: Commissions (fees)
In this Bitstamp review we can not ignore the issue of fees or commissions when using the platform, especially to deposit and withdraw money from it.
We must bear in mind that each payment method involves different commissions.
There are two commissions in Bitstamp; by the deposit and withdrawal of funds. In the first option we must pay a commission of 0.05% of the amount transferred if we do so using a fiat currency. In the second option, the commission is raised up to 0.09% of the amount requested. If you want to withdraw your earnings in BTC, the commissions are canceled.
Bitstamp: Security
The next feature that we will highlight in this Bitstamp review is the security of the platform. The truth is that we are talking about one of the safest exchangers in the world that has not suffered serious attacks in the last three years.
The last time they had a mishap in this sense was in 2015, and since then there have been no more problems.
If we focus on the security measures that users have to protect their accounts individually, we have a hopeful outlook.
The two-factor authentication is one of the best security measures, since it makes it necessary to have much more than a password to access an account.
The two-factor authentication will require users to have a second security confirmation, which is a verification code that will be sent to the personal phone device that the user saves in their profile.
So any stranger who wants to enter a foreign account must at least clone the phone number affiliated with it.
Bitstamp: Compatible payment methods
The payment methods are another important factor that we want to explain in this Bitstamp review.
The platform accepts a wide variety of payment methods so that most people around the world can operate in it without having any problems.
We will now discuss which ones there are.
SEPA bank transfer: the platform offers this convenient payment method so that all users residing in a country of the European Union can deposit and withdraw their funds without problems.
Bitcoin (BTC): you can receive your earnings or deposit funds directly to your BTC wallet with the advantage of not having to pay any kind of commission to the platform.
Ripple: another form of payment accepted is the Ripple, you can deposit and withdraw funds in this cryptocurrency without any problems.
AstroPay: you can request your withdrawals or deposit using your AstroPay card, an online service widely used in recent years among the blockchain community.
Credit card: Lastly, you have the option to receive or deposit money directly with your credit card. You must bear in mind that in this case the commissions are higher and total up to 5% depending on the country and the bank.
Bitstamp: Deposits
The next feature we will discuss in this Bitstamp review is deposits.
To make a deposit just go to the section "Deposits" where you will find a list of all the methods you have to make your first deposit, which must be at least 7.5 USD.
You just have to choose your preferred paying method and follow the steps that the platform will indicate to make your first deposit. It should be noted that before doing this, you must verify your account with a personal identity document of your country.
Bitstamp: Withdrawals
As with deposits, you have multiple ways to withdraw your money and that's why we could not stop mentioning this feature in the Bitstamp review.
Simply go to the "Withdrawals" section in your main menu and you will see a list of all the methods you have to take out your money.
Trading in Bitstamp
We now enter the subject of interest in our Bitstamp review and talk about the most important aspects to trade on the platform.
The first thing you must have is a verified account to eliminate all restrictions. Once this is done you can insert funds to your account and start trading in it.


In Bitstamp you can operate up to 14 pairs of cryptocurrencies that combine the US Dollar and Euros with each of the accepted cryptocurrencies (Ripple, Ethereum, Bitcoin, Bitcoin Cash and Litecoin). You can help yourself with the tradingview application that is at the end of the main menu.
In tradingview you will be able to monitor each of the available pairs in real time, so that you appreciate the fluctuations of each market and can better plan your exchange strategies to start earning money.
In the "Balance" section you can see your balance in US Dollars and BTC, while in the "My Account" section you can see your balance in each of the platform's wallets.
Once you verify this information you can go to "Purchase-Sale" to perform your first orders and cryptocurrency exchange transactions.
Conclusions about Bitstamp
After analyzing the most important points of the platform in this Bitstamp review, we can say that this is one of the safest, most reliable and versatile cryptocurrency exchanges available on the market.
Its intuitive interface means that anyone with intermediate trading knowledge can operate in it.
The licenses and agencies who regulate the platform generate a great confidence in users, so it is chosen by thousands of people in the world to exchange cryptocurrencies easily, quickly and safely.
Concluding this Bitstam review, we recommend this platform as one of the best in the world of its kind.