The N26 Crypto application is a new service from the Austrian mobile bank N26 that is already available for Austrians and intends to expand into other key markets in the near future.
A new feature in the N26 app will make it possible for customers in Austria to be the first to buy and sell cryptocurrencies directly from their N26 app, with N26 Crypto set to be rolled out to customers in other countries in upcoming months as well.
New Growth Path
Almost 200 cryptocurrencies will soon be available for N26 customers to trade, which is a considerable number compared to any other European banking app. This is N26 Crypto's first venture into trading and investment as it has over EUR 6 billion in customer deposits in its account as a part of its goal to assist its customers in managing more aspects of their financial life.
N26 has a customer base of over 8 million people. A network of 1,500 employees of 80 nationalities has been assembled for this mobile bank, which is present around the world.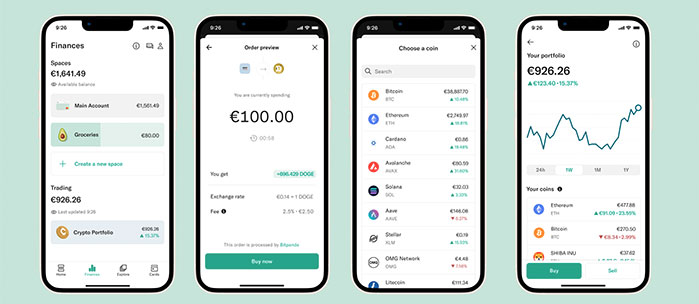 A total of ten teams are based in the company, which includes Amsterdam, Berlin, Barcelona, Belgrade, Madrid, Milan, Paris, Vienna, New York, and Sao Paulo. It is an app that is available on Android, iOS, and desktop platforms, and it has been designed to be a true 21st-century banking application that does not require a branch network and has a full German banking license.
N26 Crypto is now available to customers who have successfully completed N26's identity verification and eligibility checks within their N26 app's new Finances tab.
As a result of this new functionality, it is possible for a trade to be opened by selecting the coin and the amount of the trade, and the amount of the trade will be deducted from a customer's bank balance instantly, whereas the coins will appear immediately in the customer's N26 Crypto portfolio. 
It will also apply to the closing of open positions in a customer's N26 Crypto account; subsequent to the closure of an open position, the funds will be available on the customer's main bank account immediately the moment the position has been closed. For both types of transactions, drag-and-drop functionality is included in the process as a way to make it even easier.
In order to make N26 Crypto available, they partnered with Bitpanda GmbH, which is based in Austria and manages the execution and custody of trades on behalf of N26 Crypto.