The Bitcoin price is down nine percent on the last trading day. Despite the drawdown, buyers have the upper hand, reading from price formation in the daily chart. This outlook comes amid a series of lower lows on the last trading day.
However, from an effort-versus-results perspective, losses of February 17 jeopardize the uptrend since gains of February 15 have been completely reversed.
Events in Canada
Nonetheless, there are supportive fundamentals in the short term. Protests in Canada and the premier's invoking of the Emergencies Act have been interpreted as bestowing powers on financial institutions, giving them the right to freeze transactions without obtaining a court order.
Two days after invoking the Emergencies Act, leading Canadian banks are under immense pressure as retail account holders withdraw in droves in what has been described as a bank run. From their structure, banks are inherently fragile because of their low cash reserve ratio.
After the coronavirus pandemic, central banks issued a new directive that saw commercial banks lower their reserve ratio to single digits. This decision is now biting them as they struggle to keep up with mass withdrawals.
The Crypto Clampdown
Amid this pressure, Bitcoin prices remain steady even as Canadian police recently published a list of 24 BTC and crypto addresses that are financing the Freedom Envoy. Police have also requested that regulated cryptocurrency exchanges in Canada block the said addresses as the government tries to clamp down on anti-vaccinate protesters.
Bitcoin Price Analysis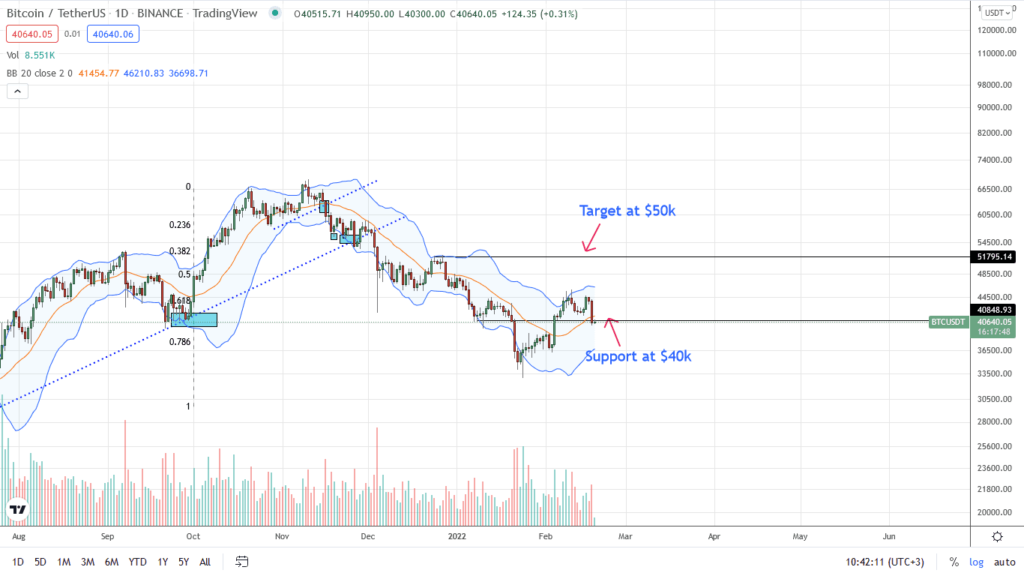 From the daily chart, BTC prices are under pressure, printing lower lows, and at near break-even with the greenback week-to-date.
After a week of encouraging developments, bears are swinging bar and clipping gains made in the past few days. Of note, sharp losses of February 17 completely unwound those of February 15, swinging price action in favor of sellers.
This preview is from an effort-versus-results perspective, dashing the hopes of buyers should bears double down today and over the weekend. In that case, BTCUSDT prices could plunge below the psychological support at around the $40k level, throwing bulls into a disarray. If this prints out, BTC prices could drop to $35K—or worse in subsequent sessions.
On the flip side, should bulls flow back and reverse losses of February 17, gains above $44.8k and February 15 highs could revive optimistic buyers angling for $50k—or better in days ahead.
Technical charts courtesy of Trading View
Disclaimer: Opinions expressed are not investment advice. Do your research.
---
If you found this article interesting, here you can find more  Bitcoin news