Bitcoin fear & greed index shows extreme fear on point 16 that means many opportunities for investors as the price ranges around $50K. After the extreme market crash days ago that pushed BTC to under $42.4 at the moment, it seems Bitcoin is recovering, but investors are in great fear. Some believe BTC is recovering and may start a new move even to ATHs. At the current point, Bitcoin can be in a good place to enter the market overall.
Bitcoin Fear and Greed Index Twitter account announced the current state of the index, which is about 15 and extreme fear. The tweet says: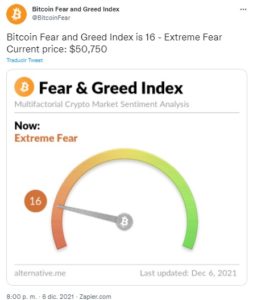 "Bitcoin Fear and Greed Index is 16 – Extreme Fear … Current price: $50,750."
But what is the Fear & Greed index, and why does it matter for Bitcoin investors?. In simple terms, this index is the result of an analysis of emotional sentiments in the market. Many resources calculate this index by gathering data from numerous sources. Other large cryptocurrencies have this index too. But the index for Bitcoin is very important because it somehow shows the emotional state of the market. Emotions and sentiments of investors over Bitcoin can result in big buys and sells that affect the whole market for sure.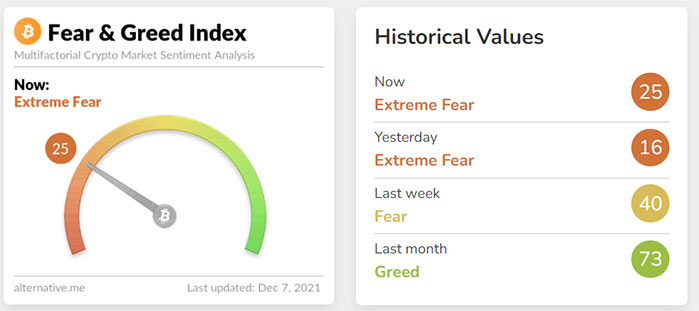 A good example of emotions affecting the market is FOMO (fear of missing out). It happens when the market rises, mostly rising BTC/USD chart results in this action. When the price goes up, many investors are encouraged to buy more that can result in more price jumps. Besides, new investors often come to the market when the price is rising. On the other hand, when red candles emerge on price charts, many investors sell their holdings and can cause more price dumps. Most of these decisions are irrational or, better say, emotional. This is the reason that the Fear & Greed index is an important metric in the crypto market.
As mentioned above, the current state of the index for Bitcoin is in extreme fear. It means investors are too worried about the price. It can be a result of FOMO, too. So, we can say it's a good time to buy more BTC or enter the market.
When the index goes far to the other end of the spectrum, the market and sentiments become too greedy. It can be a result of price correction for the chart.
The Fear & Greed index is calculated by gathering data from various sources. Volatility, market momentum/volume, social volume, and surveys are common sources. As you can see, most of them focus on the emotional behavior of users.