As Bitcoin reached prices that were last seen at the high of 2017's bull run, the leading cryptocurrency's market cap hit $352 billion and surpassed JPMorgan.
This event occurs a week after CEO Jamie Dimon stated that Bitcoin is not his cup of tea. Now, investors have their eyes locked onto charts as bulls prepare to make their final decision. Will we see a blow-off top or a continuation of the bullish trend?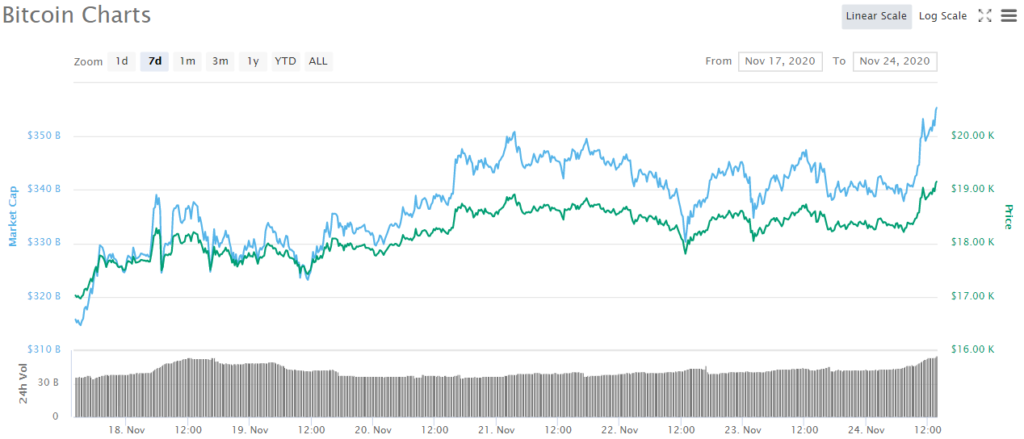 On November 24, Bitcoin reached a huge milestone in terms of both prices and market cap. This morning, whales hunted stop losses for long positions by quickly moving the price to $18,000.
Since then, Bitcoin began to slowly move upwards before stopping at $19,150. The price retraced to 18,750 but has since recovered and temporarily reclaimed $19,000 as local support. Investors are now interested if bulls are buying time or if they seriously intend to continue buying at these prices.
On the other hand, the market capitalization significantly increased as well. At the start of the week, Bitcoin's market cap revolved around $336 billion. Following today's price surge, the market cap increased radically and reached $352 billion. In comparison, the market cap of JPMorgan closed at $349 billion on November 23. It appears that Bitcoin is now strong enough to fare with even the largest banking giants in the U.S.
JPMorgan CEO refuses to acknowledge Bitcoin despite market cap
As a reminder, the CEO of JPMorgan Jamie Dimon still persists with his bearish view. In 2017, he called Bitcoin a fraud during an investor meeting. At the time, he compared the crypto craze to the Dutch tulip mania during the 1630s.
Even now, the CEO does not believe in the disruptive asset. Last week, Dimon spoke at the New York Times DealBook Summit and shared that Bitcoin is not his 'cup of tea.' Furthermore, he added that governments and institutions would begin to regulate it far more than previously.

Whether the stricter regulations will play out is yet to be seen. However, we see that Dimon is terribly wrong with his bearish view on Bitcoin and that he 'missed out' a lot by refusing to invest. Since March this year, Bitcoin grew by more than 400% and reached prices that were last seen in the previous bull run.
However, we do note that the monthly candle must still close at the current price levels to confirm the bullish market trend. After all, it is entirely possible to see a blow-off top scenario where Bitcoin reaches amazing prices only to drop several thousand dollars in only a few days. We have seen such price action in the previous bull runs, specifically in 2017 and 2019.
Combined with various risky external events, such as the new wave of corona cases, a new set of lockdown measures may push the entire economy down and Bitcoin with it. Therefore, bulls are placing themselves at great risk by buying at these prices. However, their positions will pay out if the trend continues until the end of 2020.
---
If you found this article interesting, here you can find more Bitcoin news