The price of Bitcoin (BTC) remain teetered around the $30k level. Bulls are in control at this position, and the upswing set in motion from mid-June is still valid. However, looking at the candlestick arrangement, there must be a conclusive break above the psychological level at $30k for trend continuation.
Ideally, a close above $31.8k and $32k could open up more opportunities for the aggressive targeting $35k or better in the coming months. Still, how prices unfold depends mostly on fundamental factors, especially emerging regulations and on-chain activities.
For now, endorsement from top regulators in the United States is bullish and is a mark of confidence. Even so, the approval of a Bitcoin exchange-traded fund (ETF) is eagerly awaited.
BTC facing headwinds
The inability of BTC to float higher despite the uptrend, as per the formation in the past few trading weeks, is concerning. Buyers appear to be losing momentum on every attempt higher above $30k, as evidenced in events this week.
Several factors could explain this development. One is news of Bitcoin miners reportedly taking profits on every attempt higher. This is noteworthy since Bitcoin will halve its mining rewards in April 2024, adversely affecting miners' revenue.
In readiness for this event and potentially to shore up their cash reserves, analysts say miners are offloading on every high, heaping more pressure on the coin.
Conversely, optimists argue that the current muted price action is an accumulation before a strong push higher in trend continuation. Even so, how prices evolve from here is being watched.
Bitcoin (BTC) Price Analysis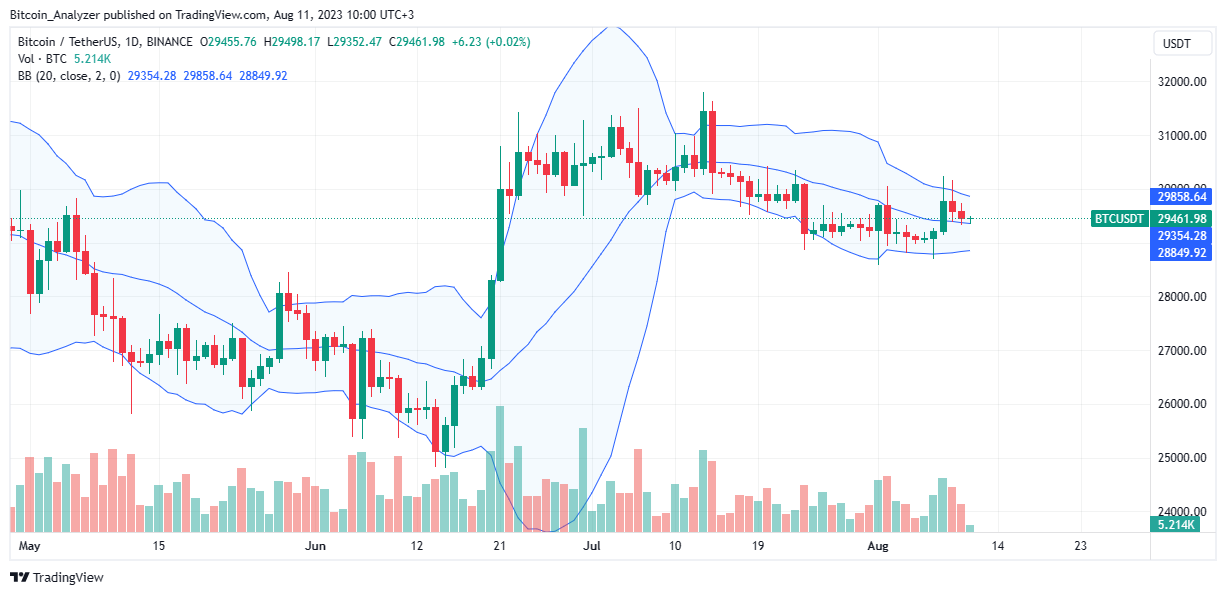 The path of least resistance from a top-down preview is northwards.
Key support and resistance levels at spot rates remain at $31.8k and $28.6k, respectively. However, the zone between $28k and $29k is proving critical. Looking at price action, this is where buyers have been loading up in recent days.
Traders can watch from the sidelines until there is a definitive close above or below the current consolidation.
Meanwhile, aggressive traders can look to buy the dips if there is a follow-through of the August 8 bar and prices float above $30k with expanding volumes. In this case, losses of August 2 would be reversed, favoring bulls from an effort-versus-result perspective, opening doors for buyers to target $32k in a buy trend continuation formation.
Conversely, losses below $28k with rising volumes cancel out this bullish outlook.
Technical charts courtesy of Trading View.
Disclaimer: The opinions expressed do not constitute investment advice. If you wish to make a purchase or investment we recommend that you always conduct your research.
---
If you found this article interesting, here you can find more Bitcoin News.