Bitcoin prices are stable at spot rates and wavy at around $30k, much to the disappointment of bulls.
Even though there are hints of strength because of the recent higher highs relative to the lower BB, the uptrend is labored.
Currently, BTC is down roughly 20 percent from the beginning of May. What's slowing down the upward momentum is the failure of prices to build on May 13 to 15 gains and break above $32k.
Over 10 million Addresses Hold at least 0.01 BTC
Still, BTC proponents can cite supportive fundamental factors as drivers of their optimism. For instance, recent statistics reveal that there are over 10 million unique BTC addresses with at least 0.01 BTC or $300. This development is a massive boost, suggesting adoption.
However, while a single wallet can generate thousands of addresses, the continued rise in the number of BTC addresses is likely due to more users pouring into the space and experimenting with the technology.
More Governments Might be Considering Bitcoin
At the backdrop of this is more bullish news that 44 bankers, mainly from Asia, Africa, and the Middle East, visited El Salvador and met with Nayib Bukele.
As part of their agenda, they discussed Bitcoin, a massive boost for the coin, especially when prices are in a lull.
El Salvador made history when it became the first country to make BTC legal tender, ignoring the International Monetary Fund (IMF) warnings.
The Central African Republic (CAR) and Panama have since introduced rules to make BTC an accepted currency for making payments.
Bitcoin Price Analysis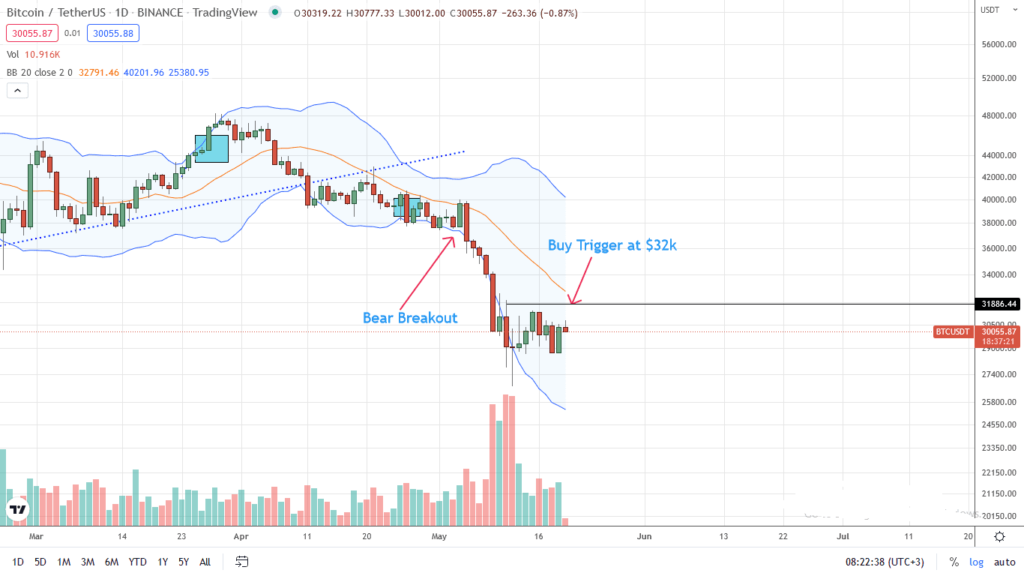 BTC has been stable in the past 24 hours, adding three percent but down 30 percent from early May. Despite yesterday's gains, the coin is still within a bear breakout formation versus the USDT.
Even though buyers are optimistic, bulls have failed to break above $32k despite higher highs relative to the lower BB. The immediate resistance line is at $32k marking May 15 highs.
If bulls fail to break above this mark, bears could force prices lower. In the immediate term, the first critical support line is at $26.7k. Therefore, if there is confirmation of May 18 losses driving BTC back to 2022 lows, the odds of more breaking below $24k—or worse, will be elevated.
On a more positive outlook, gains above $32k may mark the end of the recent bear run, relieving optimistic traders looking for a retest of $37.3k in the medium term.
Technical charts courtesy of Trading View.
Disclaimer: Opinions expressed are not investment advice. Do your research.
---
If you found this article interesting, here you can find more Bitcoin news.