Bitcoin's [BTC] recovery past $40K has been quite challenging. After a positive start to the day, the cryptocurrency took a plunge again. This time it was yet another China news that was responsible for the major correction. China has yet again doubled down on its attempt to thwart speculative and financial risks by clamping down on activities related to mining and trading of cryptocurrencies. This was revealed by the Financial Stability and Development Committee, chaired by Vice Premier Liu He, who went on to single out bitcoin as the crypto-asset that needs to be regulated.
Liu has called for stiff cryptocurrency regulation to protect the financial system. According to reports, this happens to be the first time a senior most Chinese official has explicitly ordered a crackdown on the coin and targetted its mining activities.

In addition to the aforementioned activities, the Chinese committee is also planning to crack down on "illegal activities" on the securities market and keep up the stability of stock, bond, and forex markets.
It's hard to read into the real effect the overly restrictive policies by the country's authorities will have on its cryptocurrency ecosystem. Having said that, the risks associated with bitcoin mining being so dependant on China, can not be undermined.
In a statement, the Chinese authorities were quoted saying
"..crackdown on Bitcoin mining and trading behavior, and resolutely prevent the transmission of individual risks to the social field."
But this isn't the first time that China has planned to ban Bitcoin. Even in 2013, the country had attempted to outrightly ban the cryptocurrency.
Emin Gün Sirer, Director of Avalanche Foundation took a jibe at the latest development and tweeted,
"I lost track of the number of times 'China banned Bitcoin.' Bitcoin and crypto always rebound."
The latest news comes just days after China reiterated its stance by announcing a ban on cryptocurrency trading for institutions and businesses. The country's regulatory authorities working under the country's central bank, jointly issued a statement, prohibiting members of financial and payment institutions from any kind of involvement in services that related to crypto businesses.
Bitcoin Slashes 7%, Again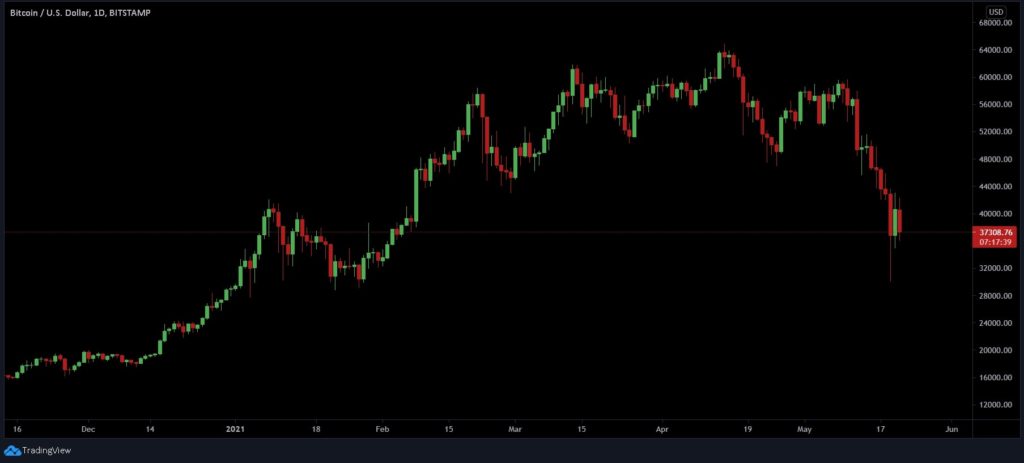 Bitcoin has fallen from its grace this quarter. This month has been especially damaging for the crypto-asset which rose above $65k a couple of weeks back. At the time of writing, it was being traded at $37,055 after losing significant steam as soon as the news hit the headlines. It depreciated by more than 7% over the past 24-hours.
---
If you found this article interesting, here you can find more Bitcoin news