Bitcoin prices are flat-lining inside a narrow range but relatively higher from last week's lows. Although the rejection of bears and the series of higher highs posted on the past few trading days are welcomed, the primary trend remains southwards, and sellers are still in a commanding position. Currently, the coin is up roughly four percent versus the USDT from August 19 lows and edging higher with low trading volumes.
Bitcoin Processes over $100 Trillion since Launch
Amid this formation, Bitcoin's fundamentals are firm. The network is maximizing its first mover advantage and dominance as a transactional layer, considering recent statistics.
Recent data shows that the Bitcoin network has since processed over $100 trillion of transactions since launching, trustlessly, without the need for a middleman. During this time, Bitcoin's on-chain fees have fluctuated depending on demand. However, its reliability, in all phases, remains unchallenged at 99.99 percent.
Bitcoin Depot to go Public
Meanwhile, one of Bitcoin's largest infrastructure providers, Bitcoin Depot, is going public and plans to list on NASDAQ once the transfer is completed in early 2023. This announcement follows a deal with GRS II Meteora Acquisition Corp (GRSM) worth $885 million.
Bitcoin Price Analysis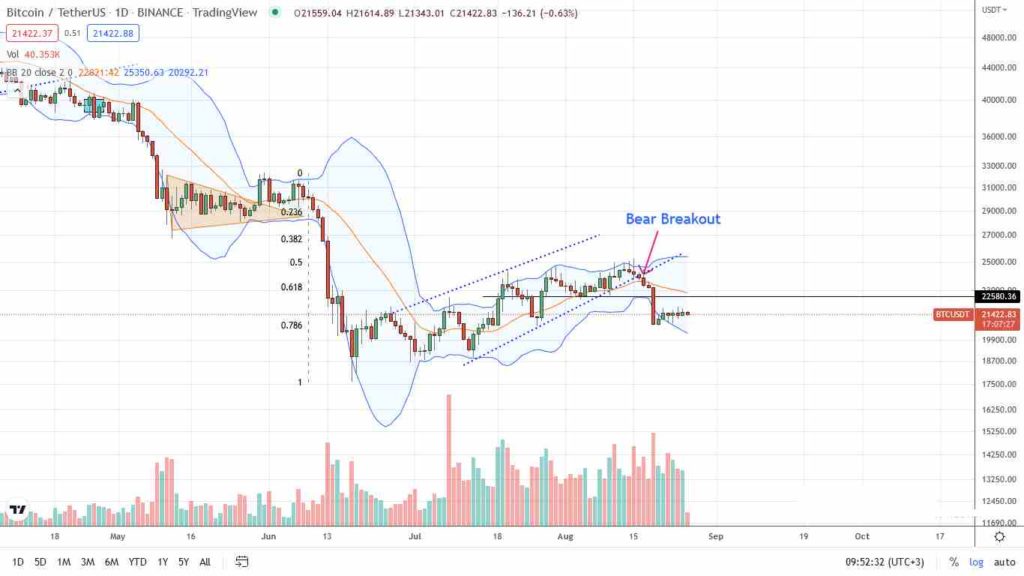 BTC is down 13 percent from August 2022 highs in a bear breakout formation following sharp losses on August 19. However, prices are currently steady, inching higher with light trading volumes. This expansion means traders are not fully committed, and the leg up may not be sustainable.
The recovery means BTC prices are within a bear flag, defined by the bearish engulfing bar of the end of last week. Provided bulls cannot pierce and close above $21.7k with rising trading volumes, sellers will remain dominant from an effort versus results perspective.
However, there could be an opportunity to scalp if prices rise above $21.7k, a reprieve. If the bar is wide-ranging, BTC may rally to retest August 19 highs at around $23.3k. How prices react at these levels would then shape the medium-term BTC price trajectory.
Any contraction placing BTC below $20.7k may force even more liquidation, aligning price action with losses of August 19 in a bear trend continuation formation. In that case, BTC may slip to $19k and later to $17.5k.
Technical charts courtesy of Trading View.
Disclaimer: Opinions expressed are not investment advice. Do your research.
---
If you found this article interesting, here you can find more  Bitcoin news.