Bitcoin prices are at worrying levels following sharp losses in the Asian sessions. In what's clearly a bear breakout formation, BTC bears are squarely in control, unwinding gains of January 20. This is even amid positive developments that offer support for BTC bulls.
Bitcoin-Backed Business Loans for Small Business May Become a Reality in El Salvador
A few months after El Salvador made Bitcoin legal tender; Nayib Bukele's government is exploring introducing Bitcoin-backed loans to small businesses.
Bitcoin as a transactional remittance layer is already a trusted means of moving funds across the globe cheaply and near instantaneously.
If Bitcoin-backed loans are introduced in El Salvador, it will align with Satoshi's dream of promoting financial inclusion.
Presently, El Salvador's support for Bitcoin doesn't end here. The country plans to drill geysers for powering BTC mining rigs.
Rising Interest in Bitcoin Mining
When Bitcoin's hash rate rose to a new all-time high of over 209 EH/s—an indicator of community support amidst fluctuating prices and criticism from environmentalists, Bitcoin mining is drawing interest.
Bitcoin mining, supporters maintain, is a battery for utilizing the otherwise wasted energy into productive processes—that of keeping the world's first secure trustless network functional.
The CEO of Intel is confident that Bitcoin mining will rise to command a $2.8 billion market in three years. The chipset manufacturer announced plans of introducing an energy-efficient Bitcoin mining rig, joining others, including Block—led by Jack Dorsey.
Bitcoin Price Analysis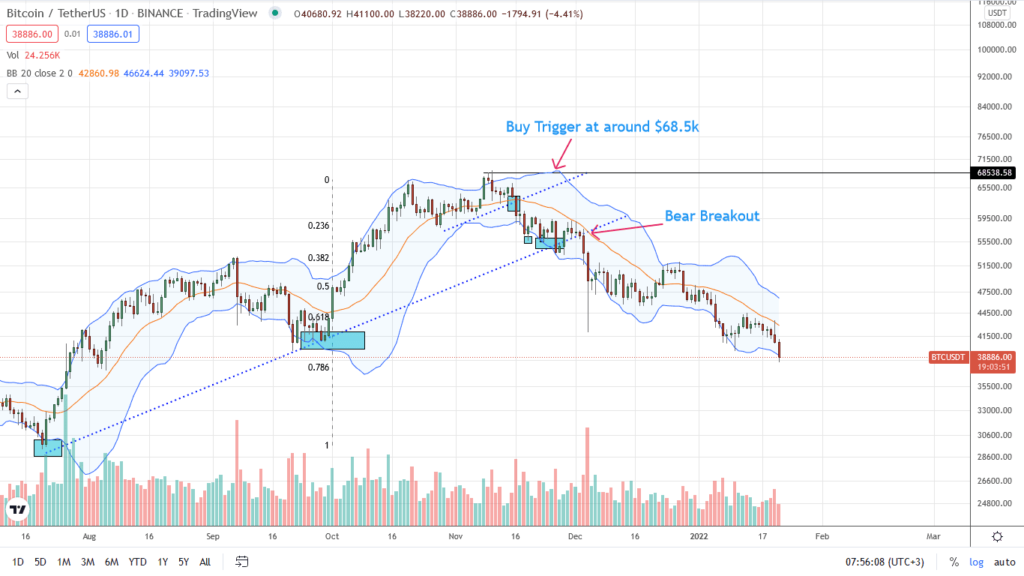 From the Bitcoin daily chart, sellers are firmly in control. Despite encouraging gains of January 20, the dump in the early January 21 Asian sessions was dashing for hopeful Bitcoin bulls. As it is, BTCUSDT is within a bear breakout formation.
Specifically, the bear bar is with notably high trading volumes and is wide-ranging, dropping below the primary support at around $40k. This mirrors the bear bar of December 4, 2021 signaling bear trend continuation.
Using the Fibonacci extension tool on the December 4 bear candlestick projects BTC prices to retest $34k—the 1.618 Fibonacci level—and possibly lower prices in the sessions ahead. If bears pick up at this pace, prices may dump to $30k.
Technical charts courtesy of Trading View
Disclaimer: Opinions expressed are not investment advice. Do your research.
---
If you found this article interesting, here you can find more  Bitcoin news