The Bitcoin Price is free-falling, dropping from around $42k of early January to spot rates. According to trackers, the BTC/USD price is down seven percent on the last day of trading but down 19 percent week-to-date.
BTC is also trailing ETH, the second most valuable asset that recently printed new all-time highs.
BlackRock Files with the SEC, Plans to Participate in the Crypto Market
Albeit the contraction, Bitcoin fundamentals are firmer.
For instance, BlackRock, one of the world's largest asset managers controlling over $7 trillion, is looking to invest in crypto, specifically Bitcoin.
Their filing in the US SEC said that although there may be liquidity risks, they will still consider funneling a portion of their what under management to two funds–BlackRock Funds V and BLACKROCK GLOBAL ALLOCATION FUND, INC., at an unspecified time in the future.
Grayscale Buying BTC on Dips
As BlackRock makes considerations, institutional investors are doubling down on BTC, buying the dips.
According to observers, Grayscale is actively buying BTC even as prices fall. Their averages over the last few weeks have nearly doubled those of Q4 2020. On Jan 19, for instance, the digital asset manager bought $590 million worth of BTC, further adding another 8k BTC on Jan 20, pushing their holdings to $2.2 billion.
Meanwhile, more coins are moving from exchanges to Bitcoin even as bulls slow down, driving prices lower. Given the climactic rise of BTC/USD prices in the last few days, some traders prefer booking their profits, shifting their coins to institutions and long-term HODLers.
Bitcoin Price Analysis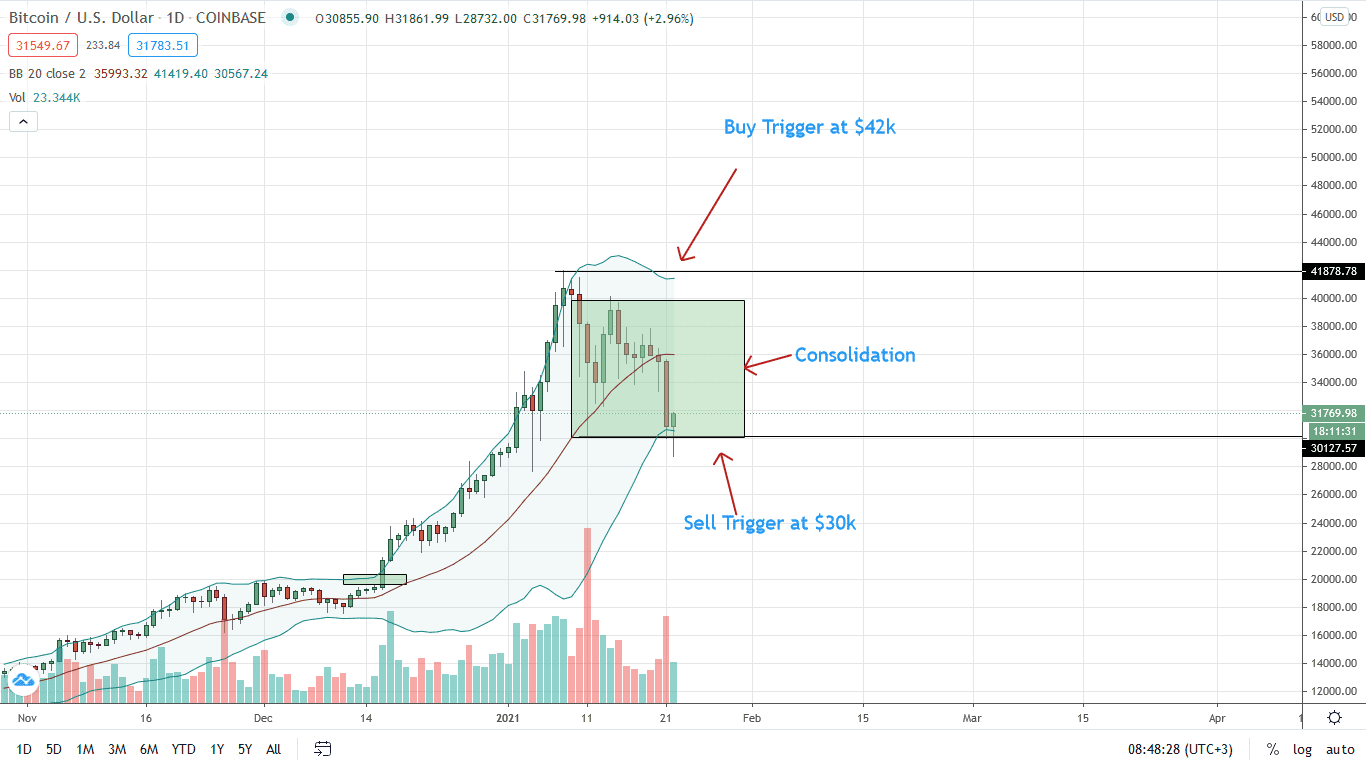 The BTC/USD price is down seven percent on the last day but down a massive 19 percent versus the greenback.
Even though traders are bullish, a contrarian could print out judging from price action in the daily chart.
The BTC price is down $10k from around its all-time high of $42k.
From candlestick arrangements in the daily chart, the BTC price may fall to $20k. Notably, the BTC/USD price is now trading within a bear breakout pattern. Yesterday's bar closed below the 20-day moving average, a flexible support—previous resistance, line that has been supporting bulls in the last three months.
Aggressive traders can unload on every pullback with targets at $20k. However, the sell-off could be climactic once a firm break below Jan 11 lows of around $30k—a round psychological number. This also depends on the level of participation. If the confirmation of the Jan 20 bar is with high volumes, the BTC/USD price may post more losses throughout the weekend.
Chart Courtesy of Trading View
Disclosure: Opinions Expressed Are Not Investment Advice. Do Your Research.
---
If you found this article interesting, here you can find more Bitcoin news