Bitcoin (BTC) remains in a range and is technically bullish in higher time frames. The coin is within a range defined by the resistance at $31k and support at $25.8k.
Even though buyers are confident, saying the recent leg down is over, there must be a conclusive breakout above recent buy trigger lines.
For instance, for now, the gains of May 28 were completely reversed. However, prices are currently edging higher.
The support line remains at $27k, while resistance is around $28.3k. There could be more gains if there is a sharp expansion above May 28 highs.
In that case, BTC could trend higher in a buy trend continuation, an opportunity for buyers.
USDT's Growing Dominance
Amid this development, and expansion of Bitcoin prices, is the increasing dominance of USDT.
As of June 1, there were over 83.2 billion USDT in circulation, effectively pushing the stablecoin into the third spot below Bitcoin and Ethereum.
With over $83.2 billion of USDT in circulation, it is the highest level the stablecoin has ever reached. Changpeng Zhao, the CEO of Binance, explained that the dominance of USDT is partly because of regulations that have favored the player.
In early February, Paxos, the then issuer of BUSD, was ordered to stop minting new BUSD by the New York Department of Financial Services (NYDFS). As such, the regulator capped BUSD at $25 billion. As of June 2, BUSD's market cap is around $5 billion.
Though USDT's trading volumes are relatively low, surging stablecoin issuance may signal confidence in the market.
Bitcoin (BTC) Price Analysis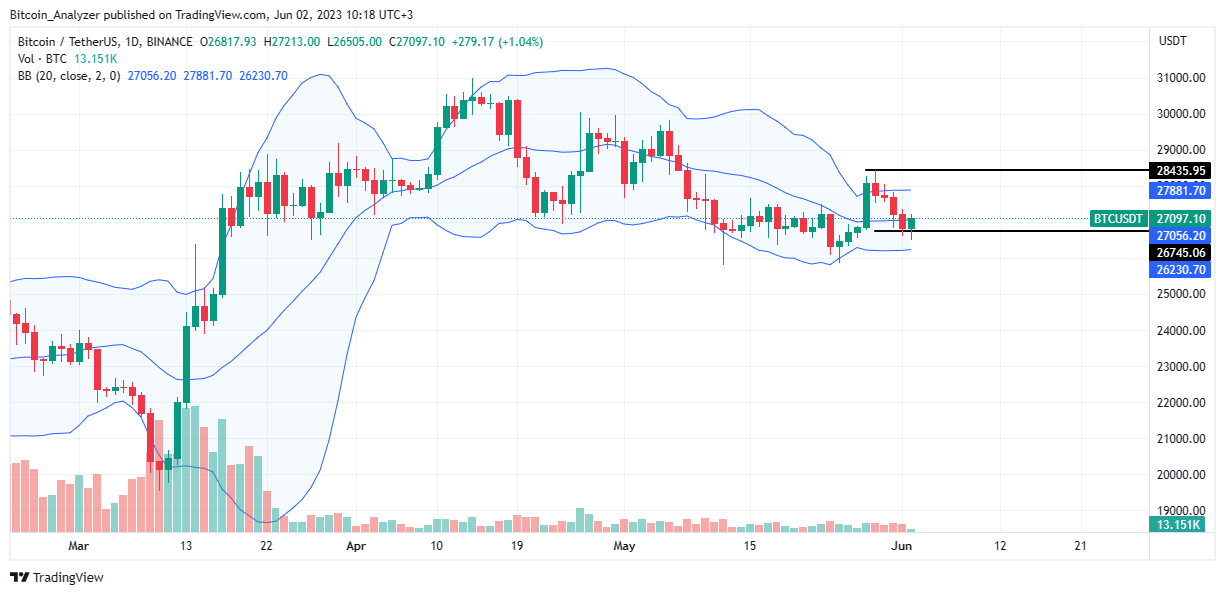 Bitcoin prices are back in the May 28 bullish range.
Although gains were wholly reversed, price action is within the $28.3k and $27k levels. Average volumes were also lower than those printed on May 28.
Therefore, from an effort versus result perspective, buyers have a chance. Aggressive traders may look to buy on dips above $27k, targeting $28.3k.
Conversely, conservative, risk-on traders may wait for a clean break above $28.3k, preferably with expanding volumes, before loading on dips, targeting $30k and April 2022 highs at $31k.
Overall, the Bitcoin uptrend remains from a top-down preview. Prices are trending above $25.8k with clear resistance at $31k as price action moves sideways. This validates the bulls from March to April 2023.
Technical charts courtesy of Trading View.
Disclaimer: The opinions expressed do not constitute investment advice. If you wish to make a purchase or investment we recommend that you always conduct your research.
---
If you found this article interesting, here you can find more Bitcoin News.