For the first time in 2022, Bitcoin surpassed the $47,000 mark, reaching a three-month high. Some crypto investors have recovered as a result of the latest bitcoin rally. Market participants expect the current upward trend to continue in the foreseeable future.
After the dramatic price increase, the cryptocurrency briefly turned positive for the year. It's worth noting, though, that it's still 32.11 percent short of reclaiming its all-time high of $69,044.
Taking it to the next level?
Bitcoin is currently trading at $47,100 on key spot exchanges, with the rise struggling to continue.
Due to the risk-off sentiment generated by the Federal Reserve's aggressive U-turn, the leading cryptocurrency performed poorly at the start of the year. Bitcoin raised the benchmark interest rate for the first time since 2018 earlier this month.
Over the last two weeks, the world's largest cryptocurrency has gained nearly 26%, putting bulls back in control. However, whether or not this rise will last remains to be seen.
Some of the largest cryptocurrencies have benefited from Bitcoin's growth, with Ethereum (ETH) up 5.27 percent in the last 24 hours.
According to Fadi Aboualfa, head of research at Copper, Bitcoin may hit its next resistance level at $52,000, and if it breaks through, it might rise to $65,000, not far from the all-time high it set in November.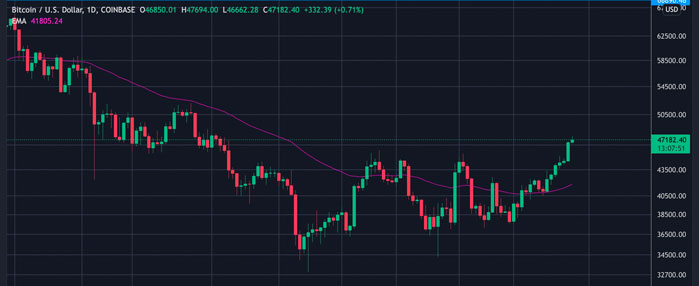 Despite this, Bitcoin and other tokens such as Ether have been steadily rising this month in tandem with broader stock market gains in the United States. However, it took until yesterday for Bitcoin to convincingly go through $45,000, a level it had barely briefly tested since early January.
Despite Bitcoin's recent gains, altcoins such as Cardano, Solana, Polkadot, and Dogecoin have outperformed Bitcoin in recent days. Cardano, in particular, has gained popularity among traders, gaining 32% in the last five days.
For some new traders, the recent rise in Bitcoin price may cause FOMO. Despite the fact that there is still a long way to go before reaching the previous ATH, some investors may wish to invest in the biggest cryptocurrency, and new money may be put into the market.
It is almost certain to result in price surges for altcoins, and it may even kick off a new alt season. As mentioned above, there are still many factors to be analyzed before predicting the next movements.